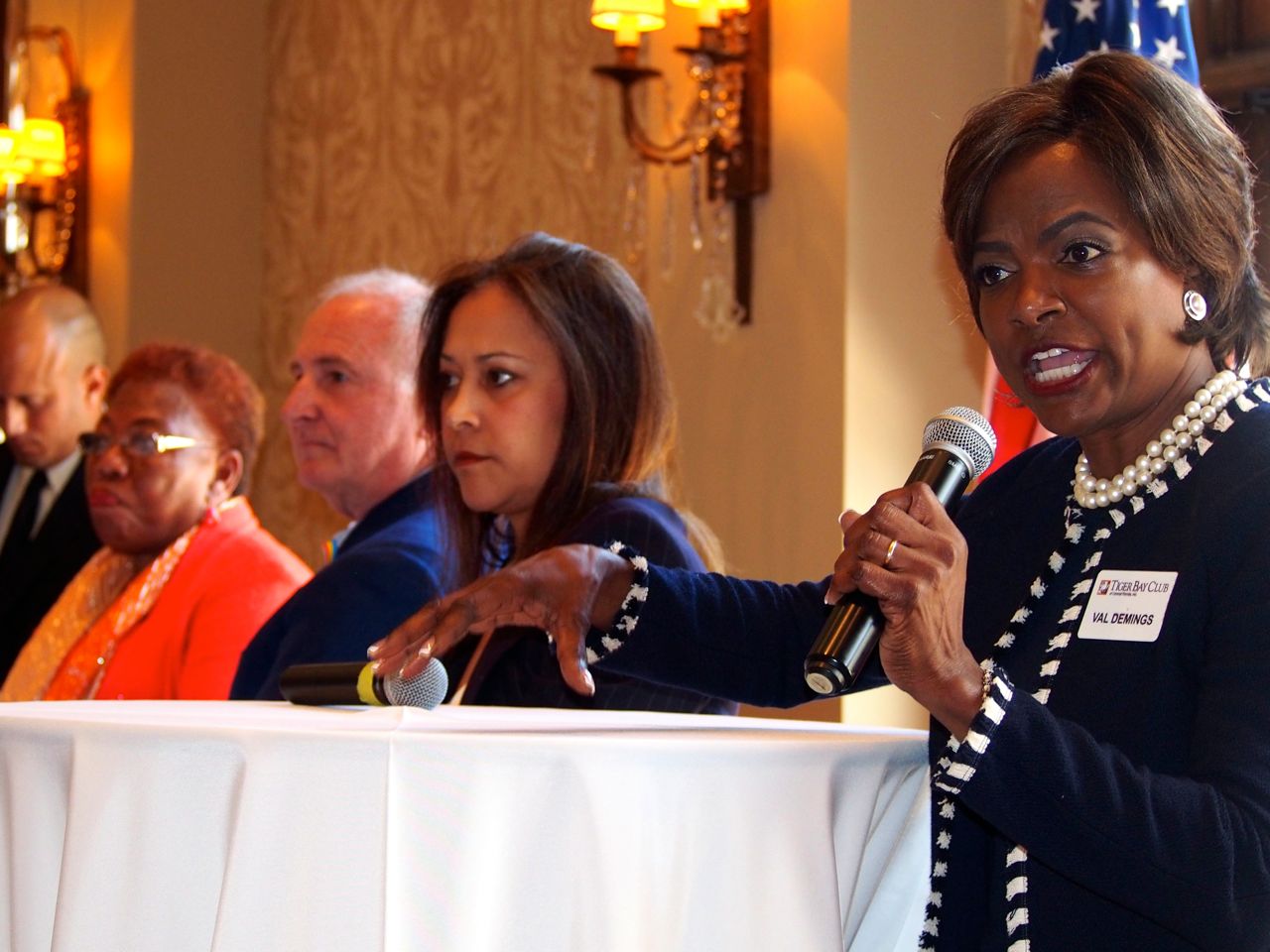 Former Orlando Police Chief Val Demings has a 30-point lead over her top two opponents in a new poll commissioned by a Democratic organization backing Demings' run for the Orlando-based Florida's 10th Congressional District.
In the poll, released today by the Democratic Congressional Campaign Committee (DCCC), Demings garnered 48 percent, while former Florida Democratic Party Chairman Bob Poe and state Sen. Geraldine Thompson each drew 18 percent, with another 17 percent undecided.
The poll did not ask about the fourth Democrat in the race, Orlando lawyer Fatima Rita Fahmy.
The DCCC has backed Demings with money, endorsements, workers and campaign support since she entered the race last year. That has drawn strong criticism from the other Democrats, particularly Fahmy, who charged her as being Washington's pick for Washington. Demings has responded, saying she earned the DCCC backing by running against long odds in the district in 2012, back when it leaned heavily Republican, and narrowly losing.
At rate shown in the new DCCC poll, Demings would coast to the Aug. 30 Democratic primary win, even though Poe is spending hundreds of thousands of dollars on advertising, much of it directly attacking her.
The DCCC says the poll was taken of 402 likely primary voters in CD 10, with a margin of error of 4.9 percent.
The district covers west Orlando and western Orange County. After last December's redistricting, the district leans heavily Democratic.  The winner of the Democratic primary will face Republican nominee Thuy Lowe.
The last publicly reported poll in the district, by Public Policy Polling in January, had Demings up 20 points on Thompson. Poe had just entered the race and had just 7 percent in that PPP poll.
The DCCC also reports primary voters are very familiar with Demings, with 83 percent saying they know her well enough to rate her, a 15 percent higher familiarity than for the other candidates. It also gave her a strong favorability rating, with 68 percent of surveyed voters saying they held her favorably, while 14 percent did so unfavorably. Poe was at 32 percent favorable and 28 percent unfavorable, according to the DCCC.
Demings leads among African-American voters by 27 points, white voters by 14 points, and Latino voters by 35 points. She also leads among women by 31 points and among men by 22 points.