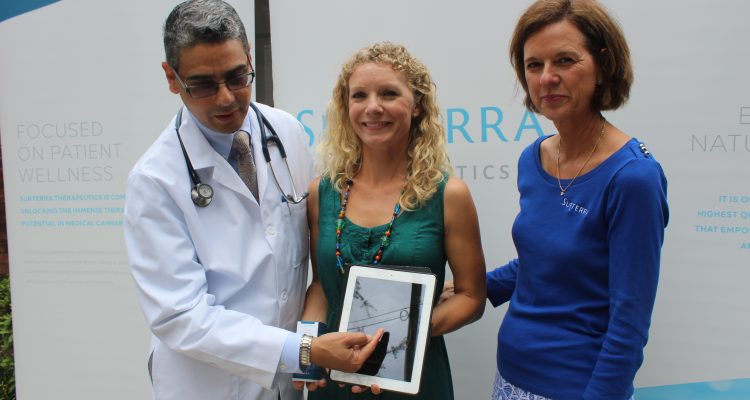 Eleven months ago, Amanda Gammisch was rushed to the hospital, unconscious and having seizures, and she learned she had Grade 3 brain cancer. On Monday, she became the first Orlando patient to receive CBD Oil, a therapeutic cannabis product from Surterra Therapeutics, which will hopefully be able to fight the cancer and extend her life.
Gammisch, 36, has been a patient at the office of Dr. Joseph Rosado in Deltona, where she appeared Monday afternoon to receive the product from Surterra president Susan Driscoll. Rosado was the fifth doctor Gammisch tried to contact, with the others not wanting or not having the ability to address her case. But Rosado stuck with her and, eventually, Driscoll reached out with the opportunity to try CBD Oil.
While you wouldn't know Gammisch has cancer from looking at her, CBD Oil will go a long way towards helping her quality of life.
"It's what I like to call the invisible disease," she said. "Looking at me on the street, I don't look like I have a five-year life expectancy, but that's what I'm up against."
She stressed that the drug isn't for getting high, as some people assumed — it's strictly therapeutic, which Rosado also spoke about.
"The biggest misnomer is 'oh, these people just want to get high or stoned,'" Rosado said. "This is medicine. This is not psychoactive. The purpose of this is to restore her health and allow her body to respond to natural treatment."
Gammisch's only option now is chemotherapy, which can make her sicker and ruin her appetite. Due to her successful second surgery earlier this year, her doctors want her to wait and instead spend time getting as healthy as she can through diet and exercise, to get her immune system strong enough to fight it on her own.
"The opportunity to take CBD Oil is huge for me," she said. "This will actually cross the blood-brain barrier. The blood-brain barrier protects the brain from a lot of medicines we put into the body, including chemotherapy. This will be actually going into the brain and attacking the cancer cells, and maybe even alert my own immune system to fight the cancer as well."
While there is no cure for brain cancer right now, she's hoping the drug, at least, can lengthen her life and improve things for her right now, if it doesn't defeat the cancer altogether.
"It works for some people," she said. "Everyone is different, and your body responds to different medicines differently. There are 120 kinds of brain tumors."
The laws in Florida force doctors to have a relationship with a patient for 90 days before prescribing them therapeutic cannabis drugs for diseases like brain cancer, so Gammisch said some patients might not have the time they need to reap the effects of products like CBD Oil.
"I'd like to say that when you're a Grade 4 cancer patient, your life expectancy is 15 months or less," she said. "A three-month waiting period is difficult to swallow when you're looking for other treatments."