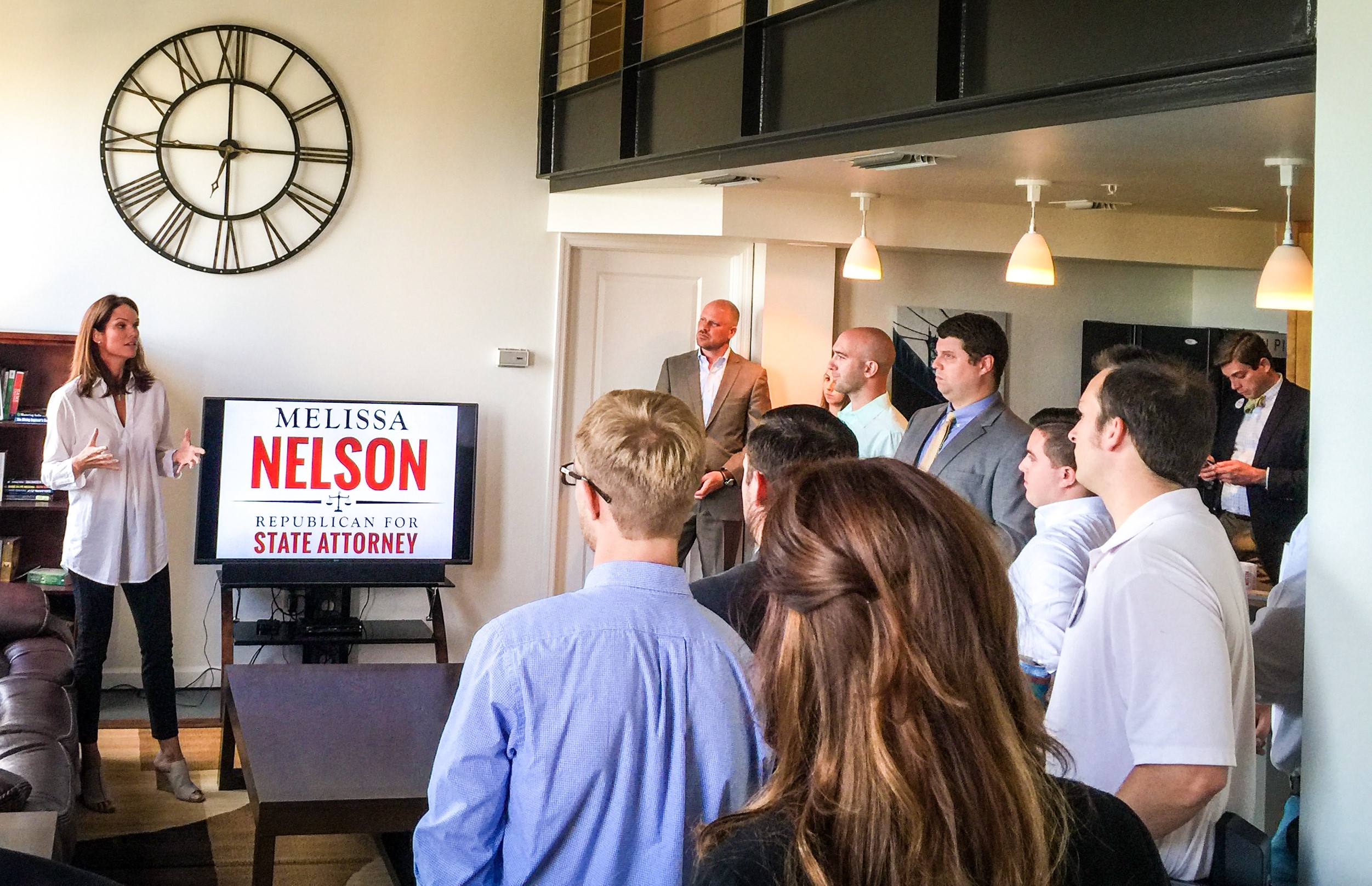 With three weeks to go until the Aug. 30 primary, state attorney candidate Melissa Nelson talked "off script" to a group of Republicans in their 20s Monday night.
The event, held at the home of Nelson's campaign manager Carlo Fassi and Matt Brockelman of Southern Strategy Group, was purposeful: to introduce Nelson to a group of politically aware younger people for whom the state attorney race may not necessarily be on their radars.
Nelson explained why she was running for the office, saying that in 2009 she found herself "very troubled" by the direction to office was going in, with "decisions made for political reasons," and power exercised in such a way that it has presented an existential problem that extends beyond the office itself.
"When the community loses confidence [in the state attorney], we're all at risk. Once you lose trust, it's very difficult to restore it," Nelson said.
Indeed, this election is predicated on trust. Incumbent Angela Corey has messaged on having the trust of incumbent politicians and the union heads that are symbiotically linked to them. Nelson, foreclosed from that option, is taking a different route: talking about the trust of the community at large, and building support among the rank and file, as well as former assistant state attorneys and federal prosecutors.

"The power to change things comes from telling the truth," Nelson said. "Business as usual isn't working."
Indeed, the state attorney's office does have fairly close to absolute power, except for every four years when that prerogative is subject to electoral review.
And Nelson is aware that, in many ways, this election is a referendum on Corey.
She's betting the community is ready to move beyond the 20th century approach to law and order that, despite the gaudy conviction stats of Corey's office, hasn't shaken the reality that Jacksonville is "the murder capital of Florida."
****
Nelson took questions at the event: an obvious one is why she left the SAO in 2009.
It was, Nelson said, a "combination of things," including a "loss of autonomy for the sake of politics."
This was, she added, not an experience unique to her.
Since leaving the SAO, Nelson has noticed a pattern of the current "state attorney using taxpayer money to enrich herself."
"She took $250,000 out of the operating budget for a pension upgrade," said Nelson, for "correcting a deficit in her retirement."
Nelson also noted the correlation between raises for employees and political contributions, as another example of why that office is "mired in controversy."
Perhaps inevitably, the closed primary came up.
"The night that we win," Nelson said, "politics end."
"Our elected state attorney has yet to take responsibility for the actions of her campaign," Nelson added, calling it a "denial of accountability."
****
Beyond that, many of the topics brought up are not new to those following the forums, or in the case of local newscasters, reading FloridaPolitics.com write-ups of those forums as "reports" and not giving credit.
Alternative sentencing is a priority of Nelson's, and she believes there is an opportunity to collaborate with the nonprofit sector — such as the Delores Barr Weaver Policy Center, in the case of "young girls."
Her goal: to keep kids out of the criminal justice system, where rehabilitation all-too-often doesn't happen.
Another priority of Nelson's is "re-entry and reintegration" of reformed felons, to help steer them away from their "old habits, old ways, and old neighborhoods."
Still another policy innovation Nelson seeks to bring to the office is community prosecution, which would assign prosecutors to parts of the city.
The idea: to build trust and to improve the gathering of information, which would help with solving and curbing violent crimes.
****
In the end, this event was about engagement.
Introducing an alternative to the status quo to younger voters and seeing if they would be willing to explain the importance of this vote to their networks.
In an election where incumbents and union bosses have their thumbs on the scale for the embattled incumbent, especially in Duval County, events like Monday night's gathering are intended as a counterbalance.