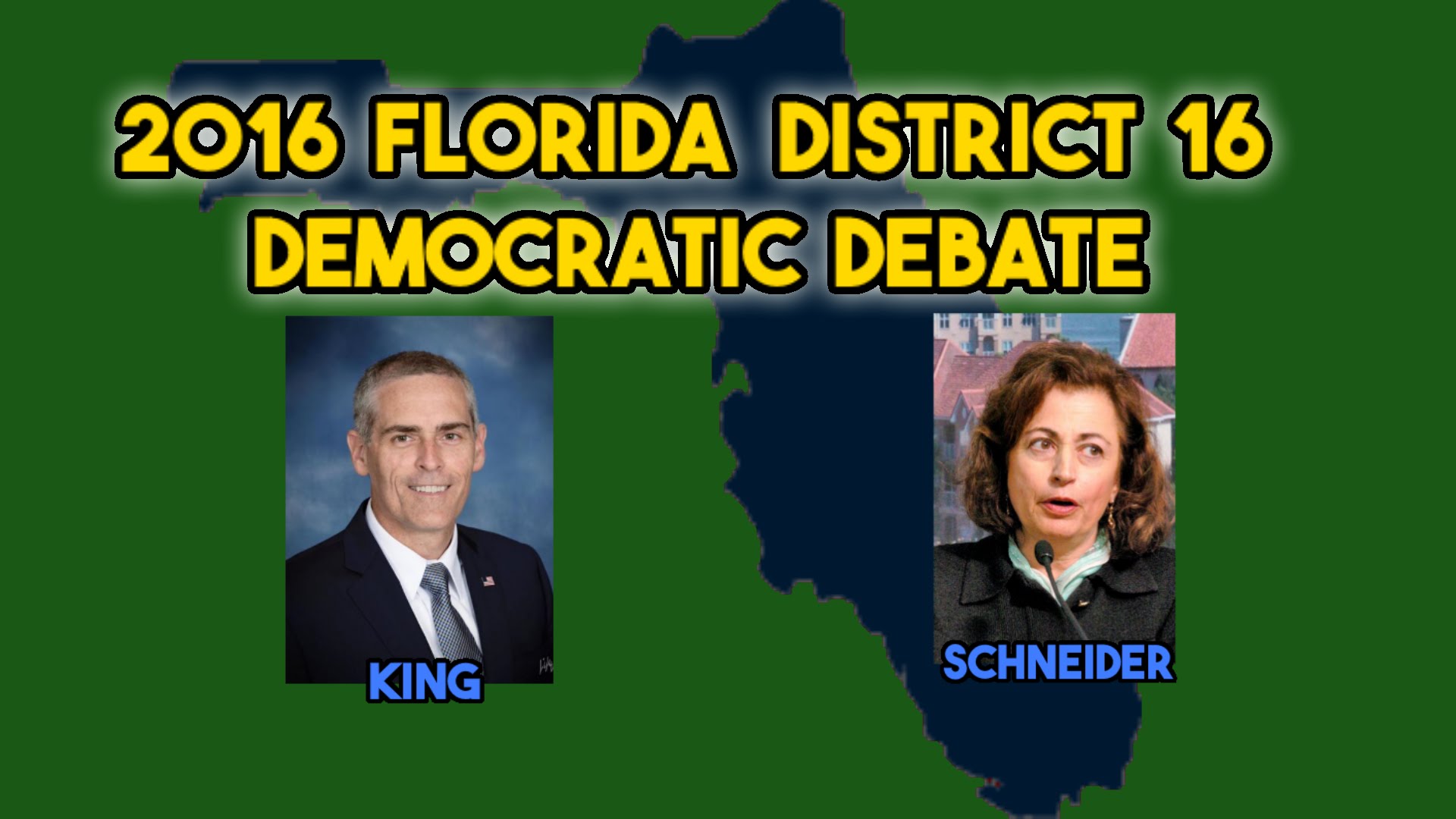 Brent King and Jan Schneider, the two Democrats running this month in Florida's 16th Congressional District primary, are disputing the notion they have no chance to defeat GOP incumbent Vern Buchanan in November.
The two Democrats were interviewed live in a debate on Wednesday night on WWSB-TV, the ABC affiliate in Sarasota.
"Vern Buchanan is defeatable," Schneider told anchor Alan Cohn.
Schneider, 68, is an attorney who previously ran for the congressional seat on four different occasions from 2002-2008. "This is a very odd election year," she said. "Bernie Sanders certainly showed that, and Donald Trump. But say even it isn't winnable. I'm an educated lawyer. I went to law school with the Clintons. Even if the worst happened and we couldn't win the seat, we can win the presidential election in Florida …"
King then seized on Schneider's comment that the district might not be winnable.
"This is where I have a disagreement with Jan," he said. "I believe that we can win the district."
"I didn't say we couldn't," interjected Schneider.
King, 49, is an airline pilot and former teacher engaging in his first political campaign. He told Cohn he began developing a database months ago to identify potential swing voters he hopes to get on board with his candidacy.
"Donald Trump has helped motivate this Democratic base and the Republican base to act absolutely opposed to what's going on," he said. "And so with Vern Buchanan endorsing Donald Trump, that is a motivating factor. Our campaign has been working with phone banks, we've been canvassing, we're starting to put up our signs now … we're going to specifically show how Vern Buchanan has worked against women's issues."
Schneider mentioned how the district has been reconfigured due to redistricting last year, which she says makes it more advantageous for a Democrat. District 16 now covers Manatee County and parts of Sarasota and Hillsborough counties.
Cohn said neither candidate has had a robust summer of fundraising, and asked if they would be able to put on television ads.
"We have to be wise how we spend our money," replied King. "We'll never be able to outspend Vern Buchanan, but we will have a very smart campaign."
"Yes, we've done it before, we're raising money now, but it's not just about money, as certainly the national races around here have shown," said Schneider. "Trump and Hillary. Hillary and Sanders. Sanders did better than anyone would believe on $27 average contributions."
Before he began engaging on that question, Cohn aired a brief interview he conducted earlier this year with Maryland Democrat Steny Hoyer,  the second-ranking member of the House Democratic leadership.
"You gotta target seats where you have good candidates, an ability to raise significant sums of money, and you have good polling numbers," Hoyer said about what the national party looks for in backing candidates for office. "Right now, this district does not fall into that category, because we don't have a candidate that's generating the kind of interest that would allow all three of those to happen."
King and Schneider will face each other in the Democratic primary Aug. 30, with the winner facing Buchanan in the fall.