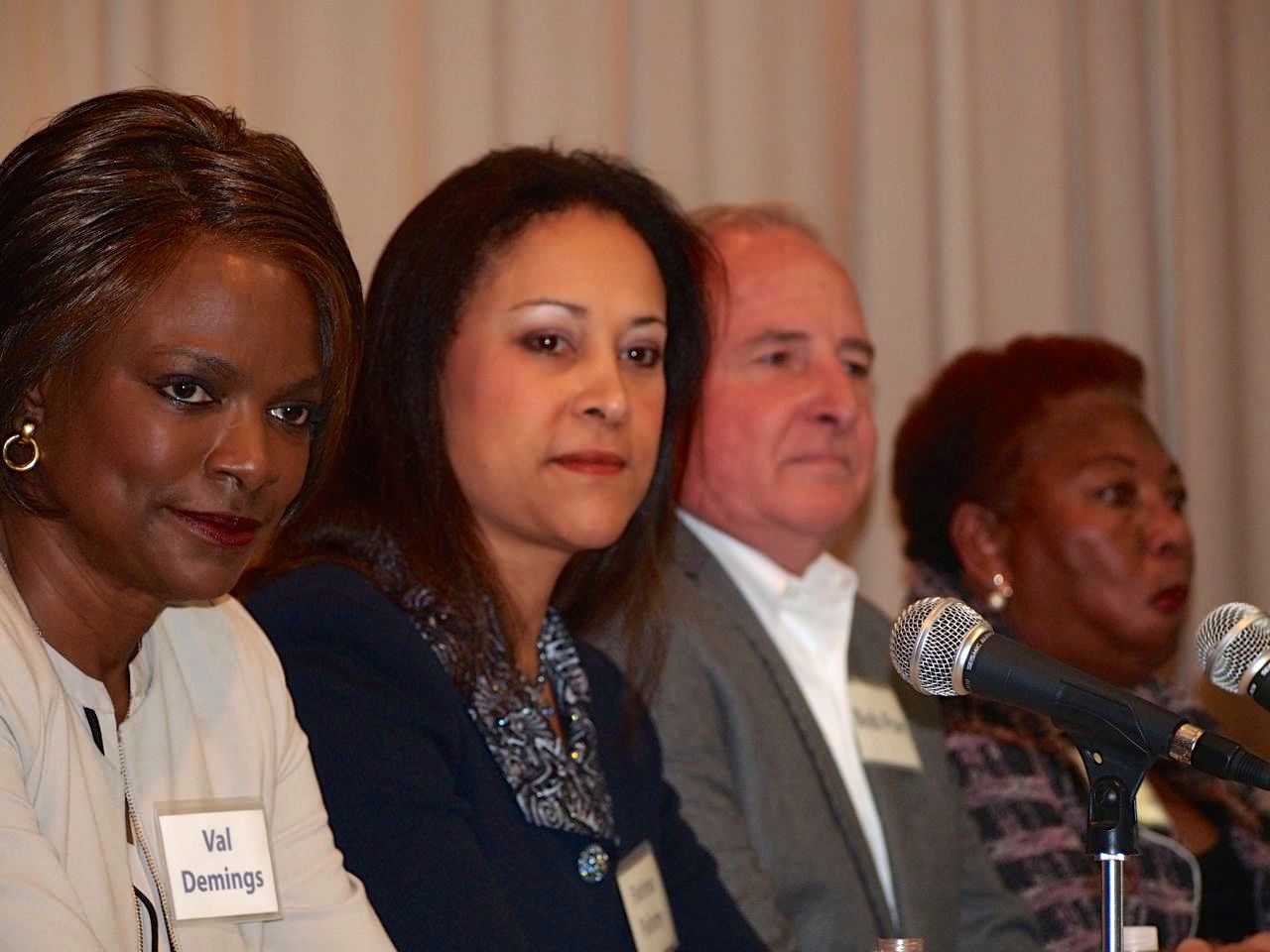 Former Orlando Police Chief Val Demings' support from Washington D.C.'s Democratic leaders continues to draw angry backlashes and clashes with her three Democratic rivals in Florida's Congressional District 10 race.
According to The Orlando Political Observer, a private meeting Demings held Wednesday with black clergy, featuring U.S. Congress Democratic Black Caucus PAC Chair U.S. Gregory Meeks of New York, led to a hostile confrontation with state Sen. Geraldine Thompson, a Demings rival angry that Meeks came to campaign for Demings in Thompson's district.
Demings personally barred the door, preventing Thompson from getting in, while the two exchanged angry words, according to Frank Torres' news blog.
That led to a strong denunciation of Demings — and Washington endorsements of her — from another Democrat in the CD 10 race, Bob Poe, a former Florida Democratic Party chairman. "It's inexcusable and undemocratic," Poe stated.
The scene may be repeated Thursday when U.S. House Minority Leader Nancy Pelosi attends a private fundraiser in Orlando to support Demings and also Stephanie Murphy, a Democrat running in Seminole County-based Florida's 7th Congressional District.
Thompson and the fourth Democrat in the race, Fatima Rita Fahmy, who already has crashed a previous Pelosi visit for Demings in March, leading to a hostile, finger-in-your-face argument with Demings during a press conference, both say they will be there. Poe has said he has something in mind for tonight's fundraiser.
Fahmy also crashed a private Demings' meeting with Democratic Congressional Campaign Committee Chair U.S. Rep. Ben Ray Lujan of New Mexico and Latino leaders of Orlando in February.
Thompson, Fahmy and Poe have repeatedly tried to characterize Demings as Washington's pick for Orlando and charged that she will owe Washington leaders if elected. Poe even has suggested such in advertising. Demings replies that she earned Washington's backing with her close, long shot run in 2012 when the district was still strongly Republican, and that she remains as Orlando-oriented as she always has been.
The matter came to a head again Wednesday at a debate held by the League of Women Voters of Orange County when Fahmy and Thompson quickly turned on Demings over her Washington backing, accusing her of being beholden to special interests.
"I'm kind of the poster child of the outside candidate," Fahmy said to open the forum. "I've prided myself on having been a little bit of a thorn in the side of the D.C. establishment, who has seen fit to put their thumb on the scale in our local election here in District 10, the same way they did in the presidential primary level. I've called them out on every turn, and I'll continue to do that."
Said Thompson: "They have endorsed a candidate in this race where there are four qualified Democrats. And I'm holding up the mirror to the Democratic Party that doesn't know what the word 'democratic' means. Democratic means that the people decide. It's not we-the-party, we-the-power-brokers, we-the-elite."
Replied Demings: "I was recruited (in 2011) by the DCCC because they were convinced they needed to change Washington. If they were going to do that, they needed to change the way candidates are recruited. I have been recruited by the Democratic Congressional Campaign Committee and launched my campaign for this cycle in August 2015, yes, with the support of the Democratic Congressional Campaign Committee and several other organizations that represent thousands of people here on the ground, so I am honored to have their support."