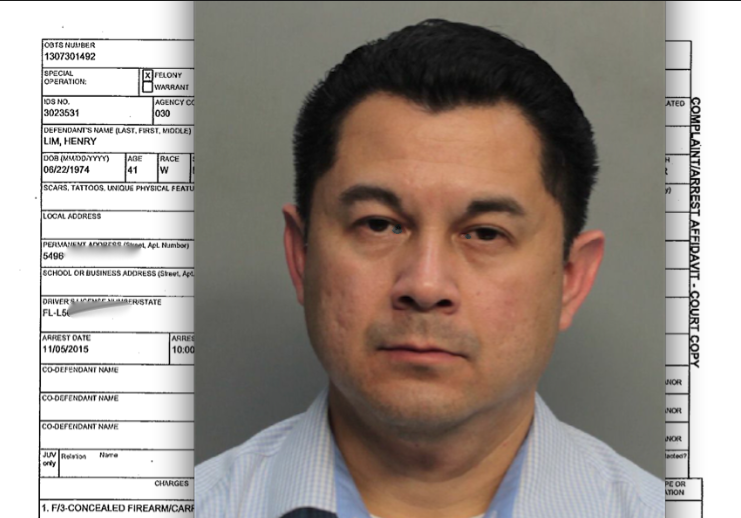 Democratic Florida House District 47 candidate Henry Lim was arrested for carrying a gun into the Miami U.S. Citizenship and Immigration Services office in 2015, a case he said Monday was due to his unfortunate oversight.
Lim, an immigration lawyer, said he was representing a client in Miami and left Orlando early the morning of Nov. 6, 2016, with a loaded Baretta .32-calber handgun he uses for self-protection in his briefcase. He said by the time he got to Miami he was tired from the long, night of work the night before and a long, early-morning drive, and forgot the gun was in there.
But he was reminded it was in there after U.S. Homeland Security officers found it in the security check. There was a bullet in the Baretta's chamber and the safety was off, according to his arrest affidavit.
Lim was arrested by a Miami police officer for unlawful carry of a concealed firearm, a felony, and later released on a $5,000 surety bond.
Lim did not have a concealed weapons permit at the time because the permit he once had expired more than three years earlier. Lim said that also was an oversight on his part, and he has since applied for a new permit.
No formal charges were ever filed against him by the state attorney in the incident, he said.
The case against him was dismissed with no action a month later.
"I simply forgot to take the handgun out of my briefcase," he told FloridaPolitics.com Monday.
Lim is facing two fellow Democrats in the Aug. 30 primary, independent television producer Beth Tuura and lawyer Clinton Curtis. The winner would face Republican incumbent U.S. Rep. Mike Miller in the general election.
Lim said he is determined to be up-front about the arrest. He said he was advised to have the case expunged, but concluded "it is already out there" so he preferred to not hide or  run from it.
Lim has pushed gun legislation as part of his campaign platform. But he said Monday he draws a distinction between citizens' rights to have and carry weapons, as he has done and the need for tighter restrictions.
The gun policies we are talking about are for expanded background checks for dangerous people," Lim said. "We're talking about limiting gun magazine capacities, and assault-style weaposn. Those are the things I call for.
"Look," Lim continued. "I believe in the 2nd Amendment as well. I'm a gun owner. I don't want to take away anyone's guns. But I do feel we have to have additional safety measures.