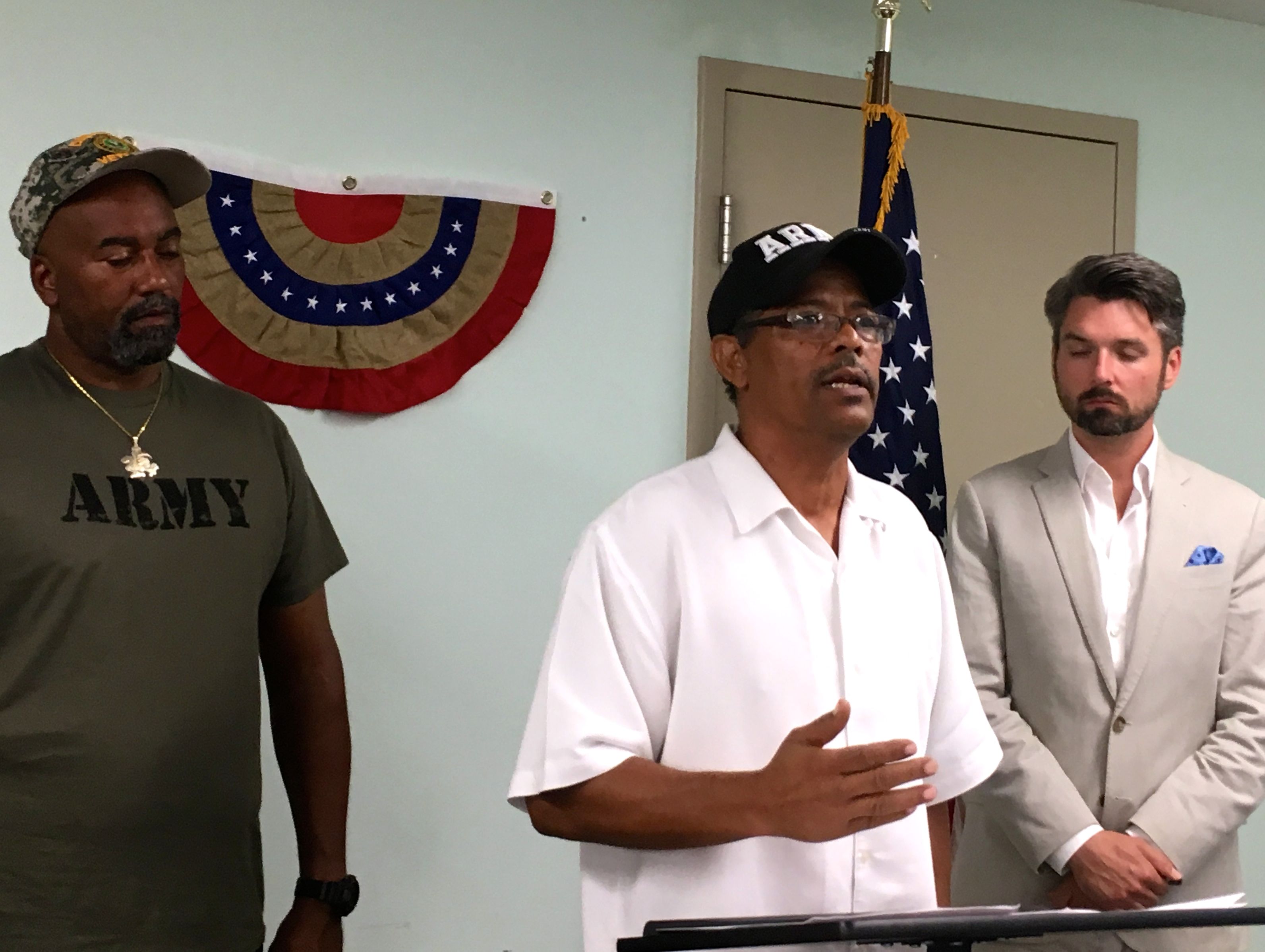 Assailing Donald Trump as someone who's offended veterans time and again, a union veterans council executive predicted he will not get the support of a majority of veterans this year.
"Donald J. Trump, the GOP candidate for the president of the United States, will be the first Republican candidate … in modern political history to not celebrate a majority of support among veterans come election day," said Will Fischer, a U.S. Marine Corps Purple Heart recipient and painters' union member who is executive director of the AFL/CIO's Union Veterans Council.
Fischer was joined in Orlando at the Orange County Classroom Teachers Association office by two Orlando disabled Army veterans, Joseph Washington and Leroy Bell, who added their disdain for Trump and also accused U.S. Sen. Marco Rubio of failing to support veterans.
The AFL/CIO and most of its member unions have backed Democratic candidates, starting with presidential nominee Hillary Clinton. Fischer, Bell and Washington said they don't believe the angry veterans they speak with are particular to unions or the Democratic Party.
The trio said they were repeating concerns they've heard from other veterans, going to both policy statements and off-the-cuff remarks Trump has made and policy positions Rubio has taken that have upset former American servicemen.
The policy statements and positions have principally to do with two areas, proposals for the U.S. Department of Veterans Affairs, and hawkish foreign policies that could lead to more American military fighting.
Fischer, Washington and Bell said Trump and Rubio speak about voucher programs replacing much of the VA medical care. But what they hear is the Republicans trying to drain away money and support for the VA to private health care, which they say cannot and will not understand the full range of services needed that the VA provides.
They also said Trump has dismissed the G.I Bill as not needed, and that Rubio has voted against veterans' re-education programs.
But that was nothing compared with the ire they said they and many other veterans felt watching Trump, who took deferments to avoid military service, belittle the Gold Star Khan family or joke around about a Purple Heart, saying he always wanted one.
"I will leave right after this press conference, going to a little place they call Uniontown, Alabama. There, we will be laying to rest a Purple Heart veteran, who happens to be my cousin," Bell said. "There ain't no words. There's no words. It's despicable."