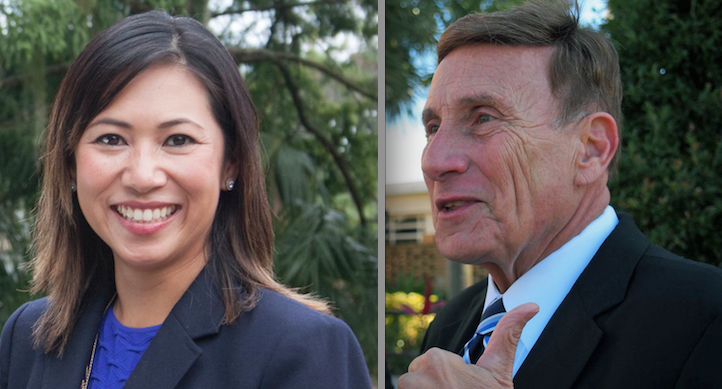 The entry-bell surge of political action committee money into new Democratic nominee Stephanie Murphy's campaign fund has triggered a similar rush of PAC money into the war chest of Republican incumbent U.S. Rep. John Mica in the Winter Park-based Florida's 7th Congressional District.
National Democrats signaled they're taking Murphy's candidacy seriously, compared with those of most of Mica's previous opponents, by gearing up an early money surge that has raised nearly $200,000 in her first two months, including $64,500 from political committees. That's through the Aug. 17 48-hour campaign finance notice filed with the Federal Election Commission.
Likewise, Mica's campaign has geared up with a new urgency that was lacking in recent campaign fundraising activities. Since mid-June when Murphy first emerged, Mica's campaign has raised more than $169,000, including more than $100,000 in PAC money through the Aug. 17 48-hour campaign finance notice.
The pair are battling over the newly-redrawn CD 7, which includes Winter Park and much of north-central Orange County and all of Seminole County. Once a Republican stronghold, the district now is close to 50-50 and national Democrats put it on their target list long before they recruited Murphy to run.
Mica's campaign, stocked from years of underspending, doesn't need the surge to stay well ahead of Murphy.  He's a 12-term incumbent. And at the Aug. 10 full filing deadline for the pre-primary deadline, Mica's campaign had $789,000 in the bank. Murphy, whose campaign formally started June 22, had $154,000 in the bank on Aug. 10.
Mica's PAC money is coming from both local and national organizations. Locally and in Florida the contributions have included checks from PACs representing The Walt Disney Co. Employees, SeaWorld Parks & Entertainment, Florida Sugar Cane League and Gray Robinson, Nationally he's gotten PAC money from the Associated General Contractors of America, Independent Insurance Agents, Comcast, the Bankers Association, the National School Transportation Association, Walmart, and the NRA Victory Fund.
The NRA sent a $1,000 check to Mica on June 14 – two days after the Pulse nightclub massacre in Orlando.
Murphy's PAC money has come from groups such as Emily's List, Latino Leaders for Equality Growth and Opportunity, AmeriPAC, End Citizens United, Emily's List, and Grassroots Organizing Acting & Leading.