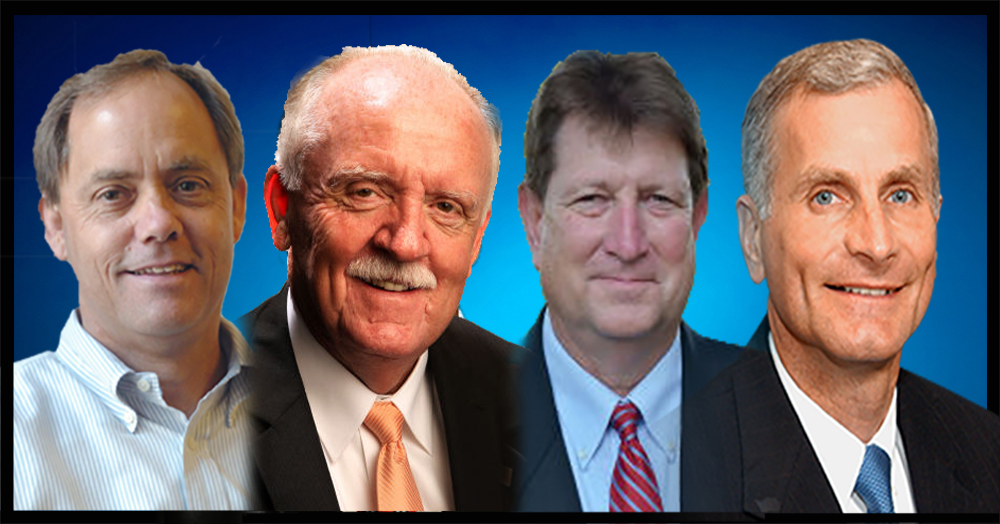 Ordinarily, the only thing less interesting than electing a county's property appraiser is electing its clerk of court. At least people have a pretty good idea of what a property appraiser does.
But when a long-time appraiser creates an open seat by announcing his retirement, and does so in a year in which Donald Trump declares all campaign customs to be obsolete, then all that was once normative no longer applies.
Throw in a county — Pasco, a giant trapezoid squatting like a box hat atop better-known Hillsborough and Pinellas in the Tampa Bay area — that contributes regularly to the Florida Man Twitter account, and, of course, the campaign for property appraiser takes on the swampy, inbred texture of a Tennessee Williams play.
And this is only the Republican primary we're talking about.
In this corner is Ted Schrader, a four-term county commissioner who, having previously served on the San Antonio City Commission and assorted county boards, had planned to retire from public life.
All that changed when incumbent appraiser Mike Wells Sr. (not to be confused with his son, Mike Jr., a rookie commission board member), a Republican who'd held the job since 1996 and was re-elected in 2012 despite being caught by a Tampa TV news reporter at home in his boxer shorts in the middle of a weekday afternoon, announced his retirement. (Doctor's orders, Wells explained.)
In that corner is Gary Joiner, 52, a 33-year veteran of the Pasco County Tax Collector's office, where he has risen to operations director, the No. 3 job in the 196-member agency.
In all honesty, Joiner has said, he'd prefer to run for tax collector, but that job belongs to veteran pol Mike Fasano, "and Mike's going to be here as long as he wants to be."
Instead, restless and touting his experience as a customer-pleaser, Joiner, like Schrader, turned his eyes to the rare vacancy, saying. "It probably doesn't get any better time to do this."
If that were that — longtime elected official with universal name recognition vs. high-ranking bureaucrat — it would be, by property-appraiser-race standards anyway,  interesting enough.
But that definitely is not that. In fact, the contest to name their nominee has so thoroughly split the party, longtime operative and Pasco Republican State Committeeman Bill Bunting — whose finger almost always can be detected on the GOP scales — has his hands firmly in his pockets.
Why so reticent? Both are on the far side of Bunting's uncrossable redlines.
Schrader has demonstrated a willingness to hike fees and special-use taxes, for openers, and despite being financially capable — he comes from east Pasco money — he never sponsors a table at the party's annual Reagan Day fundraiser.
Joiner, on the other hand, was a lifelong Democrat until about 15 minutes after the death in June 2013 of his boss, former Tax Collector Mike Olson, once the godfather of Democratic politics in Pasco. Sensing an opportunity, Joiner switched to the GOP and rang up Bunting to ask if he'd put in a good word with the man assigned to name Olson's successor, Gov. Rick Scott.
More about that in a moment.
Each of the warring camps claims impressive supporters. Indeed, it's practically a regular OK Corral showdown of Pasco's who's whos — or is that who's whoms?
Either way, Schrader's backers include Wilton Simpson, the presumptive future president of the state Senate; east-county state Rep. Danny Burgess; Paula O'Neil, Pasco's popular clerk of court and comptroller (full disclosure: I do part-time contract work for the clerk); school Superintendent Kurt Browning; past state House Speaker Will Weatherford; and, not insignificantly, the retiring Wells himself.
Joiner's gunslingers — in at least one case, literally — include well-regarded Sheriff Chris Nocco, unopposed in his second re-election campaign; state House Speaker-designate Richard Corcoran; and, deliciously, Fasano, the former thorny legislator whom Scott and GOP leadership wanted so desperately out of Tallahassee, they ransomed the tax collector's job to him.
Now Fasano, who crossed party lines to help elect his successor in the House — Democrat Amanda Murphy — and remains loyal to the transmogrified Charlie Crist, is doing robo calls and has recorded a TV commercial for the ex-Democrat who wanted — wants, actually — his job.
Wait. As noted at the top, it gets better. Leave aside the fact Schrader and Joiner are running on similar platforms (better service through improved technology; felicity to state law). What matters most is the avalanche of mailers accusing each of nefarious behavior.
Calling him and his family "local land barons," Joiner says Schrader has lined his and his kin's pockets with artful deals sweetened by his role as a county commissioner. How can voters, one flyer asks, trust Schrader "to value his own property fairly?"
Schrader parries with Joiner's misbehavior as a top-level agency administrator, citing the ramifications of an extramarital affair with a subordinate in 2008, and his attempt to rekindle the romance in 2013 and 2014, discovery of which resulted in a two-week suspension last year.
The anti-Joiner mailer, depicting Joiner peering creepily through venetian blinds, notes he kept "a fancy taxpayer job" even though "to protect female coworkers" he can "never be alone with them at work."
So far, Joiner has not countered with a prickly incident surrounding Schrader — his 2013 domestic battery arrest after his ex-wife alleged he roughly grabbed her arm — but deploying it could prove problematic. The charges were dropped and his record was expunged.
Observers give Schrader the edge in the Aug. 30 primary, although they expect it will be extremely close. And waiting beyond is late qualifier Jon Sidney Larkin, 44, a Dade City Democrat and real estate broker, who — if he's so inclined — can be grateful that the dirty work has been done for him.