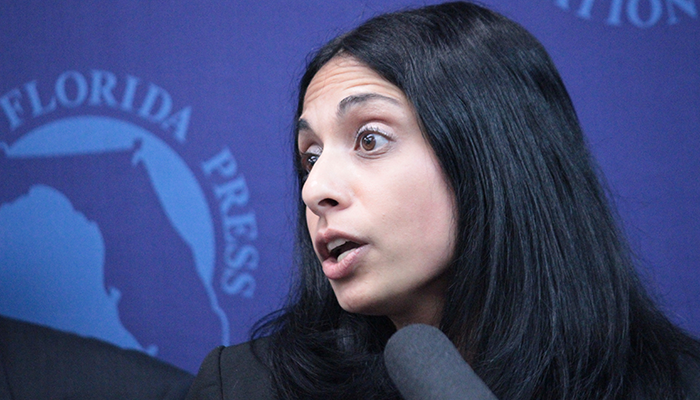 There was a conspicuous absence during a debate Tuesday between the candidates for Congress in Florida's second district — Republican Mary Thomas pulled out just minutes before the festivities were to begin.
The two remaining Republicans, Panama City urologist Neal Dunn and attorney Ken Sukhia, were left to compete for the mantle of the true conservative in the race. Meanwhile, Democrats Walter Dartland and Steve Crapps said they would stick up for the little guy.
"What distinguishes me is that I have already fought for the issues we all hold dear," Sukhia said, mentioning his participation in litigation on the state's behalf against the Affordable Care Act, his activism in opposition to abortion rights, representation of small business owners challenging government regulation, and intervention in the Terri Schiavo matter.
Dunn agreed the country is on the wrong track, but said he hopes to cooperate with Democrats within limits.
"You have to be able to work together. Maybe I'm not right on some things. Maybe they're right." Still, he came down hard on the ACA, which he likened to a "cancer," plus government regulations. He described the military as "under attack" by the Obama administration. "We need to get the government off our back," he said.
As for Thomas, she telephoned debate organizers for the Network of Entrepreneurs & Business Advocates in Tallahassee "a few minutes" before the scheduled start, said Barney Bishop, the group's president.
"We got a call saying she was in Lake City or Live Oak" and wouldn't attend, he said. "I think she had another appointment."
The Thomas campaign did not reply to an email seeking comment. Thomas works in the Rick Scott administration as general counsel for the Department of Elder Affairs.
Sukhia is a former U.S. attorney who, while in private practice, represented George W. Bush during the 2000 Florida recount. He was active in anti-abortion advocacy and intervened in the Schiavo matter.
"The problem for the past eight years has been the unwillingness of Republicans we sent to Congress to do what we sent them there to do," Sukhia said — that is, stop the descent of the United States into a "socialist-secularist state." He denounced the Republicans in Congress who voted for the last budget resolution despite its inclusion of money for Planned Parenthood. Compromise is fine, he said, "but there are some other things I won't compromise on."
Dunn supported former U.S. Rep. Steve Southerland when he represented the district. He has taken heat for donating $1,000 to Charlie Crist while Crist was still a Republican, and to Democratic Rep. Allen Boyd and U.S. Sen. Bill Nelson's campaign against Connie Mack in 2012.
The two Democrats appeared to understand they were the underdogs in the race. The 19-county district, as recently redrawn, gave President Obama only 34 percent of its vote.
Dartland, who served as deputy state attorney general and as general counsel in that office, focused on vocational education and defended regulations to protect the public. "We have regulations for a reason," he said. He called for a single-payer health care system.
Crapps, a tree farmer from Live Oak, described himself as "an old-school conservative Democrat." He said: "You have to be with the people, not the party."