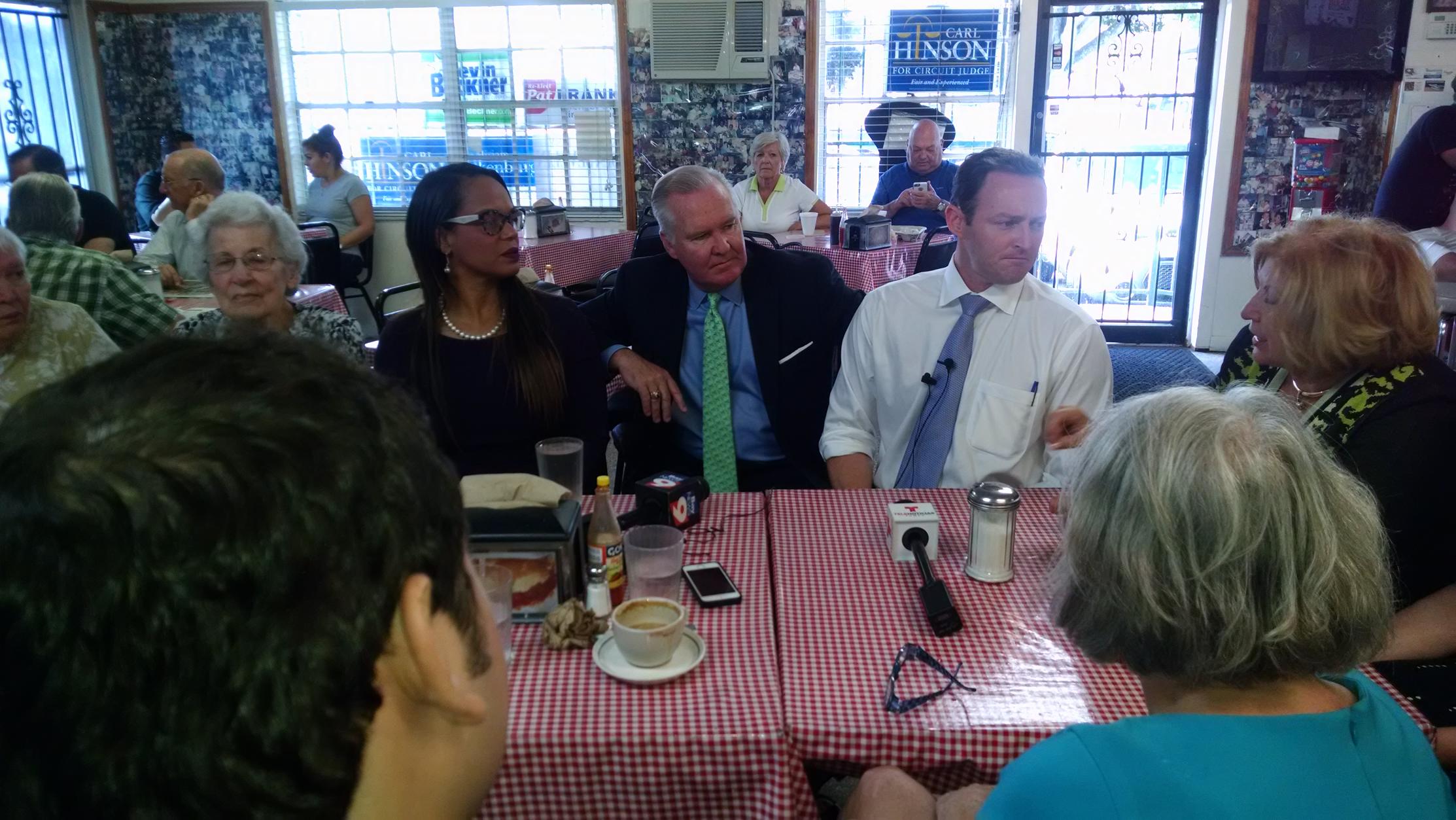 Patrick Murphy says if he is elected to the U.S. Senate in November, he'll push to provide a public option to the Affordable Care Act.
"At least in rural areas, where you don't have much competition," the Jupiter representative and Senate Democratic hopeful said on while making a campaign stop on Monday morning in West Tampa. He said that would be an added option for people on the ACA, "and beyond that, to make sure that there is competition ultimately."
Passed six years ago, the Affordable Care Act (aka Obamacare) still divides the country and the Congress. Most Republicans continue to call for repealing the entire measure, though they rarely have provided a viable alternative. Democrats have stood by it for the most part, but even some of the law's biggest supporters say it needs an overhaul.
Earlier this month, health care giant Aetna announced it had lost more than $400 million on Obamacare policies since the insurance exchanges were set up in 2014, and was going to pull out of most of them, including in Florida. That followed similar announcements made by United Healthcare and Humana.
Which means fewer choices for those on the ACA. Lack of competition means higher premiums and/or lower benefits. A public option would be a federal option open to anyone on the individual market, and Murphy said he'd push for it if elected in November. Hillary Clinton has made similar comments on the campaign trail.
"The key is like any issue — it's acknowledging that there are some things that are working, and that some things that need to be fixed," Murphy said. "No legislation that is passed — or rarely I should say — is perfect, and you have to evolve with the times to see what's actually working. Unfortunately, in Washington you have a group of people that basically want to shut down the government … they say throw the whole thing and start over, without offering solutions to it."
Murphy was in the Tampa Bay area for the third straight Monday leading into Tuesday's primary election, where he's facing Congressman Alan Grayson and retired Navy JAG officer Pam Keith for the Democratic nomination for U.S. Senate. However, Murphy never talks about his fellow Democrats on the campaign trail, instead looking ahead to a November matchup against incumbent GOP Sen. Marco Rubio.
Murphy appeared shortly before 9 a.m. at the West Tampa Sandwich Shop, a traditional stop for Democrats running for office to make an appearance at (Barack Obama was there in September of 2012). He was joined by state Rep. Janet Cruz, Tampa Mayor Bob Buckhorn, Tampa City Councilman Guido Maniscalco, and Hillsborough County Commission hopeful Pat Kemp, among others. Murphy spent time speaking to other "regular voters" who had assembled at the table, which gave him the opportunity to discuss his plans for immigration, health care and the economy. And diss Rubio.
"Climate change — I believe it's happening, I believe it's real, I believe we have to get off this addiction to fossil fuels; Sen. Marco Rubio denies it's happening," he said while speaking to reporters after spending more than half an hour sitting at a table and talking about some of the issues he's running on.
"It's like infrastructure. I believe we need to make the investments. He doesn't believe in that. I want to pass comprehensive immigration reform. He does not want to do that. He wants to support Donald Trump, who wants to build a wall, and deport 11 million people the first day. Sen. Rubio has completely lost sight of his values and his morals, because he's so worried about running for president again."
"Patrick Murphy promised voters that Obamacare's state exchanges would bring down costs and create more competition, but Floridians are finding that the exact opposite has happened," said Rubio spokesman Michael Ahrens. "Obamacare has left them with fewer health care options and skyrocketing premiums they can't afford, yet Patrick Murphy's answer is to expand the program and make things worse for Florida's families. Marco will keep fighting for a patient-centered alternative that improves choices for consumers, costs Floridians less, and helps everyone get the coverage they need."
Following his West Tampa appearance, Murphy was scheduled to make campaign stops in Orlando and Miami. His campaign announced he will be spending election night in Palm Beach Gardens.