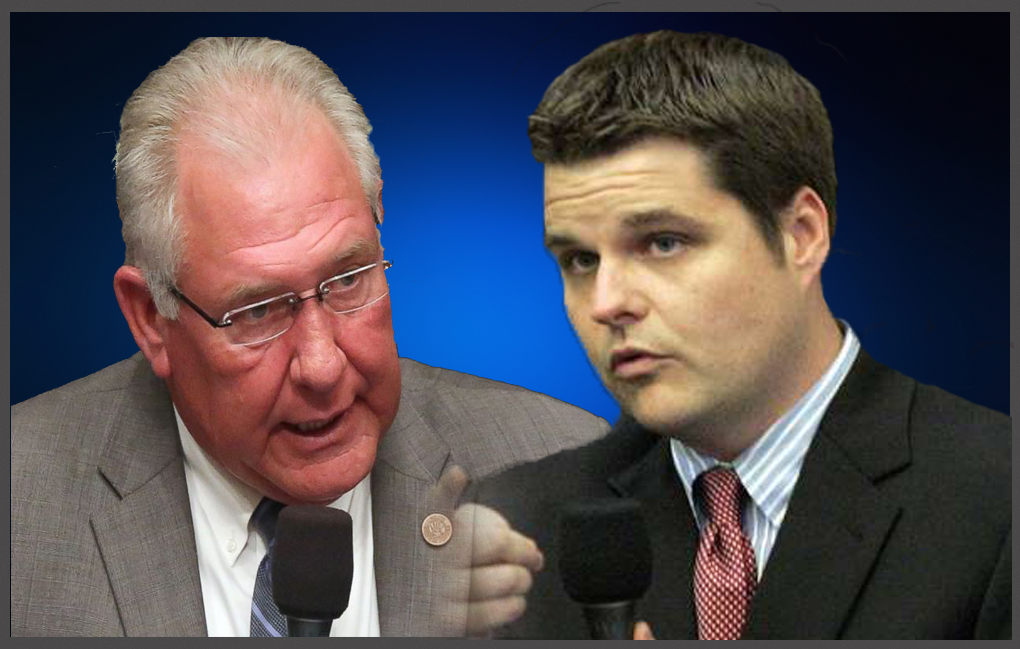 A legislator who backed comments describing Black Lives Matter as a terrorist group and another who held an online giveaway of a semi-automatic rifle are among eight Republicans trying to succeed a retiring congressman in Florida's conservative Panhandle.
U.S. Rep. Jeff Miller's heavily conservative 1st Congressional District, which is home to five military installations and a large population of veterans, has gone Republican since 1994. State Sen. Greg Evers and state Rep. Matt Gaetz announced they were running in the Aug. 30 primary after Miller said in March he was retiring after eight terms.
In late June, Evers raffled off a semi-automatic rifle among people in the district who "liked" his Facebook page. He said the giveaway was aimed at underlining the importance of the right to bear arms at a time of rising terrorism. Gaetz recently supported Okaloosa County Sheriff Larry Ashley's comments that the Black Lives Matter group is "a terrorist organization."
Gaetz has made an issue of military budget cuts, saying they have an especially acute effect on the district. "When the Pentagon gets a cold, we get the flu," he said.
He faults Evers for voting in the state legislature to expand eligibility for Medicaid, a move that would have drawn federal aid linked to President Barack Obama's health care overhaul. Evers has defended the move by noting that the Senate plan, which ultimately did not pass, was an alternative to traditional Medicaid expansion and would have used an insurance marketplace to extend coverage to nearly 1 million people.
Gaetz has come under fire after the Huffington Post reported two political action committees that he formerly chaired later were dissolved and contributed all their remaining $380,000 to another super PAC, North Florida Neighbors, which supported his campaign. At issue is whether he arranged that funding with his successor at the two PACs to contribute that money.
Gaetz, who said he stepped down from the PACs three days before announcing his run for Congress, maintains there was no coordination or communication from him regarding the funding.
"I feel like this all goes back to integrity," Evers said. "It is gaming the system at whatever costs and just another example of Washington insider trading."
Three military veterans – Cris Dosev, Brian Frazier and James Zumwalt – are also in the race. They are joined by Mark Wichern, owner of a water damage restoration business, and the little-known Gary Fairchild, who has not appeared publicly since filing for his candidacy.
A surprise contender could be Rebekah Bydlak, who has raised the second-most money of all candidates. Bydlak, 25, is a taxpayer advocate for the Coalition to Reduce Spending, which calls itself a nonpartisan group advocating reduced government spending and balanced budgets. Bydlak has described herself in debates as a free-market fiscal conservative.
Steven Specht, an Air Force veteran, is running unopposed in the Democratic primary.
Republished with permission of the Associated Press.