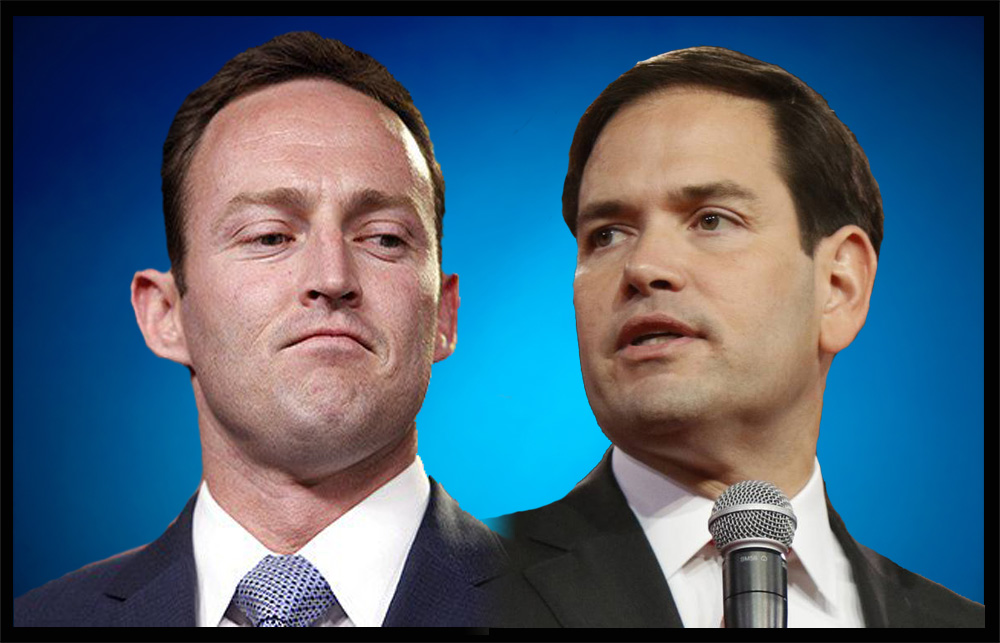 Republican Sen. Marco Rubio and Democratic Congressman Patrick Murphy are campaigning as if Tuesday's primary was already over and they won their parties' nominations for U.S. Senate.
And it may be for good reason. Rubio's main challenger, Carlos Beruff, appeared to throw in the towel, essentially shutting down the campaign he'd sunk $8 million of his own money into. And Murphy's main challenger, U.S. Rep. Alan Grayson, has been damaged by ethics and domestic abuse allegations, leaving Murphy to focus on Rubio.
That leaves congressional races as some of the more exciting to watch during Tuesday's primary, the first since court-mandated redistricting undid advantages for some incumbents and prompting one of the liveliest campaigns in many seasons. Congresswoman and former Democratic National Committee Chairwoman Debbie Wasserman Schultz is receiving an unexpectedly strong challenge from a Bernie Sanders-backed political novice.
Voters will also decide whether to amend the state constitution to allow a property tax break to promote solar power. And many of the state's congressional primaries almost certainly assure the victor will be elected in November because of the political makeup of the district.
Republican primaries to replace retiring GOP Congressmen Jeff Miller, Ander Crenshaw, Curt Clawson and Richard Nugent will likely decide who is sent to Washington in November. The same goes for the Republican primary to replace Democratic U.S. Rep. Gwen Graham, who is exploring a run for governor after her district was redrawn in a way that favors the GOP. Democratic primaries to replace Grayson and Murphy will also likely choose the next members of Congress in those districts.
Still, the Senate race is the main event, and one that took several twists along the way. Rubio wasn't even supposed to be on the ballot, declaring he'd run for president instead of seeking a second term. Rubio dropped out of the presidential race when Donald Trump trounced him in Florida, but he still said he was done with the Senate. Then, two days before the deadline to get on the ballot, he changed his mind, chasing all Republicans but Beruff out of the race.
The Democratic primary pits former Republican and party establishment favorite Murphy against Grayson, a fiery liberal whose outspoken candor makes him unelectable in the minds of party leaders. Despite voting with Republicans far more often than Grayson, Murphy is backed by President Barack Obama, Vice President Joe Biden and Senate Minority Leader Harry Reid. Grayson has run a maverick campaign, condemning his party's leaders and saying Murphy will be a puppet for leadership and special interests.
With comfortable leads in the polls, Rubio and Murphy took a similar strategy: Ignore the primary opposition. Both declined to debate their opponents, choosing instead to attack each other.
Rubio said he didn't debate Beruff because there wasn't enough time.
"He didn't really seem that interested in debates not that long ago," Rubio said in the days leading up to the primary. And when asked about the primary, Rubio turned the subject to Murphy, saying, "I take every race seriously. I'll have more events today than Patrick Murphy will have all week."
Rubio's campaign has been issuing near-daily attacks on Murphy while virtually ignoring Grayson.
It was clear, though, that Beruff wanted a debate, particularly investing so much money trying to build his name recognition. He repeatedly criticized Rubio for not agree to an exchange, saying he should "man up" and calling him a coward.
Murphy called off the only debate schedule with Grayson after the mother of Grayson's children said he abused her over the two decades they lived together, an accusation he has denied. Instead, Murphy focused nearly all is attention on Rubio. Murphy's second ad of the campaign, released four weeks before the primary, attacks Rubio for missing votes while running for president.
During a phone interview, Murphy said Rubio is more concerned about his political ambition.
"He constantly says 'I'm in this for Florida,' but he's clearly not running for Senate for Florida. He's never been there for Florida; he's never been there for a local issue; he's never shown up for work. He's in this for himself," Murphy said.
It's a similar message Grayson has made about Murphy, that there is no substance behind the candidate. Grayson repeatedly points out that Murphy was a Republican until he decided to run for Congress. He has voted with Republicans on bills that would have weakened Obama's health care overhaul and he supported a committee to investigate Hillary Clinton's handling of the attacks that killed four Americans at a compound in Benghazi, Libya.
"They're desperately trying to take this empty suit and make him into a plausible candidate for U.S. Senator and they're failing," Grayson said.
Republished with permission of the Associated Press.