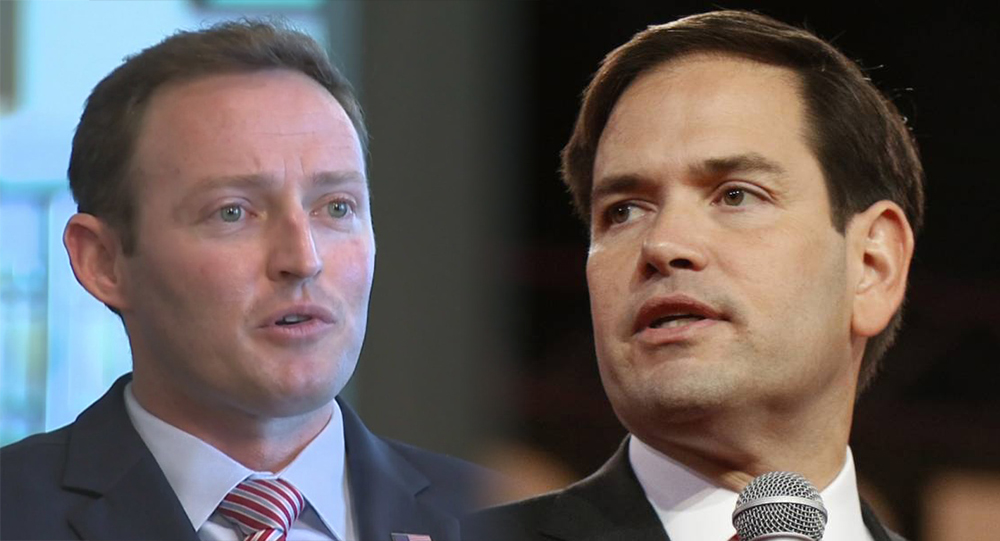 Mark your calendars.
Sen. Marco Rubio and Rep. Patrick Murphy will square off in an Oct. 26 debate hosted by Leadership Florida and the Florida Press Association. The organizations announced Thursday that both men had formally accepted the invitation to participate in the live, one-hour televised debate.
"The outcome of Florida's Senate race could affect the future direction of the country, and 13 days before Election Day we know the eyes of the state and the nation will be on this debate," said Wendy Walker, president of Leadership Florida, in a statement. "We are pleased that both major parties' nominees have committed so quickly to participate."
The one-hour debate will be produced by WPBF 25, a Hearst-owned ABC affiliate in West Palm Beach, and will be broadcast from 7 to 8 p.m. (ET) in each of Florida's 11 media markets.
Statewide broadcast partners include: WJXX (CBS) in Jacksonville; WFTV (ABC) in Orlando; WTVJ (NBC) in Miami/Ft. Lauderdale; WFTS (ABC) in Tampa/St. Petersburg; WBBH (NBC) in Fort Myers; WCTV (CBS) in Tallahassee; WMBB (ABC) in Panama City; WEAR (ABC) in Pensacola; WCJB (ABC) in Gainesville; and SNN-SunCoast News TV in Sarasota.
The live debate also be simulcast on Florida Public Radio member stations. The debate is scheduled to be held on Broward College's main campus in Davie.
Todd McDermott, a veteran WPBF 25 News anchor and multiple Emmy Award winner, will moderate the debate, along with a media panel.
"The free exchange of ideas is at the heart of our system of democracy because it creates an informed electorate," said Dean Ridings, president and CEO of the Florida Press Association, in a statement. "This debate will provide an outstanding opportunity for Florida voters to see the candidates and understand their positions and their differences."
The sponsors of the "Decision 2016: Before You Vote" debate series are Broward College, The Children's Movement of Florida, League of Southeastern Credit Unions, AARP, Claude Pepper Foundation, and the Black Alliance for Educational Options.