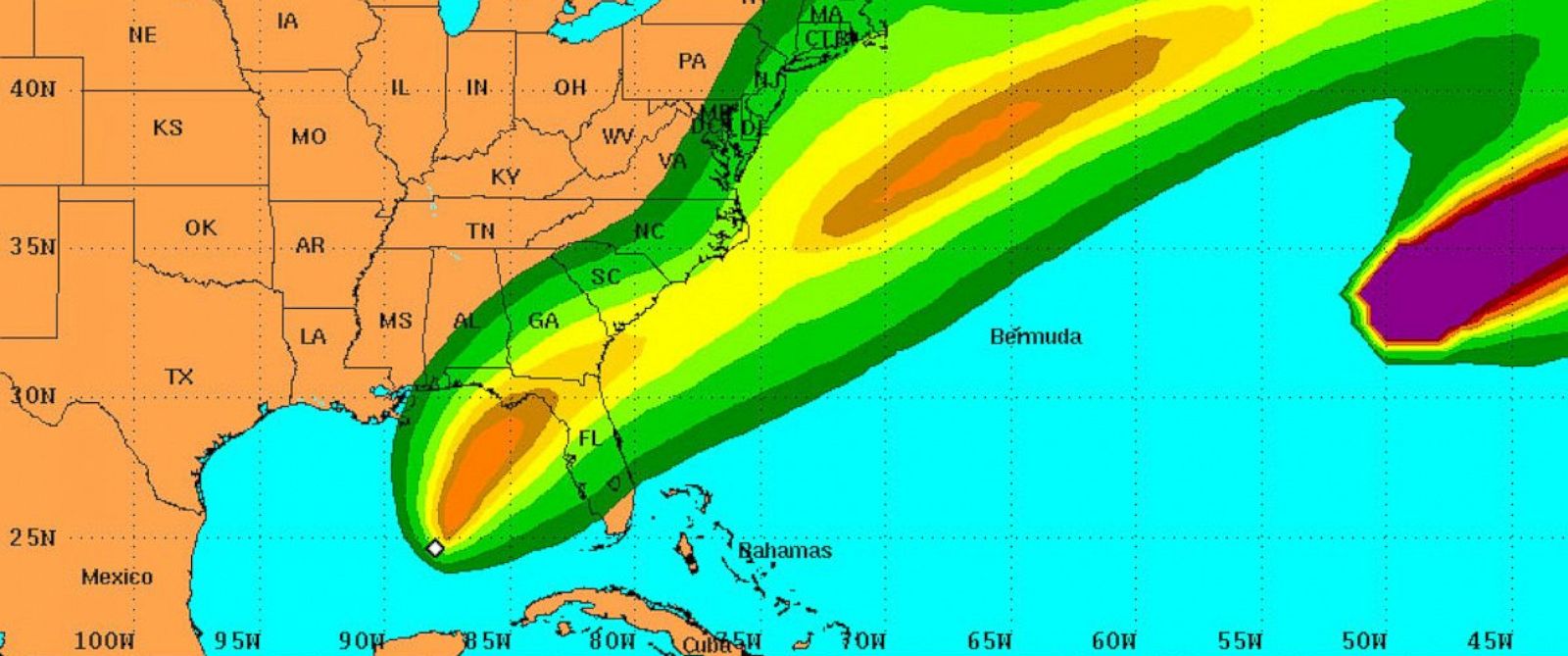 Sunburn — The morning read of what's hot in Florida politics.
By Peter Schorsch, Phil Ammann, Jenna Buzzacco-Foerster, Mitch Perry and Jim Rosica.
PROGRAMMING NOTE – BARRING A POLITICAL EMERGENCY, SUNBURN WILL BE OFF UNTIL SEPT. 6 SO THAT WE CAN RECHARGE IN ADVANCE OF THE GENERAL ELECTION.
HERMINE EXPECTED TO BECOME HURRICANE BY LANDFALL
Parts of Florida are under a hurricane warning as Tropical Storm Hermine moves closer to making landfall.
Hermine is expected to be a hurricane by the time it makes landfall early Friday morning.
Gov. Rick Scott declared a state of emergency for more than 50 Florida counties.
Hermine is also expected to bring the opportunity for an isolated waterspout or quick-to-develop tornado threat.
A high rip current risk and building seas and surf are already present off the coast.
TWEET, TWEET: @AGPamBondi: I have activated the Price Gouging Hotline, as Gov. Scott declares a State of Emergency.
STORMS FORCE HILLARY CLINTON CAMPAIGN TO CANCEL TIM KAINE'S VISIT TO FLORIDA via Sergio Bustos of POLITICO – The vice presidential candidate was scheduled to appear in Pensacola and Panama City [today], and Jacksonville Friday. Gov. Scott … declared a state of emergency in 42 counties and urged Big Bend residents to be prepared as a tropical depression advanced on the region. Authorities … said a hurricane watch was in effect for the region between the Anclote River near Tarpon Springs to Indian Pass in Gulf County. A tropical storm warning was in effect between the Anclote River and the Walton and Bay counties line.
FLORIDA COURTS CLOSING IN ADVANCE OF WEATHER via Florida Politics – Dixie County: The local chief judge announced that Dixie County courts will close at noon Thursday and remain closed Friday. Gilchrist County: The local chief judge announced that Gilchrist County courts will close Thursday. Gulf County: The local chief judge announced that Gulf County courts will close at noonThursday. Lafayette County: The local chief judge announced that Lafayette County courts will close all day Thursday and will remain closed Friday. Levy County: The local chief judge has closed the courts in Levy County for Thursday. For more information, check the court's website. Taylor County: The local chief judge announced that Taylor County courts will close all day Thursday and will remain closed Friday. None of the five District Courts of Appeal has plans to close at this time and the Supreme Court itself is not canceling any oral argument set for the rest of this week.
FLORIDA INSURERS SAY THEY'RE READY AS HERMINE NEARS via Michael Moline of Florida Politics – Got your homeowner's insurance policy handy? You might want to, said Logan McFaddin, Florida regional manager for the Property Casualty Insurers Association of America. Gov. Scott declared a state of emergency across a broad swath of the state … because of a tropical depression in the Gulf of Mexico, forecast to hit the Gulf Coast as a tropical storm or hurricane … Later, the system was upgraded to Tropical Storm Hermine. He called upon Floridians to make emergency plans. "Insurers are ready to respond and help families in the recovery process," McFaddin said. "Catastrophe teams prepare for storms like this one and are ready to help policyholders in the event this storm brings damage. It's important to make sure you have your agent or insurance companies contact information readily available," she said.
TWEET, TWEET: @salnuzzo: 
No hurricanes for 11 years; @
SamanthaASexton
joins @
PIFFNews
this month. Now the streak may end. Coincidence?
***Today's SUNBURN is brought to you by Bright House Networks for Business, your trusted provider of industry leading communications and networking services for any size business — from startup to enterprise, and everything in between. We offer a full portfolio of products and services, including Business Phone and cloud-based Hosted Voice, Business Internet at speeds up to 350 Mbps to fiber-based Dedicated Internet Access, several tiers of high-quality HD Video programming, and an array of advanced cloud and managed IT services. Our solutions are customized to fit your business, your budget and your industry. We own, manage and maintain our network, which means we are 100% accountable; and we're locally based, which allows us to be immediately responsive to our customers. Find out why so many businesses in your area trust their communications needs to Bright House Networks. Learn more.***
THE ULTIMATE LIST OF WINNERS & LOSERS EMERGING FROM THE PRIMARY ELECTIONS
Tuesday's slate of primary elections in Florida certainly provided a list of winners and losers, and I'm not just talking about the candidates. Here is our list of the real winners and losers coming out of the primaries.
Winners
Fair Districts — They were a big winner of the night. After years of fighting the state's political boundaries, it's fair to say Fair Districts came out on top. They survived a slew Democratic primaries and picked up an additional African-American in Florida's congressional delegation with the election of Val Demings in Florida's 10th Congressional District.
The "nice guys" — We see an election in which mild-mannered, sensible pols — Neal Dunn, Al Lawson, Francis Rooney — triumph over outrageous or negative opponents — Mary Thomas, Corrine Brown, Dan Bongino. Of course, it helps not to compare reporters to pedophiles, or get tape-recorded delivering a tirade punctuated with profanity. But that's just us.
The Florida Justice Association — Call it a big night for trial attorneys and their storm troopers Jeff Porter and Kevin Sweeny (or is it, Sweeney). The Florida Justice Association was involved in two dozen House and Senate races. In the House, the group played a role in helping Cord Byrd, Erin Grall, Jason Fischer, Jackie Toledo, Kamia Brown, Sean Shaw, Amy Mercado, Alexandra Miller, Joe Gruters, Emily Slosberg, Ramon Alexander, and Brad Drake cross the finish line victorious. But their work wasn't done there. In the Senate, the Florida Justice Association had its hand in the victories of Gary Farmer, Doug Broxson, Greg Steube, Debbie Mayfield, Dwight Bullard, Bobby Powell, Jeff Clemens, Randolph Bracy, Victor Torres, and Daphne Campbell. Could this be the year the trial attorneys stage a comeback and once again begin asserting their power in the Florida Legislature? We think so.
Anthony Pedicini, Tom Piccolo — See the FJA's wins in the Florida House? Pedicini and Piccolo played a role in several of those, like Cord Byrd and Erin Grall. Something tells me they helped in House District 60, too.
National Rifle Association – Racks up 'W's with Matt Gaetz, Melissa Nelson, Greg Steube. But they opposed Neal Dunn, who still won CD 2. No matter: With Greg Evers and others on the way out, NRA Florida lobbyist Marion Hammer should continue to have friends in the Legislature.
Puerto Rican Democrats 
— Political pundits throughout the state have said Central Florida's Puerto Rican population could have a big impact on Florida's politics. That proved true 
Tuesday
, when Puerto Rican Democrats helped Darren Soto come out on top in Florida's 9th Congressional District. Victor Torres won his primary to replace Soto in the Florida Senate, while Amy Mercado won her primary to replace Torres, her dad, in the Florida House.
Jeff Brandes — The St. Petersburg state Senator's solar power tax-break amendment far surpassed the 60 percent needed to become part of the state constitution. Does this mean campaign manager Chris Spencer gets to shave now?
David Jolly — The incumbent congressman from Pinellas County beat expectations to regain the nod for his CD 13 seat. Now on to see if tries to pace Democratic opponent Charlie Crist in a tanning war.
Joe Garcia — Is there an emoji for an upward dildo?
North Florida Neighbors — The super PAC picked the right horses, winning with Matt Gaetz in CD 1 and Neal Dunn in CD 2. And pay no attention to whoever's behind that curtain!
Conservatives — Look for the Florida Senate to lean a bit more to the right in the coming years. Dennis Baxley, Debbie Mayfield and Greg Steube were part of a conservative core in the House, and their elections could push the Senate a bit closer to ideology in the House.
Bill Galvano — It was a big night for the future Senate President. He was a big player in the battle between Kathleen Passidomo and Matt Hudson, even trekking down to Naples Tuesday to wave signs and get out the vote for her at polling places. He offered a hand to his friend Lizbeth Benacquisto, helping her win her re-election bid with nearly 70 percent of the ballot. And his absence in Senate District 23 helped secure a victory for Greg Steube. His record has him well placed to help Miguel Diaz de la Portilla secure a win come November.
Daphne Campbell — Despite a mountain's worth of legal and public relations problems, she's on her way to the upper chamber.
Paul Renner — Locked in a three-way battle to become House Speaker, the Jacksonville Republican likely picked up some pledges by backing Mel Ponder in HD 4 and Chuck Clemons in HD 21 in competitive GOP primaries.
Pinellas County — For so many years, it was represented by half-Senators — lawmakers who straddled parts of Pinellas and other counties. And while that still may be true on paper, the county will soon send to Tallahassee three Pinellas-first state Senators in Brandes, Jack Latvala andDarryl Rouson.
Florida Medical Association — After a slew of endorsements it picked up some winners, but also saw some big losses. In the winners' column: Matt Gaetz in Florida's 1st Congressional District; Neal Dunn in Florida's 2nd Congressional District, Randolph Bracy in Senate District 11; Dennis Baxley in Senate District 12; Greg Steube in Senate District 23; Kathleen Passidomo in Senate District 28; Cord Byrd in House District 11; Jackie Toledo in House District 60; Alex Miller in House District 72; Joe Gruters in House District 73. Over in the losses column: Jonathan Tallman in House District 4 and Brian Hodgers in House District 52. As for Ed Narain in Senate District 19 — we'll put him in limbo. That's a recount-close race.
Florida Hospital Association — Kudos to Bruce Rueben and Crystal Stickle for getting in on the ground floor of Kathleen Passidomo. Excellent mail and radio work from Rich Heffley and David Johnson.
Steve Crisafulli — The outgoing House speaker's political guys, Ryan Smith and Brett Prater, won in CD 1 and CD 2.
Core Message — Cory Tilley's Tallahassee-based PR shop handled the work for Amendment 4. Carrie Patrick, who did the lion's share of the work — no wait, actually all of the work — deserves a raise.
Lenny Curry — The chattering classes told him he couldn't get County Referendum 1 through without making promises to police and fire unions, the African-American community in Northwest Jax, or the beaches. He proved them wrong. Curry — the former party boss — was able to party like a boss Tuesday night, after a resounding 65 to 35 victory authorized extension of the Better Jacksonville Plan tax. That victory was a result of coalition building: Council Democrats and elder statesmen from the opposing party (including former Sheriff Nat Glover) helped make the pitch. The poll numbers got better for the referendum, and even a seeming misplay like hosting the Donald Trump rally didn't hurt Curry … in fact, it reassured Republicans that even though it's One City, One Jacksonville, the mayor is still Capital-R Republican.
Brian Hughes — Or should we say "big, big winner": The consultant handled Lenny Curry's pension tax effort, and candidates John Rutherford, Melissa Nelson, Lizbeth Benacquisto. Yeah, he took a ding on Mike Hill, but oh well. A tip of the hat to Hughes' running mate, Tim Baker, who also helped in most of these races, plus won with Mel Ponder in HD 4.
Susie Wiles — No, she's the big, big, big winner of election night! She was integral in the 'Yes for Jax' push. She was also integral in helping to introduce Al Lawson to Jacksonville media. Lawson, who couldn't buy a Democratic endorsement in the 904, got 20 percent in Duval … in part because of a strong TV ad, but also in part because Wiles crossed party lines to help out a friend to Ballard Partners, her firm. Wiles won't be around as much for the next little while: she's moving on to an expanded role in the Trump campaign, helping with "battleground communications." The smartest political operative in Jacksonville history?
Eric Johnson — Patrick Murphy's consultant can smoke a cigar. At the beginning of the year, Democratic opponent and Congressman Alan Grayson was up double digits. Tuesday night, he barely avoided third place. Johnson also managed to dull the sharp edges of a barrage of negative press and ads against the man who could be U.S. Senator.
Randy Enwright, Jim Rimes — A solid night for this duo with wins in CD 1 (Matt Gaetz), SD 28 (Kathleen Passidomo), and HD 5 (Brad Drake). Took a hit on Rebecca Negron, but they probably made a nice profit on all the phone work they did for other clients. Two months to Vegas, Jimmy!
Beth Kennedy — Give the Palm Beach-based consultant some props. She worked with Jeff Clemens and Bobby Powell in their tough Senate campaigns and helped lead her candidates to victory. And not just any victory — landslides. Despite being outspent, Clemens defeated Irv Slosberg by nearly 30 points. The same thing happened in Senate District 30, where Powell topped Michael Steinger by 34 points. Kennedy knows a thing or two about Democratic politics. She's the former district aide to Loranne Ausley, the former executive director of Florida Mainstream Democrats, and served as the political director at 32BJ SEIU in South Florida.
Tom Alte and Meagan Salisbury — Their Blue Ticket Consulting picked up wins in HD 68 (Ben Diamond) and HD 61 (Sean Shaw). Yes, the team lost in SD 19 with Augie Ribeiro, but we're sure they were well paid there.
Barry Edwards — Assuming Darryl Rouson hangs on to his slim lead, it's a huge personal win for Rouson's longtime consigliere.
U.S. Sugar and Florida Crystals — Big Sugar was a big winner after Tuesday night. We've said it before: Their political teams have an eye for picking champs in both D and R columns. In Washington and in Tallahassee, this talent is paying dividends.
Marc Caputo — POLITICO Florida's top scribe prognosticated the winners in every congressional race in his Tuesday morning Playbook. And sometimes, all the quarters land heads up.
George Soros — A PAC controlled by the left-leaning billionaire dumped massive amounts of money into the Orange-Osceola State Attorney's race to deep-six incumbent Jeff Ashton for challenger Aramis Ayala. We guess we'll soon see exactly what George thinks he'll get from his investment.
Jacob Engels — The Orlando blogger and provocateur can add two scalps to his trophy case this morning: Orange-Osceola State Attorney Ashton and Seminole County Tax Collector Ray Valdes.
Mike Prendergast — Rick Scott's former Veterans Affairs Secretary handily won the GOP primary for Citrus County Sheriff, proving there is life after Scottworld.
Mixed bag
Club for Growth — The conservative organization saw some wins, and some losses, Tuesday. It scored big with U.S. Rep. Ron DeSantis, who won his primary with 61 percent of the vote. It also heralded Sen. Marco Rubio's big win in his Senate primary. But Mary Thomas — the Club for Growth's candidate in Florida's 2nd Congressional District — couldn't eke out a win. She fell short, coming in second behind Neal Dunn, with 39 percent of the vote. Dunn received 41 percent.
Rick Scott — In state Senate contests, he threw his weight behind Doug Broxson and Kathleen Passidomo and won. He backed Ritch Workman and lost. Will anyone remember? Or care? Probably not.
Florida Chamber of Commerce — Invested big this election cycle, to mostly mixed results. The Chamber's record in the House races wasn't great. They backed Sheri Treadwell in House District 11, Rebecca Smith in House District 60, Chuck Clemons in House District 21, and Lange Sykes in House District 54. Their only winner? Clemons. Over in the Senate, they invested big in Doug Holder in Senate District 23, where Holder lost to Greg Steube. In Senate District 17, it backed Ritch Workman over Debbie Mayfield, the ultimate winner. It wasn't all bad news, though. They did see victories in Senate Districts 1, 28 and 30.
Associated Industries of Florida — Basically the same assessment as the Chamber's as it was on the wrong side of the SD 17, 19 and 23 races. It will take a while to connect the dots on everything Ryan Tyson's shop did in House races, so, for now, they're a mixed bag.
Jack Latvala — The Pinellas state Senator got frisky by playing in House District 54, where he hoped to knock out pledge-taker-backer Thad Altman. He also backed the wrong horse in Wenda Lewis in HD 21. In Pinellas County, many of the candidates who shopped with him — Bill Dudley, Ken Peluso — also lost. But one of Latvala's best buds, Jeff Clemens, is coming back to the Senate. At this point, does it matter what elections Latvala wins or loses? He's the frickin' chairman of the Senate Appropriations Committee!
Debbie Mayfield — Yes, she defeated Ritch Workman in Senate District 17, but at what cost to her reputation? Twenty-two percent of voters picked Mike Thomas, a telling indication that SD 17 Republicans wished for a plague on both houses.
Bascom Communications and Consulting — The firm did comms work for Dunn and Jolly, the winners, but clients Rebecca Negron and Matt Hudson went down in flames. Can't win 'em all, but Sarah Bascom DOES. NOT. LIKE. TO LOSE.
Workers' compensation interest groups — Call it a split decision for groups gearing up for debate. The National Federation of Independent Business Florida and the Florida Chamber of Commerce saw a several of the candidates it backed win decisive victories, including Kathleen Passidomo, in the Florida Senate. In other races — like Gary Farmer, a trial attorney, winning in Senate District 34 — it could make for a complicated negotiation process once session rolls around.
Losers
The Family Grayson — It's a like a bad version of the "Newlywed Game": Husband Alan washes out in his U.S. Senate campaign, will leave his U.S. House seat; wife Dena fails in her attempt to succeed him in Congress. Now what? Is there a political version of "Big Brother" they can sign up for?
Broward County Supervisor of Elections Office — Released some election results before polls closed. Did we mention that's a third-degree felony? More proof that if you want to f-ck up an election, look at South Florida
Joe Negron — His wife Rebecca lost her bid for Congress. He was last reported to be singing Steely Dan's "Deacon Blues" in a Stuart watering hole.
Dan Bongino — No, we don't know why you moved to Florida. Certainly, it wasn't to finish third in yet another losing effort. Go away.
Matt Hudson — Decent man. Hardworking legislator. But Kathleen Passidomo whooped him. Here's hoping he stays active on Twitter.
Andrew Korge — We don't care who his dad is, you just don't conduct yourself on the campaign trail the way he did. Was his candidacy ever about anyone other than himself?
Irv Slosberg — He didn't have to run for the Florida Senate, nor did he have to sink in millions of dollars of his own money. A fool and his money are soon parted. But at least Irv still has that stupid hat.
The Van Zant clan — The northeast Florida Republicans had a no good, very bad night. Katherine Van Zant was hoping to replace her husband, Charlie, in the state House, but her bid to Bobby Payne. She wasn't the only loser in the Van Zant family. Charlie Van Zant Jr., the Clay County superintendent, lost his re-election bid, following an accusation of plagiarism in grad school.
"NowOrNeverGlades" supporters — Candidates who signed the petition to buy land from Florida sugar-cane growers, coincidentally or not, caught toes on the hurdle and fell on their faces. Chief among them was Bernie Sanders acolyte Tim Canova, who beat the drum to blame Big Sugar. Others were Chauncey Goss, Mark Freeman, Annette Taddeo, Jason Maughan, Augie Ribeiro, Jason Pizzo, Andrew Watt and Tinu Pena.
Melissa Sellers Stone — Rick Scott's former campaign manager and Chief of Staff turned Carlos Beruff adviser learned the hard way how difficult it is to win a statewide election without $70 million at your disposal.
David Bishop — Sorry friend, you took it on the chin in SD 17 with Ritch Workman and your good guy client, Ken Sukhia, finished third in CD 2.
John Konkus — His wife, Mary Thomas, ran a decidedly negative campaign against good guy Neal Dunn. But the reason Konkus is on this list is the firm he works at, Jamestown Associates, raked in hundreds of thousands of dollars from Thomas' campaign with most of that money coming from D.C. special interests. Was Konkus running a campaign or a family business?
The Villages — The folks who run one of America's largest retirement communities made bets in CD 11 (Justin Grabelle lost to Dan Webster) and SD 12 (Marlene O'Toole lost to Dennis Baxley). With Gary Morse passing, have they become less influential?
Sore Losers
There're lots of reasons people don't like politics, and this is one of them. Tim Canova refused to concede his congressional bid, telling reporters he would only "concede Debbie Wasserman Schultz is a corporate stooge." Grayson called Murphy a Republican. And after Rubio trounced Carlos Beruff in the GOP primary, Beruff released an Op-Ed that blasted Rubio. "With regard to young Mr. Rubio, in my judgment, he made a life mistake. A man's word is the most important thing he has. Mr. Rubio must live with that decision," he wrote. "Sadly, he could have learned a lot about America and about himself by leaving politics and spending some time in the real world." Stay classy, fellas.
— "Election night winners and losers" via the Sunshine State News
— "Here are 8 take-aways from the 2016 primary elections in Central Florida" via Frank Torres of the Orlando Political Observer
PROVISIONAL BALLOTS COULD SHIFT RESULT OF TAMPA BAY SENATE RACE via Steve Bousquet of the Tampa Bay Times – As Pinellas and Hillsborough counties await a state order to begin machine recounts in a close state Senate race, more than 140 still-uncounted provisional ballots also still must be reviewed, adding more drama in Florida's closest race Tuesday's ballot. On Wednesday, Rep. Darryl Rouson … held a lead of 61 votes over Rep. Ed Narain … in a Democratic primary for Tampa Bay's Senate District 19. Rouson had 10,776 votes and Narain 10,715, for a difference of 61 votes, or less than two-tenths of 1 percent. Secretary of State Ken Detzner must order a machine recount in a multi-county race where unofficial results show two candidates within half of a percentage point. Rouson ran much stronger in Pinellas and Narain ran stronger in Hillsborough, where Supervisor of Elections Craig Latimer's office said … that about 100 provisional ballots still must be reviewed by a three-member canvassing board at a meeting set for 11 a.m. [today] … counties must report their first set of unofficial returns to the state by noon Friday. Latimer's spokeswoman, Gerri Kramer, said it was not clear how many of Hillsborough's provisionals were cast by Democrats in the Senate race. Pinellas, meanwhile, said it has 43 provisionals, and spokesman Jason Latimer said seven were cast by Democrats in Senate District 19. The Pinellas canvassing board, chaired by County Judge John Carassas, will meet at 3 p.m. [today] at the elections center in Largo to review those provisional ballots.
FLORIDA REPUBLICAN PRIMARY TURNOUT EXCEEDS DEMOCRATS; LIBERTARIANS LAG via George Bennett of the Palm Beach Post – Registered Democrats outnumber Republicans in Florida, but GOP turnout far exceeded Democratic participation in Tuesday's U.S. Senate primaries. Both major parties had robust turnout compared to Libertarians, who largely passed up the chance to cast ballots in the party's first-ever statewide primary. More than 1.4 million Republicans — about 32 percent of Florida's 4.4 million registered GOP voters — cast ballots in the primary … More than 1.1 million Democrats — about 24 percent of the 4.7 million registered Democratic voters statewide — participated in the Democratic primary … Florida's first-ever statewide Libertarian primary failed to excite limited-government advocates. Of the 25,030 Floridians registered with the Libertarian Party, only 4,005 weighed in — 16 percent … Overall statewide turnout, which includes no-party voters, was 23.9 percent.
BROWARD STATE ATTORNEY REVIEWING ELECTIONS OFFICE POSTING RESULTS EARLY via Amy Sherman of the Miami Herald – Broward State Attorney Mike Satz has begun reviewing why the Broward elections office posted results on its website before the polls closed in violation of state law. Partial results based on absentee ballots and early voting were posted at at www.browardsoe.org at about 6:40 p.m. After the Miami Herald tweeted about it, the results were taken down minutes before 7 p.m. A vendor took responsibility. Florida Secretary of State Ken Detzner contacted Satz Tuesday night to ask him to review the matter. "It has come to my attention that certain election results were released in Broward County prior to the closing of the polls in that county," Detzner wrote in an email to Satz at 8:47 p.m. Tuesday. "This is unacceptable. I ask that you investigate this incident to determine whether further legal action is appropriate."
CORRINE BROWN AFTER LOSS: 'YOU KNOW THEY'VE BEEN AFTER ME FOR YEARS' via AG Gancarski of Florida Politics – As Brown prepares for her life after elected office, a role she's been in since 1982, she offered meditations in a blog post … framed the electoral loss not as a "defeat," but a "setback." Brown was not able to completely avoid framing the loss in the context of her larger personal struggle. "We fought a battle with one arm tied behind our backs. You know they've been after me for years. Tuesday they won a battle," Brown wrote. Brown, who had excoriated Al Lawson for his support among the GOP political and donor class in recent weeks, dialed down the rhetoric in her post-election epistle, writing that she hopes the Democratic nominee "will focus on serving the needs of the people and not the big campaign contributors" … "All of us prayed for an election victory Tuesday. Just because we didn't get what we wanted doesn't mean He didn't hear us. It just means He didn't give us the answer we wanted to hear," Brown wrote.
FIRST ON FLORIDA POLITICS – ALAN AND DENA GRAYSON BLAME LOSSES ON 'SEWER MONEY,' DON'T RULE OUT POLITICAL COMEBACKS via Scott Powers of Florida Politics – Don't expect Alan Grayson to offer any support to Patrick Murphy in what is likely to be a brutal U.S. Senate contest with Marco Rubio. "Absolutely not," Grayson [said] … accusing Murphy of running "possibly the dirtiest campaign that Florida has ever seen" and bringing up his previous allegations that Murphy is no Democrat. Murphy thrashed Grayson in the Democratic U.S. Senate primary. The overwhelming victory puts Murphy up against Rubio, who won his own overwhelming victory … This fall's campaign is likely to be bloody and close. Grayson, a progressive-wing icon in the Democratic Party, might be able to inspire a few progressive voters to support Murphy. But he won't. Grayson blamed his fall in the Democratic primary — he once was running pretty close to Murphy in statewide polls — on what he called "sewer money": advertising blitzes this summer by the Democratic Senate Campaign Committee's Senate Majority PAC, funded by Murphy's father; and on the $4 million Grayson said Murphy collected from Wall Street interests and spent. The same is true for Grayson's wife, Dena Grayson, who lost her bid for the Democratic primary nomination to run for his seat in CD 9 … she too blamed her loss on "sewer money," PAC money that supported winner state Sen. Darren Soto in the closing weeks … Neither of the Graysons believe they are finished with politics. First, they're planning a honeymoon … She called the honeymoon "first and foremost," saying, "So much for marrying for political reasons; I married for love." After that, Alan Grayson said he plans to finish his term as representative to Florida's 9th Congressional District by trying to get a few more amendments passed to support his causes and after that he is undecided what he will do next. He left the door open for another possible statewide campaign in Florida in the future … he has no immediate plans to return to his practice as a lawyer pursuing federal whistle-blower cases … he's not walking away … with any gracious congratulations for Murphy. Grayson's campaign centered on the message that he was a progressive Democratic warrior while Murphy was a Republican who changed parties — but not political philosophies. "He's denying Florida voters a true choice. He's a Republican. We have a Republican running against a Republican" … Alan Grayson said his drop in the polls had nothing to do with the reports that resurfaced in late July about domestic violence reports his ex-wife Lolita Grayson had filed against him during their marriage. He called the reports a "regurgitation of the false allegations made two years ago" which he has always denied … Dena Grayson said the super PAC money coming to support Soto and Randolph, principally from Common Sense Leadership for America, funded by Houston hedge fund billionaire John Arnold, totaled nearly $600,000 and made the difference in the election. "The sewer money came in. It clearly had a big effect. That's what ended up happening. Dirty money wins, and Democracy loses," Dena Grayson said.
A MIAMI TRADITION: ELECTING TROUBLED CANDIDATES via Alex Daugherty of the Miami Herald – Miami-Dade County voters decided Tuesday that a candidate with 19 arrests, a candidate who has been investigated for Medicare fraud and a candidate still under suspicion of violating federal law by secretly financing a ringer campaign were all worthy of winning election. Roy Hardemon is heading to Tallahassee as a state representative despite his lengthy rap sheet. He has no opponent in November. Daphne Campbell is poised to move up to the state Senate from the state House despite her home healthcare business being shut down by the state. She defeated five rivals and now faces an independent candidate. And David Rivera, a former congressman, is close to returning to the state House, where he began his political career alongside Marco Rubio, despite the ongoing federal criminal investigation into his 2012 reelection campaign. A Democrat with no political experience is the only thing that stands in his way.
FLORIDA CHAMBER UPBEAT DESPITE MIXED RESULTS IN PRIMARY via Jenna Buzzacco-Foerster of Florida Politics — The Florida Chamber of Commerce made a big investment in the primary, a move officials said paid off, despite a few notable losses. The Chamber's political operation announced primary victories for 76 of the 89 candidates it endorsed. Some of those candidates were incumbents; others were involved in uncompetitive primaries. But there were big wins in a few competitive primaries. "We won some, we lost some," said Marian Johnson, the senior vice president of political strategy for the Florida Chamber. "But even ones we lost were wins in the fact we made a statement for our members that we're going to stand up for the people that believe in doing the right things for Florida's future." The Chamber saw success in Senate Districts 1, 28, and 30. In each of those races, the Chamber-backed candidate — Doug Broxson in Senate District 1, Kathleen Passidomo in Senate District 28, and Bobby Powell in Senate District 30 — faced only one opponent. It wasn't all wins in the Florida Senate. The Chamber backed Doug Holder in Senate District 23 … (and) backed Rep. Ritch Workman in Senate District 17. The Chamber spent hundreds of thousands of dollars in a targeted digital ad campaign in a dozen key races across the state. It was the first time for the digital push, and Johnson said it will definitely be a part of the Chamber's arsenal going forward.
'MIXED BAG' FOR NATIONAL FEDERATION OF INDEPENDENT BUSINESS IN TARGET PRIMARIES via Michael Moline of Florida Politics – "Call it a draw," said Bill Herrle, Florida director for the National Federation of Independent Business. "A mixed bag." The federation threw its support behind state Rep. Kathleen Passidomo in her bid for the GOP nomination in Senate District 28 … She secured more than 57 percent of the vote against fellow House member Matt Hudson. Plaintiffs' attorney Gary Farmer, by contrast, defeated a pair of fellow Democrats in their primary for Senate District 34 in Broward County. He won more than 43 percent of the votes cast. The federation views Passidomo as someone willing to "get workers' compensation back on track," Herrle said. Farmer is a former president of the Florida Justice Association, the trial lawyers' lobby. As such, "he's obviously very high on our list of people to talk to." Business interests are alarmed about a proposed workers' compensation insurance premium increase of nearly 20 percent, now under review by the Florida Office of Insurance Regulation. "It will be the thing to worry about next session. They're fortunate the conditions don't require them to be up here in a special session," Herrle said.
NEGATIVITY, OTHER FACTORS HELPED DRIVE ELECTION RESULTS IN INDIAN RIVER COUNTY via Laurence Reisman of TCPalm – House District 54, Negative Doesn't Work: I warn campaigns every year locally, but some don't listen: Indian River County voters don't like negative candidates. Erin Grall wasn't one. This mother of two young children survived vicious attacks based on innuendo. She was compared to Hillary Clinton and beaten up for being a board member of a legal group in college. Even her legal profession was questioned. But she took almost 42 percent of the vote in a four-person Republican primary. Indian River County's likely next state representative — Grall faces a write-in candidate from Clearwater in November — was hit by a barrage of commercials, mailers and robocalls from opponent Lange Sykes and pro-Big Business and pro-Big Agriculture political action committees … While political action committees called Grall a liberal, Sykes — a self-proclaimed conservative businessman backed by the Indian River County firefighters union of all things — was the most wasteful with his campaign funds. The race's top fundraiser, he spent $50.90 per vote received. Grall's campaign spent $24.32 per vote. The most conservative campaign was run by Greg MacKay, a gastroenterologist who funded his own $40,000 campaign. His cost per vote: $8.80. His campaign — he finished only 4 percent below Sykes — goes to show how 25 years of humble medical and public service can partly overcome massive fundraising deficits. Negativity In Senate District 17 GOP Primary … Debbie Mayfield's victory over Ritch Workman in a battle of term-limited House members wasn't that impressive. Workman and Mayfield lost votes amid a barrage of ridiculous mailers and TV commercials mostly funded by political action committees. I think the public thought both were negative. Workman and Mike Thomas, a Brevard GOP state committeeman, collected almost 58 percent of the vote in the two counties, but Mayfield won the three-way race with 42 percent.
PATH TO VICTORY: MELISSA NELSON'S DECISION TO RUN AGAINST ANGELA COREY WAS DIFFICULT, BUT SUPPORT WAS THERE FROM THE BEGINNING via David Chapman of the Jacksonville Financial News & Daily Record – Nelson was a political newcomer with no name recognition among voters or crucial donors when she entered the race nearly four months ago. She was going up against someone who was perceived to be a strong incumbent. Yet, there was a clear path to victory, albeit one with little margin for error. It involved a short window. A lot of money. And even more effort. Nelson followed that path almost exactly, which led her to … celebrating a victory that helped reshape the Northeast Florida legal community. Many within that same legal community for years had pushed Nelson to run for the office. Change was needed, they said, and she was the right person to usher it in. Nelson had given it much thought and was flattered, but wanted to find another worthy candidate to support. Yet, the talks never truly died down. She was that worthy candidate the entire time. Nelson had first been approached four years ago, but the timing wasn't right. After seeing and hearing what had taken place over the past four years, Nelson became more convinced the office needed more accountability, stronger trust and better transparency — hallmarks of the campaign she would wage against her former colleague.
TWEET SHOT: @ClemensFL Our 41-51% swing in 8 weeks seems to be unprecedented. Polls had us down 21-31% in June. Won by 20. Has this happened before?
TWEET CHASER: @MarcACaputo: Yes, in your prior incarnation when you parted the Red Sea
***PRIDE Enterprises sells its products and services in order to fund job-training of inmates, the goal of which is the full-time employment of inmates upon their re-entry into Florida's communities. PRIDE Enterprises inmates worked nearly 4 million hours in 2015, producing a variety of goods and services for state, city, county, non-profits and private-sector customers. To learn more about PRIDE Enterprises and how its training services contribute to success in the transitioning ex-offenders back into society, please visit www.pride-enterprises.org.***
BY THE WAY, WHAT HAPPENED TO…
While attention was paid to big-name races, a plethora of undercards also played out in Tuesday's primary election:
Mike Prendergast's gamble paid off. Gov. Rick Scott's former chief of staff left his last job as head of the state's Department of Veterans' Affairs to run for Citrus County Sheriff. Current Sheriff Jeff Dawsy decided not to run for re-election.
On Tuesday, Prendergast won the Republican primary over two opponents with nearly 54 percent of the vote. He next faces Michael Klyap, an independent, in the general. But if he's successful, Prendergast could follow in the steps of another Citrus County sheriff, Charlie Dean, who went on to the state House and Senate. 
Republican state Rep. Janet Adkins lost her campaign to be Nassau County's superintendent of schools. She was bested by school board member Kathy Burns, who garnered more than two-thirds of the primary vote.
Returned to his committeeman seat was Jon Ausman, the legendary Tallahassee-based Democratic politico. Ausman chaired the Leon County Democratic Executive Committee for 20 years, was a superdelegate to the 2016 Democratic National Convention, and has long consulted on state and local campaigns.
Nan Rich, who unsuccessfully ran for the Democratic nomination for Florida governor in 2014, on Tuesday won the Democratic primary for Broward County Commission. The former state senator from Weston ran for the seat held by former state Rep. Marty Kiar, who will become the county's next property appraiser.
Rich advances to the general election, as does another former state senator, Steve Geller, who also ran for a commission spot. But Broward Commissioner Dale Holness swatted back a re-election challenge by state Sen. Chris Smith, the chamber's former Democratic Leader.
Mitch Ceasar, the longtime Broward Democratic Party chair, lost his primary bid for county clerk against Brenda Forman, wife of retiring clerk Howard Forman. Ceasar previously announced he would not run again for the chairmanship of the county party.
Outgoing state Rep. Alan Williams, a Tallahassee Democrat, came in second for the nonpartisan race for Leon County Supervisor of Elections. Mark Earley, currently the No. 2 man in that office, was the top vote-getter. They now go to a runoff. Knocked out of the running was Republican Tena Pate, formerly the chair of the Florida Commission on Offender Review. (It used to be called the Florida Parole Commission.)
Peter Feaman, a Republican National Committeeman, lost his bid for re-election. The Boynton Beach lawyer lost to Joe Budd by over 2,100 votes. Feaman stays on the committee for now but can't run for Florida GOP chair unless he first becomes county chair.
Burt Saunders, a former state senator, won his primary for Collier County Commission. Saunders served in the Florida Senate 1998-2008, after a four-year stint in the Florida House. He mounted an unsuccessful bid for the U.S. House in 2008, running with no party affiliation against then-Rep. Connie Mack.
The Naples Republican serves as the village attorney for the Village of Estero, and is a lobbyist for several Southwest Florida governmental agencies. Saunders will face a Democrat come November, but will likely win the commission seat.
***Host your next fundraiser at the Governors Club, Tallahassee's leading business, social and political venue! Event packages are available for all budgets; rooms for 50-450 guests. For information or to book a celebration, contact Laura Kalinoski, Director of Catering at 850-205-0665 or [email protected]. Learn more at www.GovClub.com***
ON TO THE GENERAL ELECTION…
With the primary in the rear view mirror, it's time to focus on the main event.
There are 67 days until Election Day. With a must-watch U.S. Senate race and several competitive races in the Florida Legislature, Democrats and Republicans have begun the sprint to November.
A sprint is the best way to describe it: Elections officials begin mailing military and overseas ballots on Sept. 24, domestic ballots begin going out on Oct. 4.
Battles in one-sided primaries knocked several races off the board. There's little chance Republicans will lose their majority in the House or Senate, but Democrats have their eyes on Senate races in Tampa, Gainesville and Miami.
Democrats like their chances in Senate District 18, where House Majority Leader Dana Young faces Democrat Bob Buesing. In Gainesville, the race between Democrat Rod Smith and Republican Rep. Keith Perry.
Senate races to watch in Miami included the battle between Republican Sen. Miguel Diaz de la Portilla and Democratic Rep. Jose Javier Rodriguez. Expect big party support in both races, including an assist from Majority Leader Bill Galvano, to come into play.
In Senate District 40, Rep. Frank Artiles, a Republican, is hoping to topple Sen. Dwight Bullard. Artiles has a big fundraising lead already, $448,783 for his official campaign. He ended the last reporting period with $182,950 in the bank. Bullard, by comparison, raised $153,569 ahead of the primary, and had just $50,076 in the bank at the end of the last reporting period.
Want to know what state House races will be important come November? Try taking a look at Rep. Gwen Graham's schedule. She gave state Rep. Amanda Murphy a hand during a phone bank in Pasco County on Wednesday. Murphy faces Republican Amber Mariano in November.
Not excited about the legislative seats? Maybe a hotly contested U.S. Senate seat is more your fancy.
Republican Marco Rubio and Democrat Patrick Murphy will face off in the November general election. It's expected to be a close one, and all eyes are on Florida — surprise, surprise. The race could determine control of the U.S. Senate, and outside groups are expected to pour millions of dollars into the race.
The two men began attacking each other long before the polls closed on Tuesday, and that's unlikely to stop until November.
BILL CLINTON RETURNS TO MIAMI NEXT WEEK FOR FUNDRAISING via Patricia Mazzei of the Miami Herald – The former president is scheduled to attend an evening event on Sept. 7 to benefit Hillary Clinton's campaign. The rumored location is the Fillmore Miami Beach. Donors who contribute at the highest level — by cutting a $10,000 check or raising $27,000 — get "premium" seating and a photo with Bill Clinton, according to an invitation … The minimum requested contribution is $250, with a limited number of tickets for young professionals available for $45 each. Clinton is slated to later attend a high-dollar dinner — $50,000 a plate — at the home of Miami Beach Mayor Philip Levine.
AFTER A NO DEBATE PRIMARY, MARCO RUBIO NOW WANTS TO SQUARE OFF WITH PATRICK MURPHY 6 TIMES via John Kennedy of the Palm Beach Post – So far, an Oct. 26 contest, sponsored by Leadership Florida and the Florida Press Association, is the only one planned. "Despite our differences, I hope we can both agree that voters deserve to know where we stand on the important issues of our time," Rubio said in a day-after primary letter to Murphy. With Rubio the apparent front-runner in the race, clamoring for more debates is a departure from the usual campaign playbook. But after having been tested many times in presidential debates earlier this year, Rubio looks eager to engage his rival. Murphy accepted the challenge Wednesday — with a twist. He gigged Rubio for being unwilling to commit to serving out a full six-year term, if re-elected in November. "I'm excited to debate Marco Rubio," Murphy said. "His 'challenge' today is nothing more than a desperate attempt to try and change the campaign narrative from the fact that he abandoned Florida. I have a counter challenge: Senator Rubio, commit to serving a six-year term."
REPUBLICANS DEBUT WEBSITE HIGHLIGHTING MURPHY'S RESUME EMBELLISHMENTS via Kristen Clark of the Miami Herald – To highlight the gaffes, the National Republican Senatorial Committee today launched a website — RealMurphyResume.com — to detail instances where Murphy either exaggerated his credentials or didn't provide a complete explanation of his experience. The subject has been and will continue to be a prime line of attack … The NRSC's website mocks Murphy by referencing his wealthy South Florida family and their yacht, "Cocktails," and including a "personal statement" that reads: "Never Worked A Day In My Life As A CPA. Never A small-business owner. Never Going To Be A United States Senator." Much of the website isn't fact so much as partisan spin based on some truth. Media reports documenting the inaccuracies and discrepancies in Murphy's resume began a few months ago, after the Herald/Times discovered Murphy inflated his academic resume by claiming to have had 2 degrees from the University of Miami when he only earned one. Murphy's experiences as a CPA and business owner are more nuanced. Murphy's explanation of that work has evolved with more detail in recent months as several media outlets probed what he actually did during those years. Politifact sifted through the facts and found "that Murphy's description of his past employment is based on actual circumstances, but at times he omits a full explanation."
CARLOS CURBELO TOUTS BIPARTISANSHIP IN FIRST TV AD via Patricia Mazzei of the Miami Herald – The Miami Republican's first TV spot shows him and his wife, Cecilia, in their kitchen — she sporting University of Florida colors, he in a University of Miami polo. "You can't let rivalry turn to bitterness," Curbelo says into the camera, alluding to fights among Republicans and Democrats. "For Washington politicians, party always comes first and solutions last. That's not me." The kicker: "I don't care who scores, as long as it's a win for our community."
CD 10 REPUBLICAN THUY LOWE MAKES IT INTO COSMO via Scott Powers of Florida Politics – The Republican nominee in Florida's 10th Congressional District … is profiled on Cosmopolitan.com as one of "19 Women Who Will Make History if Elected to Congress This Year." To do that, Lowe … will need to beat Democratic nominee Val Demings in the November general election. Cosmo lists Lowe 17th, right between Arizona's (now former) Republican U.S. Senate candidate Kelli Ward, who lost Tuesday; and U.S. Rep. Tammy Duckworth, the Democrat running for the U.S. Senate in Illinois. Of Lowe, Cosmo declares, "If elected, she will be the first Asian-American woman to represent Florida in Congress." Lowe said Cosmo didn't interview her, or even let her know about the article. She discovered it when she was checking online reports about her. "I don't think about these things. I'm just focused on my community and what I do," Lowe said. "So I was floored by that article a couple of days ago."
SAVE THE DATE:
DAVID SINGER COMPARES JACKIE TOLEDO TO DONALD TRUMP AS THE HD 60 GENERAL ELECTION RACE BEGINS via Mitch Perry of Florida Politics – During the primary, Toledo went hard right, boasting about her support from the National Rifle Association and, most controversially, declaring in a mailer that among the "bad bills to repeal on Day One" would be legislation that provides in-state tuition and law licenses for "illegal aliens." It was with that statement in mind that Toledo's Democratic opponent … Tampa land use attorney Singer, called her out of touch with the needs of the district … "Donald Trump has used the most divisive rhetoric of anyone in politics in recent memory and Jackie Toledo is on board with his positions and out of touch with the needs of our district and our state," Singer said in a statement … "We should focus on fixing our roads, schools and business climate, not defunding Planned Parenthood … voters want a practical, pragmatic voice to clean up Tallahassee and make government more responsive to the needs of our community."
FLORIDA KEYS SAFETY ALLIANCE LAUNCHES TO EDUCATE VOTERS ABOUT GENETICALLY MODIFIED MOSQUITOES via Jenna Buzzacco-Foerster of Florida Politics – The campaign is meant to educate Monroe County voters who will be asked to approve a non-binding referendum allowing the use of genetically modified mosquitoes. The United States Food and Drug Administration in August published its final finding that releasing modified mosquitoes into the wild would cause no significant impact to the environment. The finding marked the final regulatory hurdle Oxitec needed to overcome before it could begin a trial in Key Haven, a community north of Key West. The firm has used its genetically modified mosquitoes in Brazil, the Cayman Islands and Panama for several years. The mosquitoes have served as an effective mosquito control tool, reducing the population and slowing the spread of mosquito-borne diseases. Oxitec has been on the ground in the Florida Keys for a few years. It built a facility in Marathon, and representatives have been involved in community outreach. But there are still concerns. Those concerns convinced the Florida Keys Mosquito Control District to put a non-binding referendum on the November ballot to gauge support. The Florida Keys Safety Alliance was set up to speak to residents one-on-one, and will share information about the company's technology.
HAPPY BIRTHDAY to Judi Skelton Spann and Emily Slosberg.