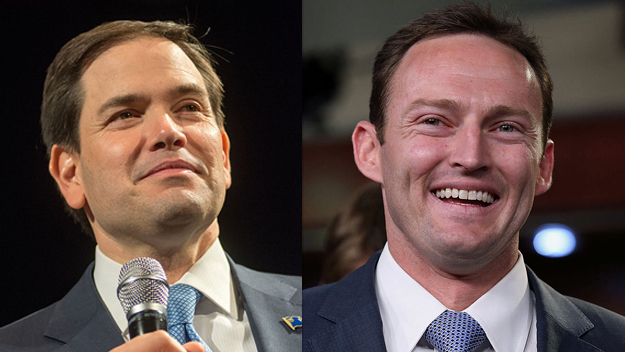 Patrick Murphy and Marco Rubio announced Monday they would debate three times and participate in a separate campaign forum, bringing an end to speculation Murphy was reluctant to engage in debates with the GOP Senate incumbent. However, there's still a dispute about how many events they will actually have, because Rubio says two of the events have ties to Murphy supporters.
The first debate will be held in Orlando on October 17, and is sponsored by POLITICO, ABC affiliate WFTV, and Cox Media, and will be broadcast statewide on ABC affiliate stations. That's still one.
The next debate will the Leadership Florida and Florida Press Association at Broward College in Davie on Oct. 26, also broadcast on ABC affiliates (that debate had previously been announced).
The candidates' third scheduled debate is in question: that's the event co-sponsored by the League of Women Voters and Telemundo and broadcast on Telemundo stations from Tampa. That, along with a separate forum at the Forum Club of the Palm Beaches in West Palm Beach, may not happen, because the Rubio camp says they're affiliated with Murphy supporters.
Nevertheless, the news will undoubtedly please statewide Democrats who weren't enthused about the perception that Murphy was not eager to debate Rubio, who he trails in virtually every poll published on the U.S. Senate race in Florida.
"I'm excited to debate Marco Rubio and talk about the issues that matter most to Florida families," said Murphy. "Floridians face an important choice this November, between someone who will show up and work hard for them, and Marco Rubio, who abandoned our state and has the worst vote attendance record of any Florida Senator in nearly 50 years. I look forward to making that choice clear in our upcoming debates."
The day after the Florida Primary on Aug. 31, Rubio immediately challenged Murphy to six debates. Murphy initially called it a "stunt," and said he's only do so if Rubio committed to serving a full six-year term (something that Rubio has not done). Rubio brought the issue back up on Monday.
"As he's done in every election he's been a part of — Patrick Murphy is ducking debates yet again. I did six debates six years ago. Why only do half now? " Rubio said in a statement. "Floridians today deserve no less than what they received in 2010, and they deserve to know where we stand on the important issues facing our country. I will ask Patrick, once again, to join me in committing to six media-sponsored debates between now and Election Day."
Murphy did not debate his challengers — Alan Grayson and Pam Keith — in the Senate Democratic Primary.