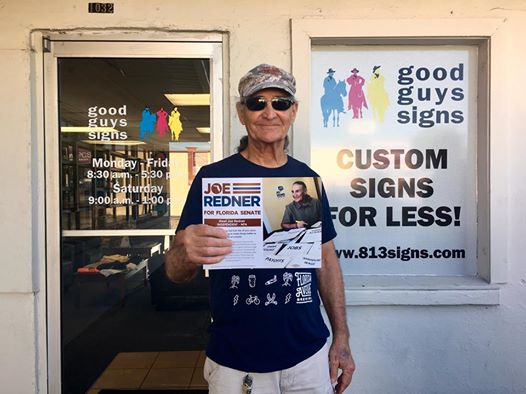 Contrary to speculation, independent Joe Redner says he "absolutely" is not about to end his candidacy in the Hillsborough County state Senate District 18 race, declaring that "I'm just getting started."
The perennial candidate has usually ran as a Democrat in numerous local and state elections over the years, but he's running as an independent this year, and insists he's the best candidate to win the seat that's also being contested by Republican Dana Young and Democrat Bob Buesing.
Campaign reports show that Redner has spent over $60,000 in the race, with nearly half of that going to billboards promoting his candidacy and mailers. Now he's stepping that up, with a recent ad buy that will result in the airing of his first television commercial of his campaign which will begin airing next week.
A poll taken last month shows Young and Buesing tied in the race with 36 percent, two percent supporting another candidate and 27 percent undecided. In addition to Redner, Sheldon Upthegrove is also running as a Non-Party-Affiliated candidate in the race.
Redner's progressive platform presents a challenge for Buesing, who has the full endorsement of the Democratic Party establishment in Florida, but is still introducing himself to voters. However Buesing said earlier this month that an internal poll his own campaign has conducted showed that he had almost the same percentage of name recognition as Young (11 percent to nine percent), who has served in the Florida House since 2010. But Alan Clendenin, a Democratic State Committeeman and vice-chair of the Florida Democratic Party, says it's not a given that Redner sucks votes away from Buesing.
"I'm not sure we have quantitative data to know which candidate he impacts more," Clendenin says. "My guess is he has more of an impact on the Donald Trump/Dana Young vote."
Although there has been speculation that he could ultimately bow down and get out of the race, Redner said on Thursday that is not at all where he's at right now.
"I believe I am the best person to get the job done to protect our environment and to get guns out of our colleges," he said. "I just think I'm the best person for the job and that's what's going to keep me in the race."
Redner says he is personally offended by Young's voting record in the House, particularly when it comes to the environment.
"She voted for fracking, though now she's saying she didn't," he said, going over his bill of particulars against the Tampa Republican.
A campaign spokeswoman for Young on Wednesday denied that her support for HB 191 was a vote for fracking.
"Dana Young opposes fracking, offshore and onshore drilling, and has worked tirelessly on water issues during her entire time in the legislature," spokesperson Sarah Bascom said.
HB 191 required the Department of Environmental Protection to conduct study into the impact fracking, and other high pressure well stimulation techniques, have on Florida's water and geology. It also increased penalties from $10,000 a day per violation to $25,000 a day per violation; and requires drillers to get a permit before they can begin fracking. And it also prohibits local governments from instituting bans, but allows local governments to adopt and enforce zoning and land use regulations as long as those rules don't "impose a moratorium on, effectively prohibit, or inordinately burden" those activities. It passed in the House, but failed in the Senate.