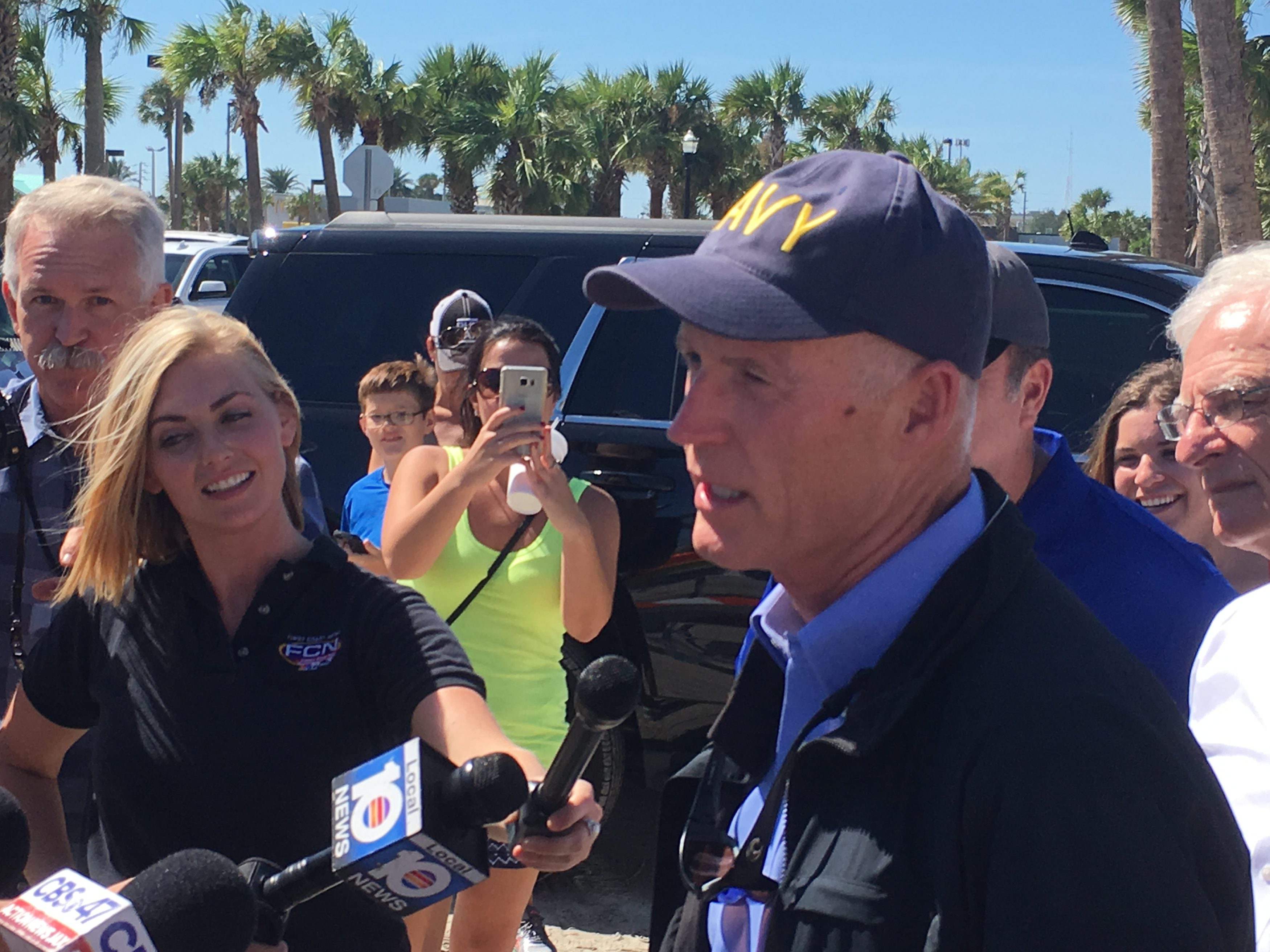 On Sunday, Governor Rick Scott toured damage caused by Hurricane Matthew in Jacksonville Beach.
Scott, who has been adamant that President Obama expand his disaster declaration issued on Saturday, reiterated his desire to have that done.
"We all pay our taxes," the governor said, and "we ought to get reimbursed."
Meanwhile, the governor otherwise focused on the positive and was received positively.
"The most important thing," said the governor, is that "people have … shown up, and helped each other."
Scott noted that schools serving as shelters will get National Guard help with the cleanup.
Governor Scott said, "I just spoke with superintendents on Florida's east coast to make sure all schools are able to quickly reopen following Hurricane Matthew. Many schools served as shelters, sustained damage or had busses that were damaged. I know some counties have already decided to close on Monday. We have to do all we can to get every school to reopen because we have to keep our students learning. Schools are also sometimes the only place a child gets a meal. I have offered the full resources of the state to these school districts to make sure all schools open immediately. We will provide whatever is necessary so they can open their doors. I have also authorized the Florida National Guard to assist with cleanup efforts at any schools that served as shelters if school districts request it."
Beyond that, Scott spoke at length about bringing power back to the parts of the state that have lost it.
The goal: "to make sure that people get their power back as quickly as possible."
Once Florida Power and Light and Duke Energy restoration projects are completed, the outside help brought in will go to JEA, Scott said.
Clay Electric, Scott added, should be done today.
Scott remarked on some of the damage he saw.
St. Augustine Beach, Gov. Scott said, "basically lost their beach."
Scott also saw "a lot of [standing] water]" in Nassau yesterday.
Scott also remarked on the Jacksonville Beach pier, which lost its far end during the storm.
Jacksonville City Councilman Bill Gulliford, who was with the governor along with Jacksonville Beach Mayor Charlie Latham and Atlantic Beach Mayor Mitch Reeves, noted that during the pier's recent reconstruction, it was built so that the decking would tear away.
Indeed, that and more came loose during the peak of Matthew's fury.
Scott was in contact with beaches politicians throughout the storm and aftermath; they had his personal phone number.
Gulliford, a former Atlantic Beach mayor himself, noted that he stayed in tough with both Reeves and Latham throughout the storm, and they did a "remarkable job."
Scott noted that FEMA came by his office Thursday, and since then have been making regional visits as needed.
Meanwhile, even if the full federal resources don't come through, Scott said that the state is "well-funded," with "money in reserve" to rebuild.
During his visit to the beach, Gov. Scott was shown appreciation by more than one resident telling him he did a "great job."
After over a week of heightened preparation, the storm has left Florida.
And that preparation put Florida in a better position, both in terms of property loss and loss of life, than it might be had storm prep been taken less seriously on the state level.