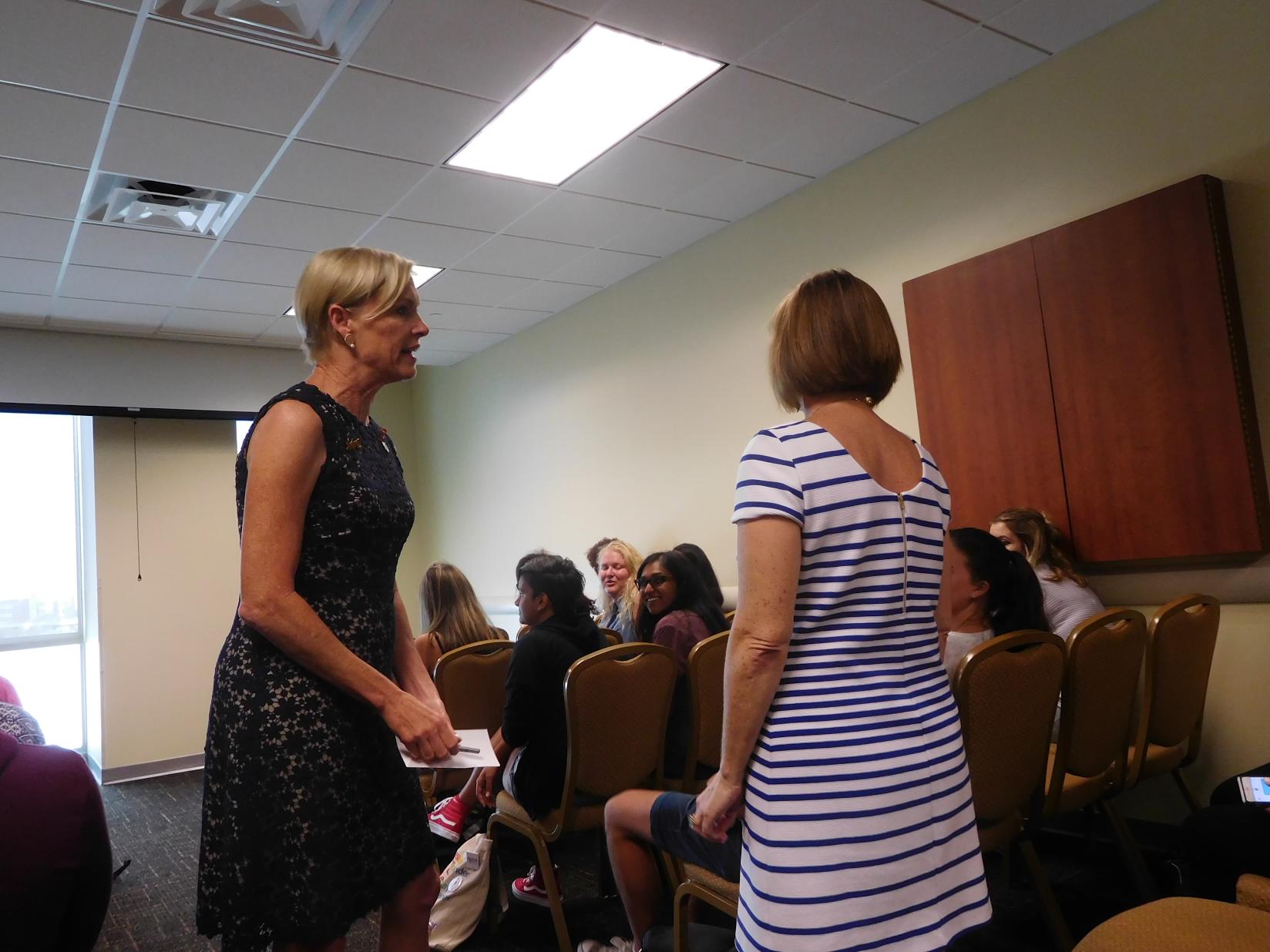 Cecile Richards paid a visit to the University of South Florida campus Monday, where she told an audience consisting of mostly female students, that people like themselves — especially those living in Florida's Interstate 4 corridor — will help decide the presidential election next month.
"Millennial voters are going to determine who the next president is," said Richards, who has been president of Planned Parenthood for the past decade. "And the millennial voters who are going to matter the most are the ones here in Florida."
Richards is an unabashed supporter of Hillary Clinton, and she made the trip to USF to advocate that students make sure to try to get as many people registered as possible before the deadline, which was extended by a judge to Wednesday.
"Your votes are disproportionately important," Richards said, referring to the power of the I-4 corridor, and the fact that unlike so many other college campuses where she visits in non-battleground states, the students sitting before her on Monday "actually have an opportunity to make a difference."
Richards rejected Donald Trump's description of his lewd remarks from 2005 that were made public at the debate as "locker-room talk," saying it was flat-out "sexual harassment and sexual assault."
"It's little too late to be appalled by what Donald Trump is saying," she continued. "He has gone after Muslims in this country, immigrants in this county, Mexicans, women. It's time to stand up and say this is not who we are. We're better than this."
Richards is also a big fan of Barack Obama, who she said history ultimately will consider one of America's greatest presidents. She offered big praise for his selection of Sonia Sotomayor and Elena Kagan to the Supreme Court, and applauded passage of the Affordable Care Act, the president's signature domestic achievement that seems to be garnering more negative headlines these days.
Richards celebrated three separate provisions of the ACA which she said were incredibly important: 1) the provision that allows people to stay under their parents' health care coverage until 26, 2) the end of gender discrimination in health care premiums, and  3) that maternity care is now included.
Joining Richards in speaking to the group of approximately 50 students who crammed into a conference room at the Marshall Center was Hillsborough County Democratic Rep. Kathy Castor. She complained congressional Republicans have been "sidelining" Democrats from addressing issues like immigration and student debt or jobs to instead attack Planned Parenthood.
In February, the House of Representatives failed to override President Obama's veto of a bill that would have denied Planned Parenthood funding from Medicaid. A congressional panel was convened in 2015 after videos from a pro-life group called the Center for Medical Progress appeared to show Planned Parenthood officials selling human body parts. That case ultimately went to court in Texas, but a Houston grand jury did not charge the abortion provider with any wrongdoing, and instead indicted one of the activists, David Daleiden, with offering to purchase human organs from the group.
"This is not what we should be doing in Washington D.C.," Castor charged regarding the votes to defund the organization.
Although the event was designed around ginning up support for Clinton, not everyone in the audience was signing on to the program.
Rachel Piotrowski, a 22-year-old graduate student in public health and Bernie Sanders supporter, says she may write in the Vermont senator for president.
"I don't find her relatable or honest," Piotrowski said on why she couldn't get behind Clinton. "I just think she'll say anything when the time is right and it's politically advantageous for her to say so."
She did say she's concerned about how a Trump presidency could lead to Supreme Court justices who could overturn Roe v. Wade, but said regardless of who's president, "people will need to take more personal responsibility and advocacy for the things that they want to support."