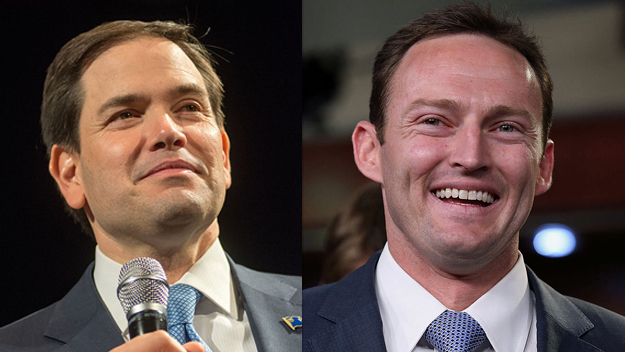 When the candidates in one of the strangest U.S. Senate races in Florida's history finally meet at 7 tonight in Orlando at the University of Central Florida in their first of two debates, it will come down to this:
It's the last big chance for Democratic Congressman Patrick Murphy to make up what polls say is a considerable gap between himself and incumbent Republican Sen. Marco Rubio.
Here are the stakes:
THE TRAIN IS LEAVING THE STATION
Early voting already is underway. According to the Florida Division of Elections, nearly 500,000 mail-in ballots already have been returned out of 2.4 million requested, with a nearly even split between Republicans and Democrats. The X-factor is about 500,000 ballots specifying either no party affiliation or "other" — candidates who don't identify with the major parties.
With the latest University of North Florida poll showing Rubio running about seven points ahead, Murphy needs two things tonight: A large, fully engaged, statewide TV audience, and then to convince undecided viewers they should vote for him because Rubio didn't do the job Floridians elected him for in 2010.
He will hammer on Rubio's seeming disinterest in his job. It's an old theme, though. Rubio had one of the worst attendance records in the Senate, but people already know that. Rubio will pounce on Murphy's distorted resume, which embellished several of his accomplishments. That charge, too, has been out there since the primaries.
For voters still trying to make up their minds, it simply could come down to which candidate comes across better on TV.
THE TRUMP CARD
Expect Murphy to hammer Rubio early and often on his association with presidential candidate Donald Trump. Although Rubio, like nearly everyone, denounced Trump's recently unearthed lewd comments on a decade-old video, he maintains Trump is still preferable to Hillary Clinton.
Murphy, who has been endorsed by Clinton and President Barack Obama, likely will press Rubio on why he continues to support Trump. With Clinton leading narrowly in Florida polls, Rubio may need a better answer than "Trump may be terrible, but at least he isn't Clinton."
THE CHRISTIE GAMBIT
Murphy might try to pull a page from the campaign tactics book of New Jersey Gov. Chris Christie. In February's New Hampshire primary debate, Christie torpedoed Rubio with a blistering attack that left Rubio flummoxed and fumbling.
Rubio's campaign never recovered.
Going that route could be risky for Murphy, though. Rubio learned from that tough night and handled himself better in subsequent debates. While it was a fatal blow to his presidential aspirations for this election, Rubio generally is a gifted public speaker if he stays on script. Knocking him off that may be tough now because Murphy won't have the element of surprise.
HOW MUCH WILL VOTERS CARE?
The election season has been an interminable grind, and it's possible many voters will choose the option of changing the channel to something more soothing. Local TV stations generally carry entertainment shows during the 7-8 p.m. hour, when the debate is scheduled.
With Round III of Trump-Clinton scheduled for Wednesday in Las Vegas, it is worth wondering how many potential viewers will decide to pass on the Senate race. The candidates, obviously, must treat this like everyone in Florida is watching, but a lower TV audience probably would be great news for Rubio.
IT'S ALL ABOUT CONTROL
Democrats held high hopes this year of winning this seat on the way to retaking control of the Senate. If Clinton wins the election, they need to pick up four seats to accomplish that. Florida was one of their prime targets.
With Murphy lagging in polls, though, the national Democratic strategy (and money) has shifted to other states where they believe they have a better chance.
A good showing by Murphy could reinvigorate his campaign and convince party bosses he is worth the investment of time and money. With just three weeks left until the election, he can't just squeak out a win. He probably needs a knockout.
Otherwise, Rubio likely will be too far ahead to catch.