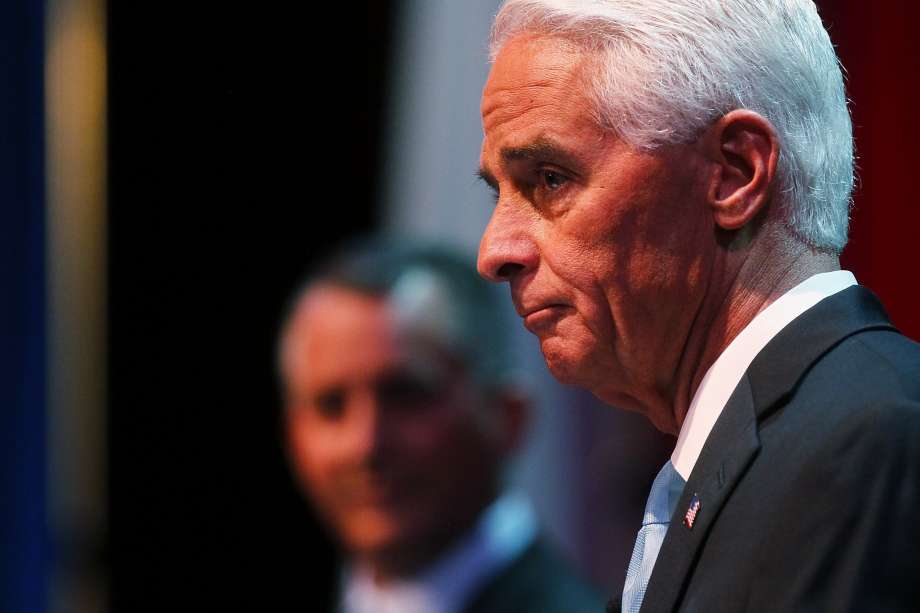 Here's how I know our reporters and I are covering the race for Florida's 13th Congressional District as it should be covered.
On Wednesday, Charlie Crist's wife, former first lady Carole Crist, expressed her displeasure with a story from September about a poll that showed Republican David Jolly leading Crist by three points.
Even though I explained that I have nothing to do with the conducting of the poll other than paying for it, it was clear Mrs. Crist was not entirely happy with that story.
And then, this week, the Jolly campaign declined to share the methodology of an internal poll it recently conducted because it said our lead reporter on this race, Mitch Perry, would skew the story against Jolly.
Damned if we do, damned if we don't.
The brutal truth is I am personally too close to this race to be objective.
Also, and I think this is vital to point out, we cover campaigns differently than the Tampa Bay Times and other traditional media outlets, especially campaigns in our home turf.
FloridaPolitics.com has probably written five times the number of stories about Crist versus Jolly as the Times, not through any fault of the Times, but because we provide hyper-active coverage of local politics.
We also include the commentary of our columnists, such as Joe Henderson and Tom Jackson, as well as the opinions of guest writers. And, of course, we publish my analysis of the race.
It's this unconventional mix of rapid-fire reporting and biting commentary that probably pisses off partisans on all sides.
And when these partisans are close friends, as many are in this case, it can make a publisher's job difficult.
Oh well.
There are 24 days left in this election cycle and there's no point trying to apologize now for a hard-hitting column or nasty tweet (the Jolly campaign was upset with me because I liked the Facebook status of Beverly Young where she said she was voting for Crist; I only did this so I could bookmark the status for later reference, but that did not matter to not-so-Jollyworld.)
With so few days left, it's an appropriate time to evaluate some of the polling in this race.
So what is the status of Jolly versus Crist?
Bottom line, Crist is probably not leading Jolly by as much as some polling showing, but I don't think Jolly is any longer as close to Crist as he one was. Let's break down the numbers.
The recent poll by the University of North Florida showing Crist leading by Jolly by 18 points is the very definition of an outlier. What's troubling about the UNF poll is the ratio of completed responses by landline (28 percent) to a cellphone (72 percent). That ratio should probably be inverted.
Crist supporters have learned to be wary of surveys from UNF after its final poll of the 2014 gubernatorial race showed the Democrat beating Rick Scott by five points.
I also don't put a lot of faith in the poll commissioned by the Democratic Congressional Committee showing Crist leading Jolly by 11 points. In this case, the pollster (Anzalone Liszt Grove Research) is to be trusted. However, this poll's results came after right after I received a survey that was nothing less than a push-poll. It was a live interview poll, so I have a feeling the 50 to 39 percent result that this poll showed came after a few less-than-flattering questions about Jolly.
Unfortunately for Jolly, the polls from UNF and the DCCC both made headlines and the rounds in all of the morning tout sheets, like Sunburn and POLITICO Playbook.
Even if the numbers from the polls are bogus, they had to have hurt Jolly, who is already in a precarious position when it comes to fundraising. Is a major donor — already weary of Jolly's position on fundraising — going to kick in $25,000 to a pro-Jolly super PAC after reading two polls that showed him down an average of 15 points? Even billionaire Mike Fernandez has his limits.
Jolly's camp pushed back on the UNF poll by releasing to the Tampa Bay Times an internal poll that showed him losing to Crist, but only by two points. The pollster, Data Targeting, is highly credible, but the survey had a margin of error of six points, which means Jolly could be losing by as many as eight points.
Which brings us to the poll I believe is the Goldilocks of this race: the most recent effort by St. Pete Polls that shows Crist leading Jolly by five points.
Although St. Pete Polls does not have the national reputation of Anzalone or Data Targeting, it absolutely nailed the special election in CD 13 when Jolly was first elected. It also recently showed Jolly winning the race, so it's difficult to argue that St. Pete Polls is biased against Jolly or has some other anti-Republican house effect.
Not surprisingly, St. Pete Polls has Jolly right where Data Targeting has him if you split the difference on the margin of error — a dangerous apples-to-bowling balls comparison, but an appropriate one here because the two pro-Crist polls would skew the average of these four polls to Crist plus-9, which I just don't believe is where the race is at.
Two final points about all of these polls …
One of the reasons the Jolly camp has to push back hard on this polling narrative is that, if it is behind big, it does not have the passing game to catch up with Crist. Although there are some pro-Jolly super PACs with some money left to help, Jolly's campaign is running on fumes.
The second point is, as should be said about any polling story, it's about the trendline, not the top lines. In the case of the St. Pete Polls survey, there was an eight-point movement for Crist. Even if those polls are wrong, they're wrong in a way that shows that Jolly is almost certainly trailing Crist.