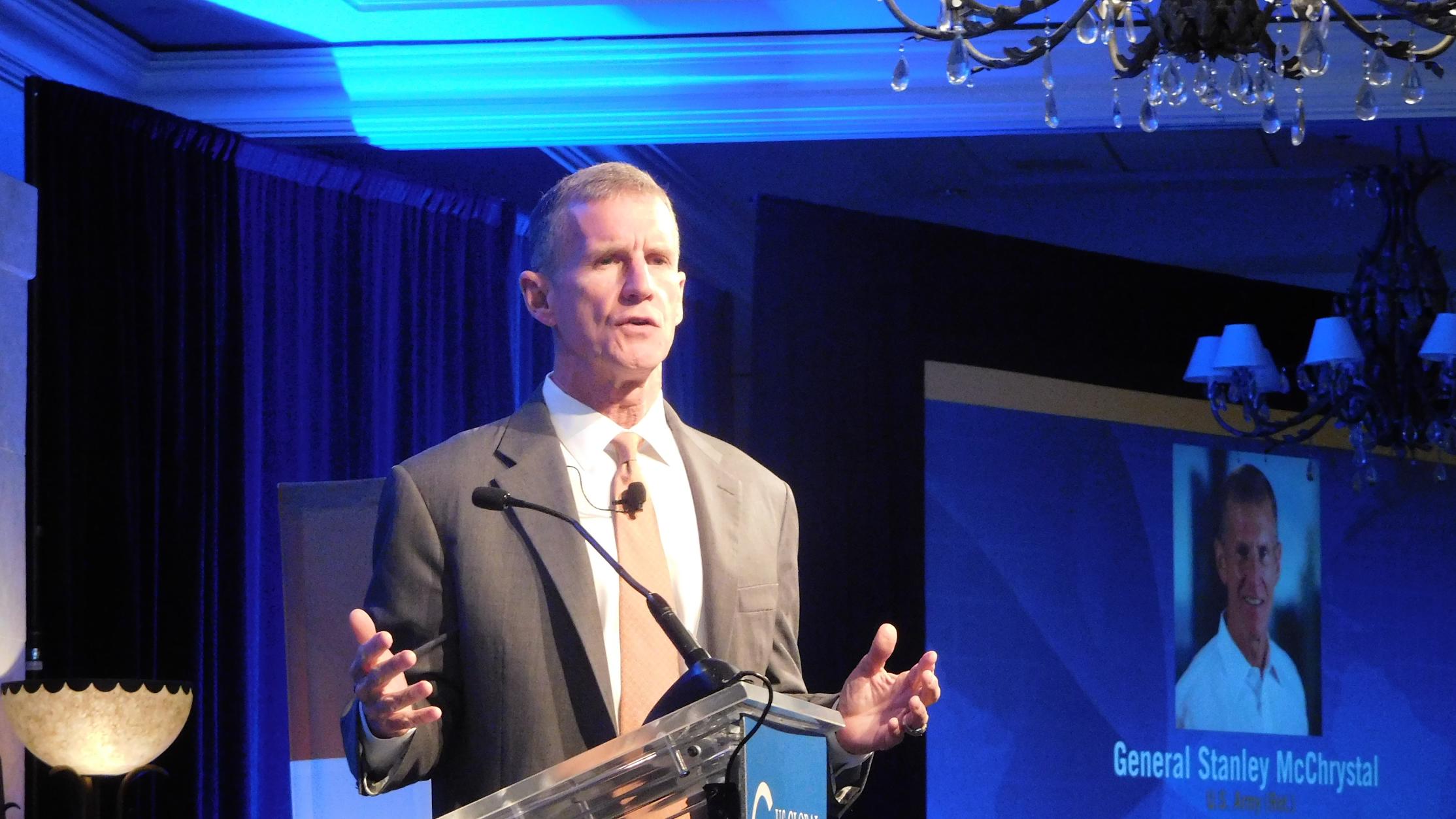 Retired General Stanley McChrystal said if the Islamic State could be effectively blown away tomorrow, the world's problems in the Middle East would not be immediately solved.
"There's a temptation today to simplify things," the retired Army general told a crowd of several hundred people who gathered to hear him speak at the Tampa Waterside Marriott Monday afternoon. He mocked the notion made by Donald Trump (though not by name) that the U.S. could just "bash them and we're going to bomb them and we're going to kill them."
"I would argue that if ISIS went away today, literally got pulled off by Martians … the fundamental problem that is torturing Syria and affecting the rest of the world is there. ISIS almost a symptom of the problem. They're certainly not the cause of it and their disappearance wouldn't solve it," he said.
McChrystal was the featured guest at a lunchtime event sponsored by the U.S. Global Leadership Coalition — which has been going from city to city this year to talk about why America's role in the world matters in this presidential election and how rising global challenges can impact America's economic and security interests.
The 62-year-old paced from one side of the stage to the other in his brief eight-minute speech. He then took questions from the Christian Broadcasting Network's David Brody.
When asked his thoughts about Syria, arguably the worst humanitarian crisis in the world, McChrystal said he is ambivalent. He said he wants to help suffering people get more medical support and humanitarian aid, but said "until we fix the problem in Syria, this thing is going to be generating extraordinary amounts of suffering."
"The U.S. not in a position to go fix it," he said, "but at a certain point I think the world probably needs to be in a position to fix it and we have to understand that. ISIS is part of the problem, but again, more symptom than cause. We're going to have to come up with a blueprint for that region that says here's an acceptable framework, within which, some kind of political outcome can be reached. We're going to understand that there are some people with some pretty entrenched positions there, but if we don't, this thing could on for a long, long more time. We all thought (Syrian President) Bashar Assad would collapse in six months. Now I give him, if the dynamics don't change, there's nothing that says this couldn't happen indefinitely."
McChrystal retired from the military in 2010 after being relieved as the top commander in Afghanistan following a controversial article on his leadership appeared in Rolling Stone by the late Michael Hastings. Although it was said McChrystal's words got him in trouble for the piece, it was actually the comments from anonymous advisers that created a national furor and led to President Obama ousting him from power. Since then he launched a consulting group and became an author. Earlier this summer he was rumored to be in consideration for Donald Trump's running mate, but he quickly quashed such reports.
Brody's questions were related to how development and diplomacy can help in the world.
"I still believe in counterinsurgency," McChrystal said, referring to a strategy that builds up the ability of the host nation to govern and bolster the capability of its forces. "Counterinsurgency is not a tactic. It is a series of actions taken to try to improve the environment. Unless you get to the root causes of something, you'll almost never solve the symptoms. And so, we could go after the tactical enemy in Afghanistan and attack the Taliban, but there wasn't a set amount of Taliban," he said, adding that "if you don't provide … some kind of opportunities, some kind of hope, why wouldn't they be guerrillas? Why wouldn't they be terrorists? If there's no other opportunity, it seems like a reasonable thing that people do."
Regarding ISIS, McChrystal says the group has done very good job of frightening the west. He said while their "bad boys" approach doesn't resonate with everybody, it certainly does for the disaffected youth in the Middle East for whom political, social, and economic opportunities "are pretty darned limited." And he said it resonates with people in some of those countries that have autocratic control "in the way that people feel they've been screwed."
"It's got fertile ground," he said of the movement. "This narrative that they pluck the strings of pretty effectively, has produced more power for them than it ever should have, and the problem is, what's the counter-narrative?," he said, fretting that there's not a realistic middle ground for the moment.
On Russia, McCrystal said Vladimir Putin's government is playing a "pretty weak hand," long term, but admitted that short term, "it's pretty good," referring to their control of natural gas into Eastern Europe and entry into Syria.
The retired general said one of the biggest issues the rest of the world sees with America is its political divisions. "We've lost a lot of credibility" he said, in the past two decades, emphasizing it wasn't any single person's fault that's the case. "When you lose credibility, it means your friends calculate differently." He referred specifically to Saudi Arabia's entry into Yemen over the past year — something almost unthinkable previously — and mentioned actions by Iran and Russia as well.