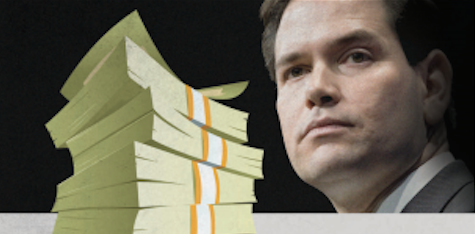 Democrats are investing heavily in the idea that Florida voters want to see some gun law changes, and the Democrats' latest is a statewide mailer declaring "Senator Marco Rubio letting guns fall into the wrong hands."
The mailer, from the Florida Democratic Party, hits Rubio, Florida's Republican U.S. Senator, on donations his campaigns have taken from pro-2nd Amendment/gun groups and accusing him of three times voting against banning suspected terrorists from purchasing guns, and seven times voting against preventing felons, domestic abusers and the dangerously mentally ill from buying guns.
The mailer is in support of Democratic U.S. Rep. Patrick Murphy of Palm Beach Gardens, who's running against the incumbent Rubio.
"I'll work to pass commonsense gun laws like banning suspected terrorists from purchasing guns and closing the gun show loophole to make sure guns don't fall into the wrong hands," Murphy is quoted as saying.
The mailer also graphically states that background checks have "stopped 2.4 million gun sales to prohibited people…but 40 percent of gun sales go unchecked because of politicians like Senator Marco Rubio."
There is no explicit mention of Omar Mateen, the ISIS-pledging, gay-hating madman who shot up Orlando's popular gay nightclub Pulse on June 12, broadly raising gun issues in Florida, specifically in Central Florida. However, since Pulse, virtually every Democrat running in Central Florida has made guns a top issue, and, as the Democrats are doing with Rubio, tried to paint Republican opponents as tied to the gun lobby.
Rubio's campaign countered by pointing out that just last month he sponsored three bills relating to gun law reform and the Pulse tragedy. Rubio voted for three measures to curb terrorists' purchases, while voting against three others in what had been a highly-partisan split on six post-Pulse proposals.
"Marco supports laws that keep guns out of the hands of criminals and terrorists while protecting the rights of law-abiding Americans to defend themselves and their families," campaign spokeswoman Olivia Perez-Cubas said. "Following the tragic terrorist attack in Orlando, Marco voted for efforts that would alert the FBI and delay the purchase of weapons for anyone currently on or previously on the terrorist watch list. Ultimately, Marco believes we must refocus our efforts on combating terrorism, both at home and abroad, and addressing the mental health crisis in our country."