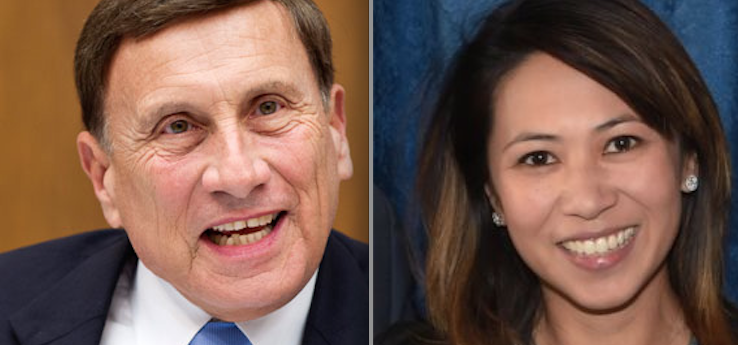 A new poll commissioned by the re-election campaign of U.S. Rep. John Mica shows he has a solid lead over Democratic challenger Stephanie Murphy.
The poll, taken Oct. 20-23 by Cherry Communications, showed Republican Mica of Winter Park had 47 percent among likely voters and Murphy of Winter Park had 42 percent.
The gap increased after respondents were read a series of negative comments about both candidates, giving Mica a 49 to 41 advantage.
The poll is in sharp contrast to polls done on behalf of Murphy's campaign in the past couple of weeks, which have shown her with a two- or three-point lead over the 12-term incumbent Mica.
"Central Floridians are rejecting this attempt to buy their votes by using extreme scare tactics and advertising that is filled with deception and lies," Mica campaign spokesman Alan Byrd stated in a news release. "This community knows Mica as the hardest working elected official in the region, as someone who has built this community, focuses on serving his constituents and leads on issues on transportation and veterans. No amount of money can tarnish his record."
The Cherry Communications poll contacted 412 voters with a margin of error of 4.9 percent, which means the lead is actually just a tick bigger than the margin of error.
The district, redrawn last year, has a much-reduced Republican lean among registered voters compared with when he has run before. Murphy has been backed by heavily-financed campaigns from the Democratic Congressional Campaign Committee and other Democratic groups that have assessed Mica to be vulnerable.
"The survey shows that despite almost $3 million dollars of negative advertising by the national Democrat party, Congressman John Mica still holds a solid 47 percent to 42 percent lead over his Democrat opponent in the race for CD 7," Cherry Communications' Linda Cherry stated in a memo.
The survey also finds Mica with overwhelming name recognition in the district — 86 percent. Murphy's name recognition was 66 percent.
Murphy's campaign pointed out that the last Mica-commissioned poll showed him up by far more, so the two polls combined show strong momentum for her.
"According to Congressman Mica's own polling, he has dropped an incredible 13 points in just one month," said Murphy's campaign manager Brad Howard. "This proves the case we have been making all along — that the more people get to know Stephanie, the more they abandon Congressman Mica and embrace Stephanie's message of change, security, and equality."