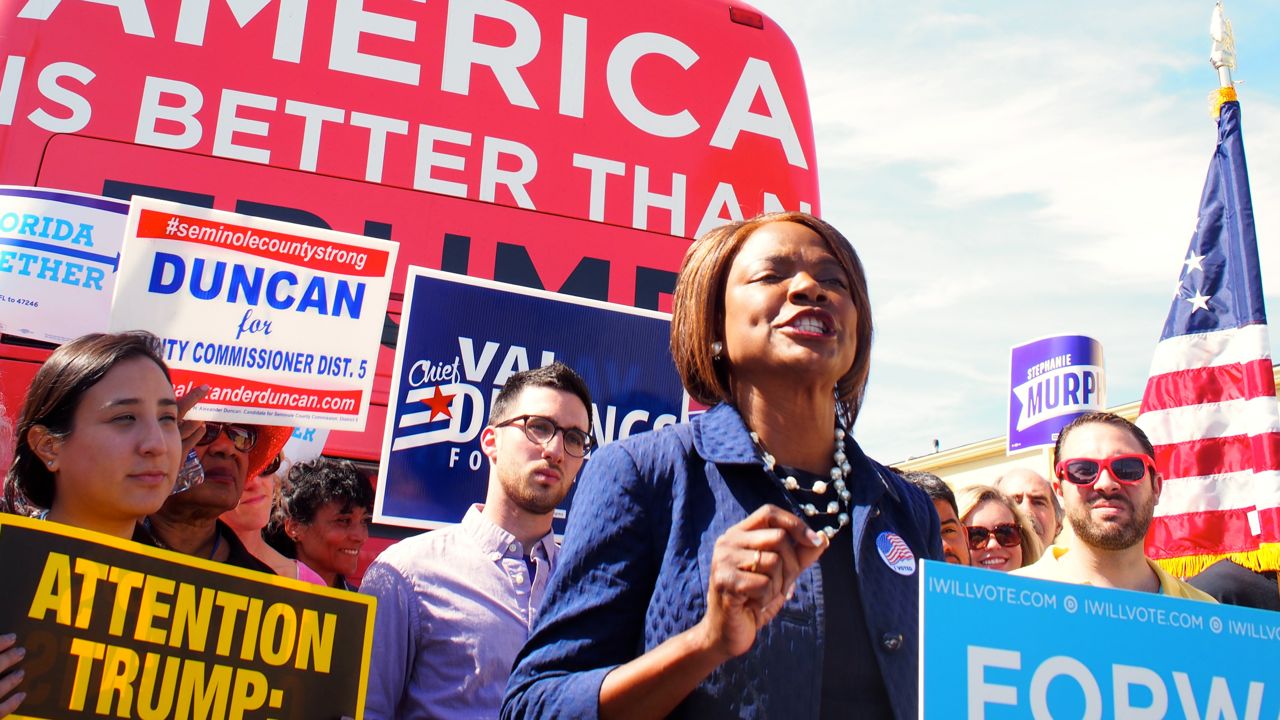 Recalling her childhood growing up in segregated and then racially volatile Jacksonville, Democratic congressional candidate Val Demings condemned Donald Trump Tuesday on his visit to Sanford, declaring, "his divisive, sexist, and racist rhetoric is not welcome here!"
Demings, a candidate in Florida's 10th Congressional District, and Democrat Stephanie Murphy, a candidate in Florida's 7th Congressional District, joined a small rally of a few dozen Hillary Clinton supporters in Sanford early Tuesday afternoon to counter Trump's rally a few miles away at the Orlando-Sanford International Airport.
"I come to you today, the daughter of a maid and janitor. I stand before you as an African-American woman. And I have seen this country, the United States of America, navigate through some very dark days. But it was also during those days that I saw leaders of all races and even of all parties work together to unite and not divide us," Demings said. "Donald Trump is spiraling out of control.
"And he has demonstrated that he will take anybody with him who is willing to go with him," she continued. "His divisive, sexist and, racist rhetoric is not welcome here! And I know in my heart, a person who has had tremendous opportunity in this country, I know in my heart [that his rhetoric] does not reflect in the majority of people living and working in the United States of America."
Demings and Murphy countered Trump's rally within Florida's 7th Congressional District, where Murphy is taking on Republican, 12-term incumbent U.S. Rep. John Mica of Winter Park. The district covers all of Seminole County and much of north-central and northeast Orange County. Demings is taking on Republican nominee Thuy Lowe of Sorrento in CD 10, which is southwest of CD 7, covering west Orange County.

For weeks, Murphy has been trying to link Mica with Trump. Mica expresses support for Trump, saying he is committed to support any Republican running for president, though he has disavowed Trump's worst statements about women.
And Mica was noticeably absent from the stage in Sanford Tuesday when Trump came to speak in his district.
On Tuesday Murphy charged Mica with standing by Trump as he "insulted and objectified women;" "called veterans suffering from PTSD, weak;" "attacked people of color;" and made "reckless comments about abandoning U.S. allies, killing civilians, and using nuclear weapons."
"Congressman Mica, what will it take for you to do what is right, and stand up for the people of Central Florida, and put them above your own politics?" Murphy challenged. "We are presenting a different vision: one of hope and faith, not of hate and fear; one of unity, and not of division. And that's why our message is resonating."