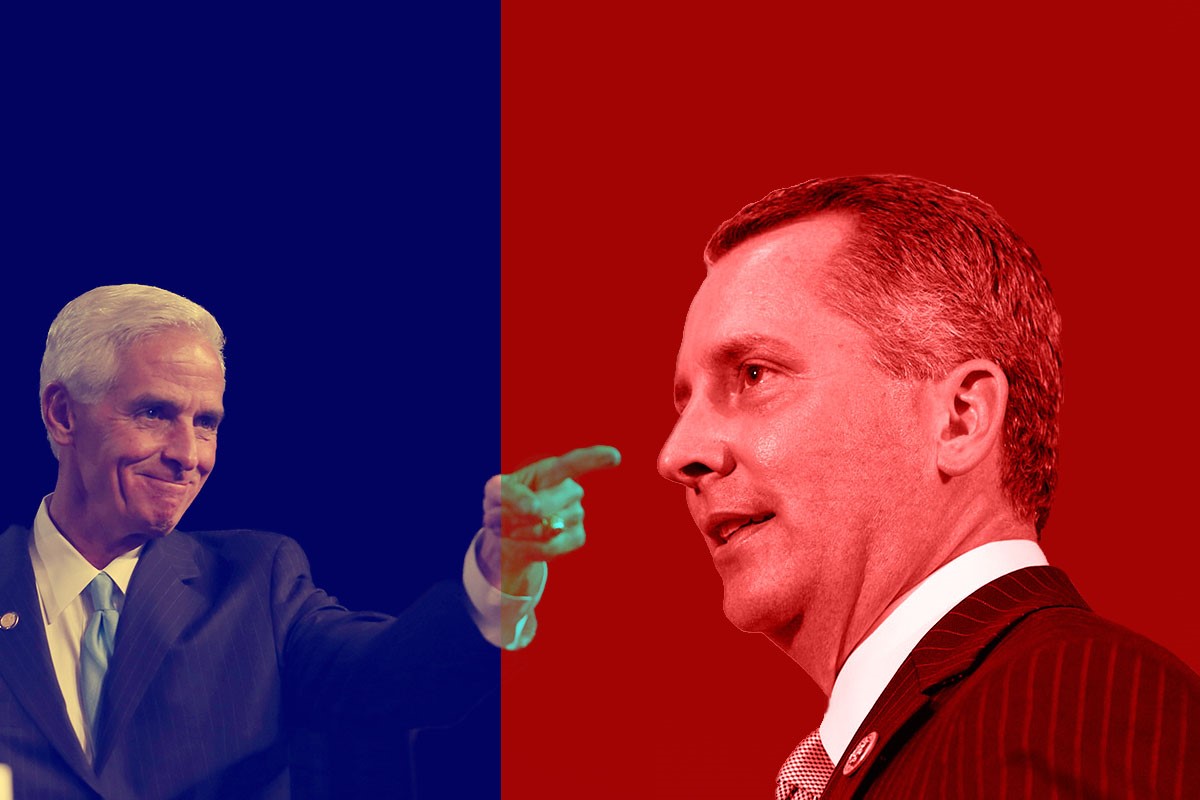 Outgoing Democratic state Rep. Dwight Dudley and several Pinellas activists gathered Tuesday to call out U.S. Rep. David Jolly for his "failure to stand up for" the people of Congressional District 13.
Dudley and the others gathered in Williams Park, across from Duke Energy, which they accused of "ripping off" consumers.
"Big energy companies like Duke Energy continue to rip off Florida's working families, over-billing consumers by millions of dollars," Dudley said. "David Jolly took thousands of dollars in campaign contributions from Duke Energy, and he has stood by silently while they overcharge consumers."
Dudley added, "David Jolly is comfortable being in the pocket of Duke Energy. This is why he hasn't spoken up for consumers. His silence in the face of such an outrage is alarming."
The solution, said Dudley and the others, is to vote for former Gov. Charlie Crist, the Democrat challenging Jolly for the CD 13 seat.
Dudley said Crist has a history of looking out for and protecting Floridians by standing against big utility companies and focusing on clean, renewable energy.
"No wonder Duke Energy has given money to his opponent in this race," Dudley said. Dudley added that Crist also wants to protect Social Security, not privatize it, as Jolly has advocated.
While Crist's supporters were holding their press conference — with two Republican Party onlookers — Jolly was unleashing his own barrage in the form of a press release:
"Charlie Crist will today host a press conference in an attempt to tie Congressman David Jolly, Republican candidate for Florida Congressional District 13, to additional energy fees related to the state-regulated energy industry and Congressional Republicans' plans for Social Security.
"The problem for Charlie is he was the governor who signed into law House Bill 549, in 2007, and House Bill 7135, in 2008. These two pieces of legislation essentially expanded the very program which Crist is now falsely attacking Congressman Jolly. The federal government, for which Congress has jurisdiction, also has no responsibility for nuclear recovery fees.
"In regard to Social Security, Congressman Jolly has continued to oppose privatization, having reiterated that position at a Suncoast Tiger Bay Forum with Crist on Thursday, Oct. 6, 2016, and has repeatedly voted against Republican budget proposals in Congress to make changes to the program (H.Con.Res.96 and H.Con.Res.27). Additionally, Congressman Jolly has called for Social Security to be guaranteed, despite a U.S. Supreme Court ruling to the contrary, and has introduced legislation to change the cost-of-living formula for Social Security recipients to better reflect the real rate of inflation for seniors (H.R. 4551, Keeping our Promise to Seniors Act)."
The press release includes quotes from Jolly spokeswoman Sarah Bascom, who calls Crist a liar and says he is using scare tactics.
"Charlie Crist has not had a good week so far," Bascom said. "First, he gets called out for not denouncing a photoshopped ad by the Democratic Washington establishment until the media tells him to, and conveniently only does so when he knows the ad was cycling off television anyway. But now, he is falsely attacking David Jolly for a bill he supported and for an issue that Congress has no control over. Clearly, they are seeing the closing poll numbers that we are seeing and are getting desperate that they may lose yet another campaign for office — on the heels of two other losses, for two other offices, in which he was a member of two different parties.
"What's even worse, or perhaps just more disturbing, is that Charlie Crist fails to mention that Congress has no jurisdiction over this matter of nuclear cost recovery. But that does not stop him from lying to the voters in an effort to lob a false attack on his opponent yet again.
"Crist has also been making the scare tactic rounds by echoing claims meant to frighten seniors with claims that their Social Security is threatened. A claim that has been disproved and he knows is false. In a senior-heavy district, this is an all-time low for a man who wants to represent the Pinellas County community."