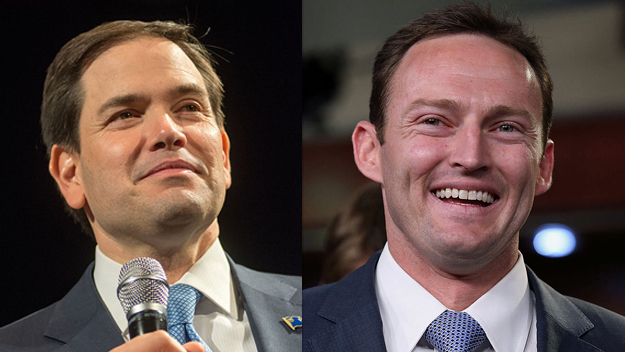 A series of recent polls have shown a tightening in the U.S. Senate race in Florida, but two new surveys released Wednesday show Marco Rubio still very much on command.
A Bloomberg Politics poll has Rubio leading Patrick Murphy by one of the biggest margins yet, 51 percent to 41 percent. A Bay News 9/News 13 poll has the race closer, with Rubio leading Murphy, 45 percent to 41 percent.
The Bloomberg poll surveyed 985 Florida registered voters from Oct. 21-24. The margin of error is 3.2 percent.
It shows Rubio's edge over Murphy with independent voters is significant, 51 percent to 36 percent.
His biggest margins are from voters in the Panhandle (+26 points), Catholics (+24 points) and those without a college degree (+13 points). Interestingly, the two are tied with Hispanics, which has been a vulnerable point for Murphy in other Senate polls.
One of Murphy's most frequent criticisms of Rubio is that he is unable to commit to serving a full six-year term if re-elected, and is still focused on making another run at the White House in 2020. The Bloomberg poll shows most people agree with that contention, and yet are still supporting him. When asked, "Do you think Rubio's decision to run for Senate is more about serving the people of Florida, or more about preparing to run for president in 2020?", 49 percent say he is gunning for the White House, while 27 percent say he is all about serving in the Senate, and 24 percent weren't sure (Rubio said at last week's debate that he would serve all six years in office, "God willing").
Meanwhile, in the Bay News 9/News 13 that shows Rubio up over Murphy 45 percent to 41percent, the poll was conducted by SurveyUSA from Oct. 20-24 of 1,251 likely voters, with a margin of error of plus-or-minus 2.3 percent.
In a major difference from the Bloomberg poll, the Bay News 9/News 13 poll shows Murphy leading Rubio among independents, 38 percent to 28 percent. Another 11 percent prefer either the Libertarian candidate or one of the other non-party-affiliated candidates, and 23 percent are undecided.
Rubio is leading among Cuban, Hispanic, and white voters, while Murphy is doing favorably among black and Asian voters.
Rubio and Murphy will engage tonight at 7 p.m. in their second and final debate of the campaign season.