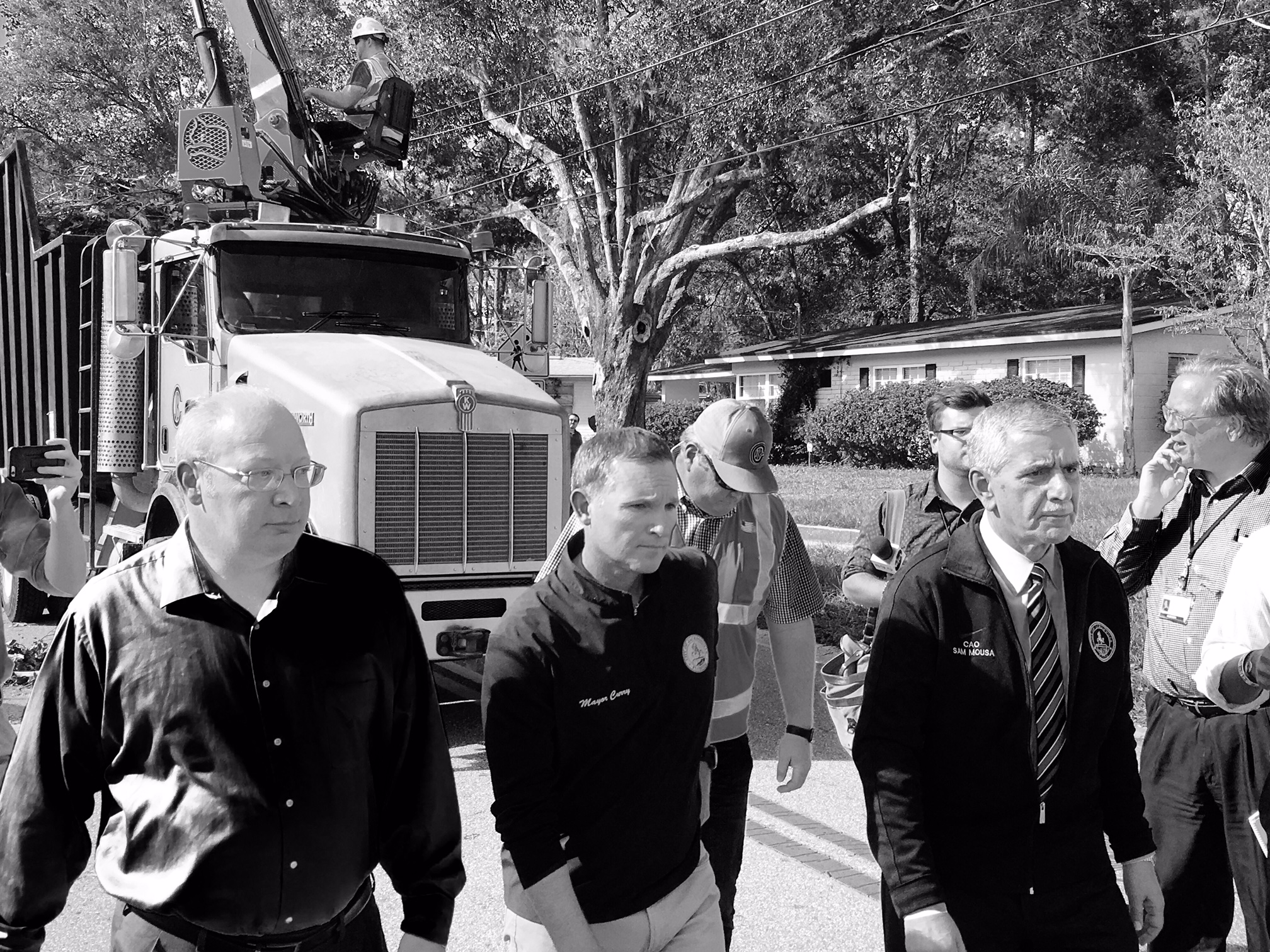 Note: a previous version of this piece asserted a connection between the family of Jacksonville CAO Sam Mousa and J.B. Coxwell. That connection was limited to Mousa having been an employee in the past. No current connection exists. We regret the error.
Duval County and Jacksonville were spared the absolute worst of Hurricane Matthew's fearsome brunt. Yet local government is still working through recovery efforts.
And it is an all-consuming effort, requiring city resources galore, and pushing city leaders and contractors to their limits.
At a Thursday morning media event at a park on Jacksonville's Southside, Mayor Lenny Curry told a story about a contractor working on storm recovery efforts.
During the first week after the hurricane, Curry bumped into him at Starbucks, and noted that he wasn't his usual cheerful, energetic self.

"Mayor," the contractor said, "I've been up at 4 a.m. every morning this week."
These yeoman's efforts, three weeks after the storm, are paying appreciable dividends, Curry said.
"We continue to aggressively work on debris pickup," Curry said, describing the "most aggressive push in recent memory."
"We continue to push each other hard," Curry said.
Curry's Chief Administrative Officer Sam Mousa noted the team "began preparation well before the storm," with resources "ready, primed, and in place" starting at 7 a.m. the day after the storm, with toss crews working Duval County streets through Monday.
"The city planned on the front end," Curry said, with trucks and a contractor in place.
Debris pickup, meanwhile, has been ongoing: the current quantity collected is 434,000 cubic yards, of an estimated 800,000 to 1 million cubic yards.
To put that 434,000 figure in perspective, that's more than was picked up in six months after previous storms.
Even today, 206 vessels are working Jacksonville's streets in the ongoing effort, and there are nine active sites for processing the debris.
Despite this accomplishment, Curry cautioned that his team is not resting on its laurels.
"We're not asking people to be patient. We're not patient," Curry said.
Mousa messaged on debris sorting, saying that whatever can be bagged up and placed curbside should be, adding that yard waste should be separated from construction and demolition debris.
When asked about mitigation of wayward branches and limbs going forward — specifically those tree canopies looming over power lines within the city right of way — Curry noted that while his team "inherited many neglected things over the years," a "stabilized budget" will facilitate more preemptive maintenance going forward.
Mousa added that JEA's tree crews will work to "make sure the canopy is clear" of power lines and fixtures.
Beyond debris removal, the city also is exploring repair options for the iconic Jacksonville Beach pier, which had a partial collapse as the Atlantic Ocean battered it during the height of the storm earlier this month.
Mousa noted an "emergency purchase order" is in place, and that structural engineers and divers are evaluating the condition of the pier, as well as what happened to the collapsed portion.
That analysis is expected to be completed in a matter of weeks; from there, the city will evaluate options, including repair or demolition, and subsequent replacement.
Construction plans for the pier will be evaluated as well.
Curry noted that, in his "One City, One Jacksonville" vision, that "repair and restoration are not a zero sum game."
Contractors from J.B. Coxwell are handling the debris removal, hewing to FEMA guidelines for reimbursement, which include a monitor on the job site to ensure that removal accords with federal guidelines.
Meanwhile, Curry noted there is recourse for those who have been rendered homeless or dispossessed by the storm, including FEMA reimbursement and the First Coast Relief Fund for help meeting insurance deductibles.