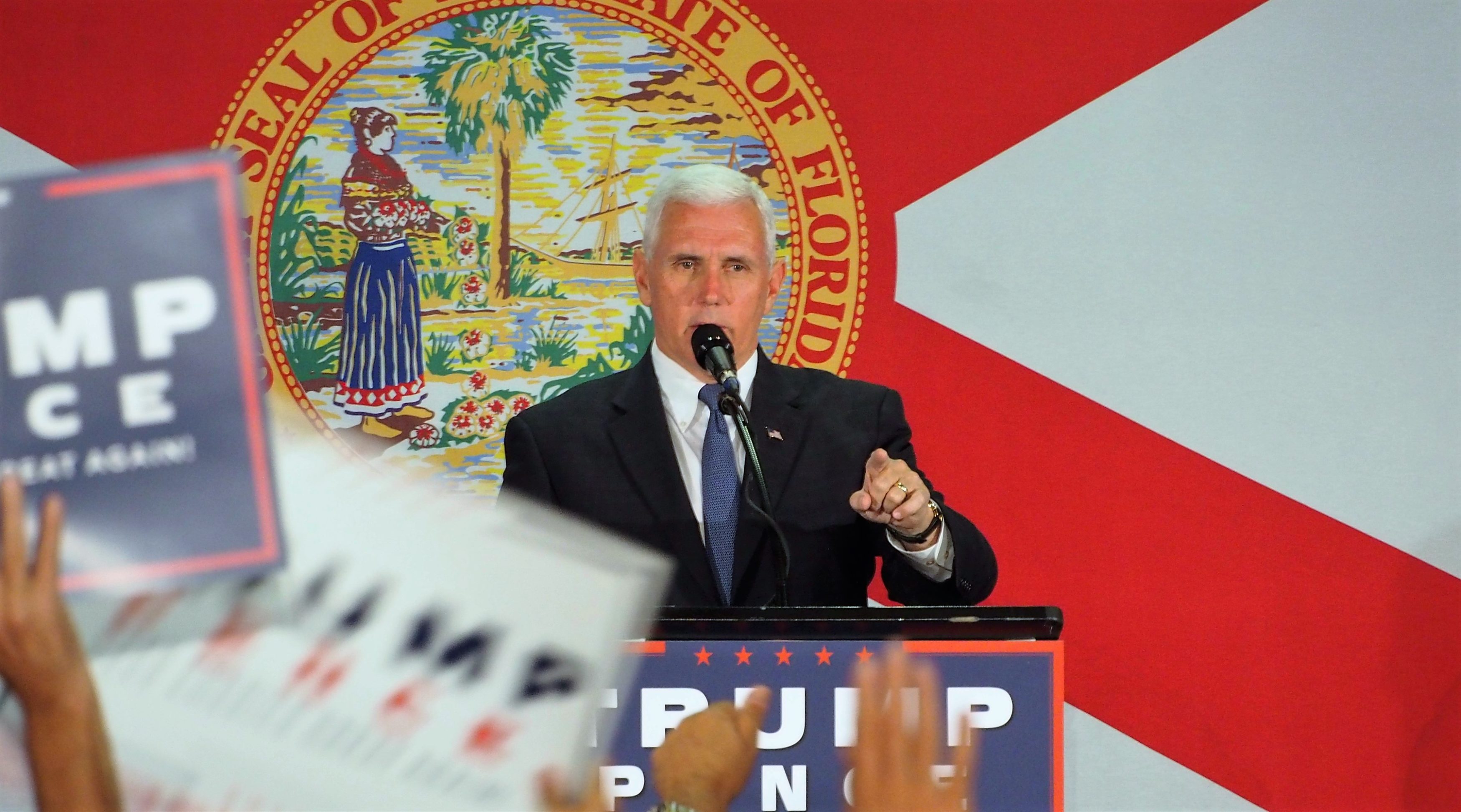 Republican vice presidential nominee Mike Pence vowed Monday that a President Donald Trump would seek a robust course to space that would have NASA focus on deep-space exploration.
In a speech to a few hundred people at the Cocoa Convention Center, Pence was light on details but heavy on promises of a bold American future in the final frontier.
After the public speech, Pence met privately with leaders of the Space Coast's aerospace industry — including officials from SpaceX, Boeing, Lockheed Martin, and Northrup Grumman, but that meeting was closed to the public and media.
His space policy discussion took up just a few minutes in a 35-minute speech that also spent considerable energy attacking Democratic presidential nominee Hillary Clinton over her email controversy, and President Barack Obama and Clinton on their foreign affairs and military policies, while maintaining Trump would strengthen the United States.
But for the Space Coast crowd, the space policy discussion drew hearty applause, even a chant of "Space! Space! Space!"
"Let me tell you something, Donald Trump and I have a plan to make the American space program great again," Pence said.
The speech comes just a few days after the first pronouncement from the Trump-Pence ticket on its space policy, an op-ed published Oct. 19 on SpaceNews.com, written by two Trump advisors, former U.S. Rep. Robert Walker and business professor Peter Navarro.
Neither that essay nor Pence's speech Monday made clear Trump's positions on any specific programs embraced by NASA and President Obama in recent years, including commitment to a new deep-space rocket called the Space Launch System and a deep-space astronaut capsule called Orion; and contracts with SpaceX and Boeing to provide taxi and hauling services to NASA into lower-Earth orbit.
He did sharply criticize Obama for canceling the Constellation program — the predecessor to the SLS rocket. The Constellation program was known to be running way over budget and well behind schedule when Obama canceled it in his first months on the job in 2008, a move that drew a harsh partisan response from Republicans who had backed it.
And others questioned whether Walker's and Navarro's essay suggested Trump would ditch the SLS, which is still three or four years away from being ready.
Yet in vague ways, Pence made it sound in his speech as if he and Trump were ready to not only embrace the current initiatives, but also do something Obama has been less aggressive about: fully fund them. One exception might be NASA's programs to use its orbiting satellite and other assets to study the Earth, particularly to add to data on climate change. That program has received significant Republican opposition in Congress, and twice Pence said NASA would be refused on space exploration.
"We'll bring a new vision to America in space," Pence said. "Donald Trump has already said we're going to stand by the private partnerships to make sure we're investing, using all the resources of the most powerful partnership on Earth."
He also said Trump intends to re-start the National Space Policy Council, a White House-based  advisory panel that gradually lost influence through the 1980s and '90s before President George W. Bush put it in mothballs.
And Pence said Trump would appoint Pence to chair the council.
"We're also going to strengthen our military mission and assets [in space] and reorient our civilian program [NASA] for deep space and exploration," Pence said. "We're going to promote increased cooperation with the commercial space industry. We're going to provide capabilities for our nation to maintain constant pressure in lower Earth orbit and beyond."
He also cautioned that NASA and the U.S. space programs need to be more efficient and more effective, using dollars more wisely.
"But we're going to do it," he added. "We're going to make the investments. And we're going to create a brighter and boundless future for America and a growing economy on the Space Coast."