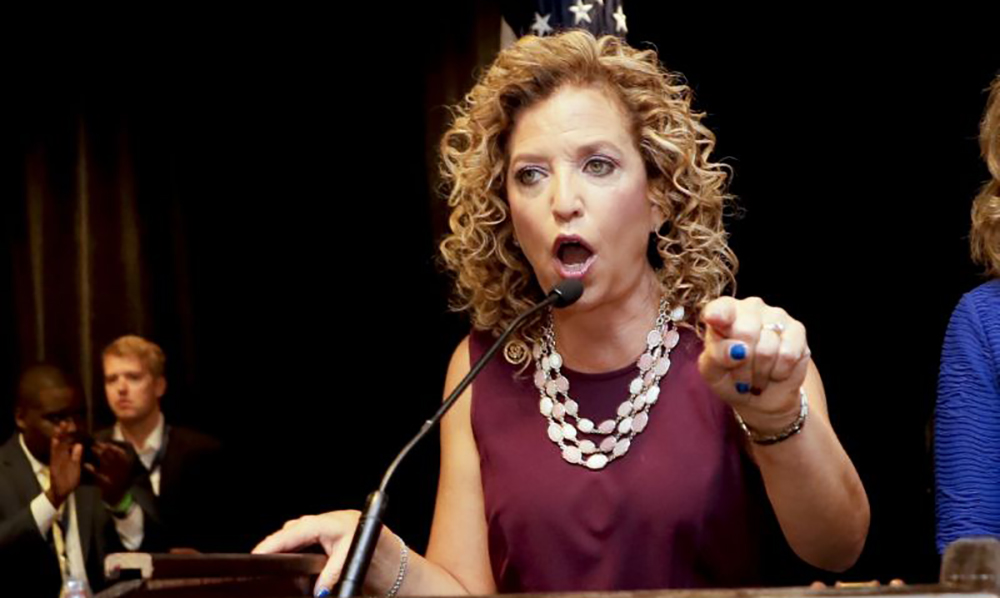 In July, Debbie Wasserman Schultz abruptly resigned as head of the Democratic National Committee, after leaked emails showed party officials conspiring to sabotage the presidential campaign of Vermont Sen. Bernie Sanders.
Now, a new email message from the Gmail account of Clinton campaign manager John Podesta — posted by WikiLeaks Tuesday — indicate Hillary Clinton, the candidate campaign officials were considered to be in the tank for, also had serious issues with Wasserman Schultz. Clinton's staff even discussed ousting her well before her unexpected midsummer exit.
On Dec. 17, 2015, Clinton staffer Heather Stone sent out a memo titled "DNC Leadership," to Podesta, Robby Mook, and Sara Latham. It explained in part the Clinton campaign had encountered challenges in working with Wasserman Schultz, calling for "systemic shifts at the DNC Leadership Level" to facilitate a better working relationship:
Though we have reached a working arrangement with them, our dealings with Party leadership have been marked by challenges, often requiring multiple meetings and phone calls to resolve relatively simple matters.  We are frequently caught in the middle of poor communication and a difficult relationship between the Chairwoman and the Executive Director. Moreover, leadership at the Committee has been slow to respond to structural challenges within their own operation that could have real impact on our campaign, such as research.
Jen O'Malley Dillon has entered into a contract with the DNC as a consultant for the General Election, which addresses some of these challenges and provides a connection for us within the Party. However, this arrangement does not change the need for systemic shifts at the DNC leadership level — to ensure that we have strategic and operational partners within the Committee that can help drive a program and deliver on our General Election imperatives.
The memo also said the intention should be to keep Wasserman Schultz as DNC chair up until July's National Convention. After the convention, however, "we should consider three models for the DNC chairmanship:"
Three options discussed would be:
— Keep Wasserman Schultz  and "work through a chief of staff." Wasserman Schultz would have been no more than a figurehead in this capacity, the memo states.
— Keep Wasserman Schultz in the position, but select someone like former Michigan Gov.
 Jennifer Granholm as a "General Election Chair." In that situation, the chief of staff would work with the General Election Chair, while Wasserman Schultz played the role as a chief surrogate. This didn't seem likely to work, however, as Stone wrote that, "This model has the considerable drawback of creating a two-headed monster with little clarity of who is responsible for different areas of work within the Committee."
— Oust Wasserman Schultz outright for Granholm. "Under this scenario, the convention would represent Congresswoman Wasserman Schultz's final responsibility to the DNC, and we would use the convention as a clean break between chairs," wrote Stone. "At the convention, we would honor the Chairwoman's leadership and service to the Party and introduce the new Chair for the final phase of the campaign."
As it turned out, leaked WikiLeaks emails were released the weekend before the Democratic National Convention in Philadelphia in late July, prompting an outcry among Sanders delegates who always believed Wasserman Schultz was biased for Clinton in her position at the DNC.
The uproar was so great, Wasserman Schultz quit the Sunday afternoon before the convention, ultimately replaced by Donna Brazile.
Brazile recently left CNN under dubious circumstances following another WikiLeaks release indicating that, while at CNN, she may have passed along a question to Clinton before a debate.