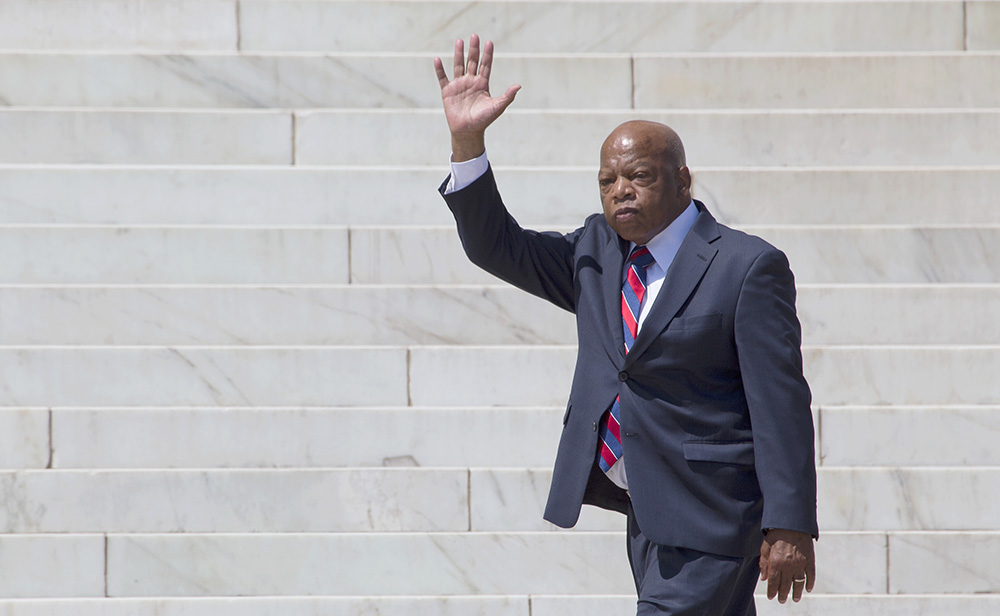 Civil rights icon John Lewis, now a congressman from Georgia, came to St. Petersburg on Wednesday to support former Gov. Charlie Crist.
Crist, a Democrat, is running against Republican incumbent David Jolly for Florida's 13th Congressional District.
Lewis, who has represented Georgia's Fifth Congressional District since 1986, said he had followed Crist's career.
"I'm delighted and very pleased and honored to be standing here with you," Lewis told Crist. "I'm here to support you. I'm looking forward to getting things done."
Lewis said Crist could help make things better not only for the CD 13, but also the state of Florida and the U.S.
Crist said he was "grateful beyond words" for Lewis' support. If elected, he said, he looked forward to working with Lewis.
The two spoke at a press conference outside the Greater Mount Zion AME Church, 1045 16th St. S. The two had been part of a meeting and prayer inside the church before speaking. Others who joined them included former St. Petersburg Council Member Wengay Newton, who is running for state House District 70, and Pinellas County Commissioner Ken Welch.
U.S. Rep. Kathy Castor was unable to attend but sent a representative from her office.
Lewis was not in town only to support Crist. He also urged residents to get out and "vote, vote, vote."
A vote "is powerful," Lewis said. He added, "I gave a little blood on that bridge in Selma for the right to vote."
Lewis was referring to an incident on March 7, 1965, that has become known as "Bloody Sunday."
Lewis and Hosea Williams, another civil rights advocate, had planned to lead 600 peaceful, orderly protestors in a march from Selma to Montgomery to demonstrate the need for voting rights in Alabama. They got as far as the Edmund Pettus Bridge in Selma when state troopers and local police blocked the way and demanded they turn around. When they refused, they were tear gassed and beaten with billy clubs.
A successful march was held later that month with federal protection. And, that August, the Voting Rights Act was passed.
Lewis was also scheduled to appear at the University of South Florida's St. Petersburg campus to discuss civil rights. Later, he was scheduled to tour Jordan Park.
Early voting in Pinellas ends Sunday. Election Day is Tuesday.