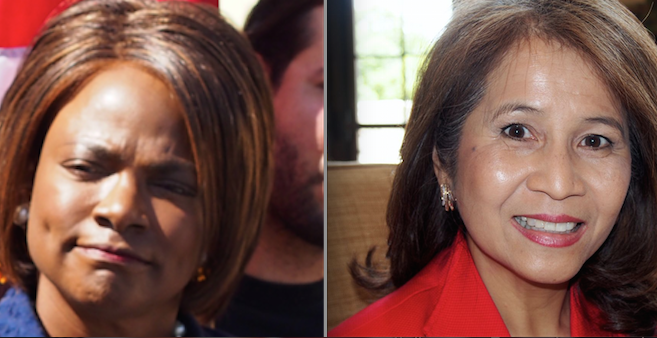 Democratic congressional candidate Val Demings of Orlando continues to collect a mix of big checks from business and labor groups in her bid to be elected in the Florida's Orlando-based 10th Congressional District.
The latest campaign finance reports filed through Wednesday show Demings had collected another 20 four-figure checks in the previous week, raising $44,200 for her campaign. She had raised a similar amount the previous week, with that $90,000 or so coming on top of the $1.4 million she had raised through the latest full reporting period, which ended Oct. 19. On that date, she had $56,000 in the bank.
Her Republican opponent Thuy Lowe of Sorrento has been running a much more modest campaign in the district, which covers west Orlando and western Orange County. Lowe reported Oct. 19 that her entire campaign had raised just over $34,000 and that she had less than $1,000 in the bank. Since then she has drawn two large checks, $1,500 apiece from residents of the district, Rick and Mollie Lugo.
Demings also has collected some recent big checks from individuals, notably Orlando hotel mogul Harris Rosen, Rosen Hotels Vice President Frank Santos, and prominent attorney David C. Brown, chairman of the Broad & Cassel law firm and a once Republican rainmaker. Political committees representing the American Association for Justice [trial lawyers], the Laborers' International Union, the Communication Workers of America, the journeymen union, and the International Union of Operating Engineers each contributed $5,000.