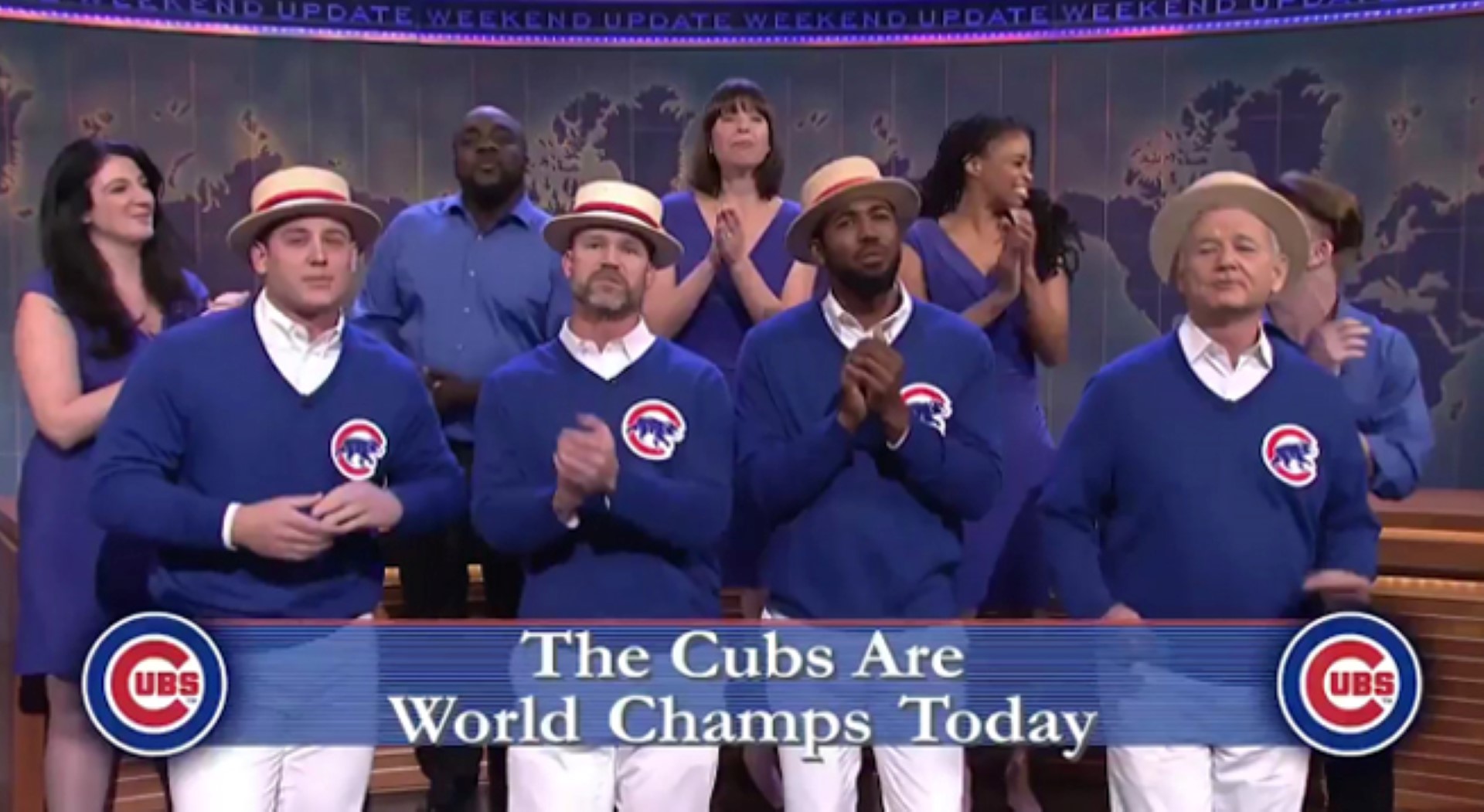 Grumpy and possibly jealous old men — some with newspaper columns — disapproved of Saturday's comedy debut of Anthony Rizzo, Dexter Fowler, and Tallahassee homeboy David Ross.
Fresh off their World Series win, the trio swung by Saturday Night Live to sing "Go Cubs Go" with superfan and trained professional comedian Bill Murray, and to bump and grind with Benedict Cumberbatch in a tasteless-by-design sketch starring cast member Aidy Bryant, a gifted practitioner of physical comedy who makes anyone who shares her stage look terrific.
The Chicago Tribune's Phil Rosenthal dissed the whole thing as an "error," leaving those who thought it adorable and hilarious scratching their heads and seeking second opinions.
One was provided by Peggy Gossett-Seidman, who is highly qualified to weigh in on all sorts of sports. Gossett-Seidman was a trailblazing, groundbreaking, pioneering member of the generation that proved women can report and write sports with the best of the boys.
As a sportswriter for The Palm Beach Post, she was the first woman to cover the Miami Dolphins from inside the locker room. Her resume includes extended tours of duty as personal assistant to actor and football guy Burt Reynolds, and, later, tennis star and philanthropist Chris Evert.
We put the question to Gossett-Seidman, who concluded that the trio had "earned the right to act silly and marginally seedy on SNL." In support of her viewpoint, and working from memory, Gossett-Seidman offered up short bios highlighting ties to Florida and random acts of pure class.
Even if you know nothing and care less about baseball, it makes for feel-good reading on a day when many of us could use it:
"Anthony Rizzo grew up in Parkland, attended Marjorie Stoneman Douglas High School. Barely 18 years old, he fainted in a locker room and found out he had cancer. He was newly signed with the Boston Red Sox, and they stuck by him and he had support from pitcher Jon Lester, who successfully fought off the disease. Both players ended up being traded eight years later to the Cubs where they share a special bond.
"The 'old guy' David Ross is the father of three who was traded around to at least five different teams while battling for a starting spot as catcher, dragging his family all over. He was likely better than most catchers on those teams but did not get the breaks. As a kid, he attended FSU's elementary school and played college ball at Auburn and Florida. At 39, he is the oldest player to hit a World Series home run.
"Dexter Fowler apparently is the nicest guy in baseball. He called the team meeting with all players, no coaches, during the rainout in the final Series game. He delivered a mesmerizing, supportive message that teammates say inspired and propelled the team to pull together and win. A very religious guy in the sense that he tries to do the right thing always, Fowler is from a small Georgia town. He originally signed to play baseball for the University of Miami but needed the money so turned pro.
"So, if these fellows wish to dance around a late-night stage in short shorts or anything else, they have earned it."