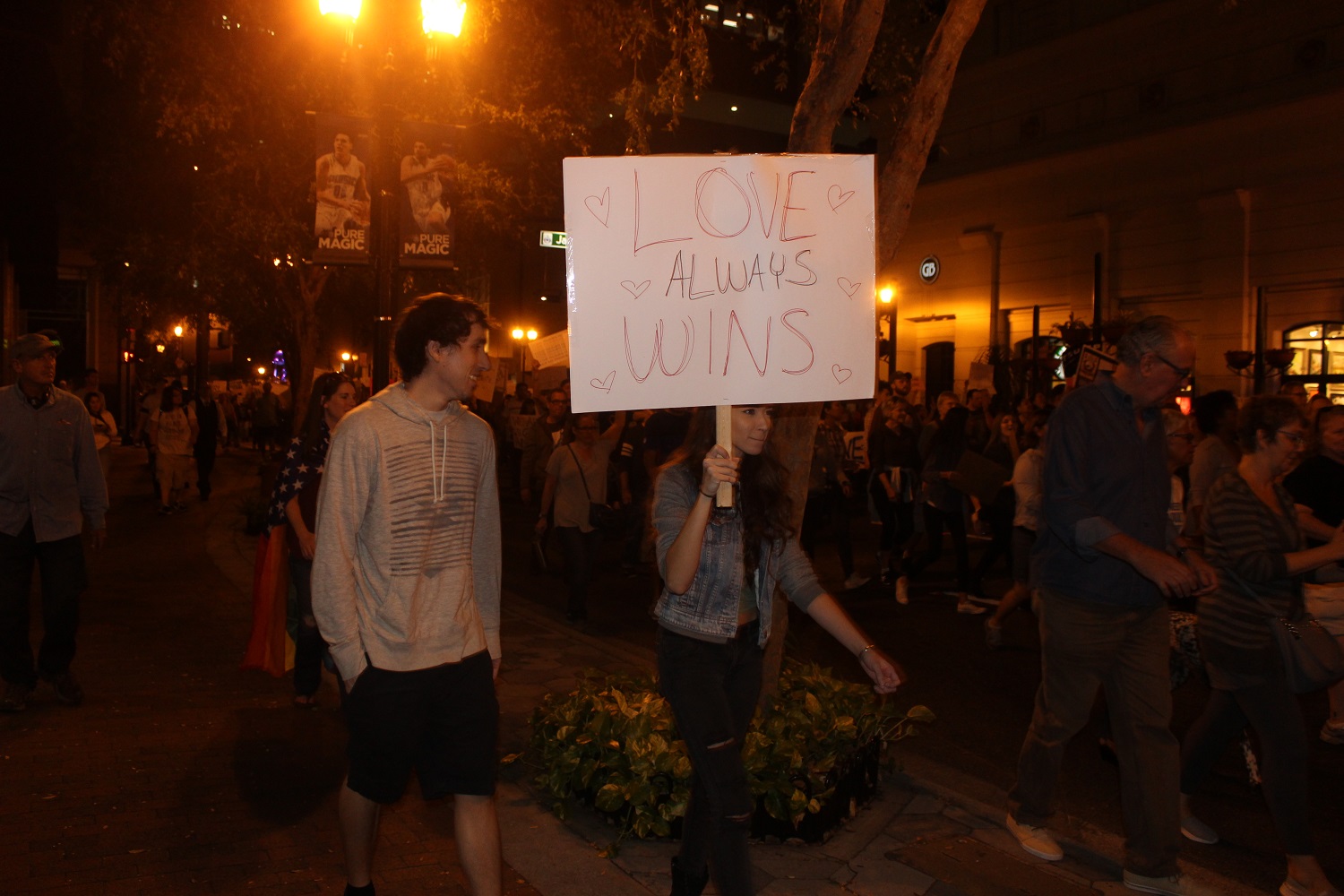 A small group of people met up at the edge of Lake Eola bordering Rosalind Avenue, all carrying signs and ready to protest Donald Trump's presidency Friday afternoon — though, his name was not mentioned at all by many protesters on purpose, so as not to give him credit for their passion.
They were few in number at first, all confused as to where the protest was supposed to take place. One young girl, Alex Mist with online group Anonymous, said she was there to "start a revolution."
"We have elected a fascist, a bigot, a sexist man," she told FloridaPolitics.com. "That is not our country. It's not democracy. We want to start a revolution and overthrow the oligarchy of America."
Few others had come with such ardent goals — others, like LGBT resident John Palys, came simply to show solidarity and unity with their fellow Orlandoans who had vowed not to give into hate.
"People think they can get away with things now," he said. "The KKK and Neo-Nazis. I was already called an [anti-gay slur] walking home from work yesterday. I want to show them I will fight, I will be strong, I will not back down."
The protest swelled at the other end of Lake Eola, where crowds nearing a thousand people chanted in unison: "Not my president!" They switched it up later, with the women in the audience first shouting "My body, my choice!" and the men following with "Her body, her choice!"
Protest organizer City Tucker with the Black Lives Matter movement emphasized throughout that this was to be a peaceful protest, to unify people and to show solidarity with minorities that were worried Trump and vice president Mike Pence could pass laws infringing upon their rights as Americans.
"We are the City Beautiful," Tucker said. "Why should we act like anything but?"
Tucker spoke with some of his fellow organizers, saying this couldn't just be the end. They would have other, future plans.
"Any time he passes a bill, we'll do something," Tucker said. "We'll start an organization, start scholarships. We'll take this love and put it back in the city."
All around, people had conversations with one another, at Tucker's request that they get to know one another and love one another. They bonded over their heritages and common beliefs.
"The U.S.A. is made of multiculture from every culture in the world," said resident Debra Smith. "Not just people born here. People come here for a better life, to live free, for a better chance for their children."
"Read about the Gadsden Purchase, and the Treaty of Guadalupe," said Nancy Gutierrez. "Half of this land used to belong to Mexico. People died so these people can have a country. I am not an illegal alien. I have not been on Mars. I was born on this planet."
The march then moved through the streets of downtown Orlando, with protesters of every color, race, creed, sexuality, and religion waving signs and shouting slogans of solidarity.
They arrived at City Hall and stood packed in a stadium-like circle around Tucker and other activists, including Equality Florida Transgender Inclusion Director Gina Duncan and Debbie Deland with Planned Parenthood, who made short speeches on the purpose of their rally.
"We have been through so much," Tucker shouted, straining his voice without a megaphone. "We are not going to succumb to the hate of one person. People try to tell us we are a divided country. Well, we look pretty united to me."
Duncan vowed to take equality bills to the highest levels of government locally, then to Tallahassee and to Washington, similar to how it had been done in Orlando.
"We will make sure everyone is finally treated fairly," she said.
U.S. Marine Corps. veteran Stephen McKnight took the stage and harshly indicted the new president.
"My brothers and sisters did not serve to put a fascist in the president's office," he said. "We fought and served for each and every one of you, and for the Constitution. Not to allow fascists to discriminate against everyone in the country. We support black people, Latino people, and female people — some of the best Marines I knew were women."
Deland said she was there as "Jane Q. Public," saying they would all stand together as one public.
"We will tell everyone not white, that you'll be safe, we'll have your back," she said. "We will not accept intolerance. We have to support women and tell them 'you can't be grabbed.' I've had such a long career with sexual harassment. We won't stand for it."
At times, the chants of "Black Lives Matter" dwarfed the speakers, and Tucker had to calm them down to continue the presentation.
Deland closed out with, "Do we still believe in Barack Obama?"
At that, the crowd let out a roar of approval.
Then, they continued their march down Orange Avenue.