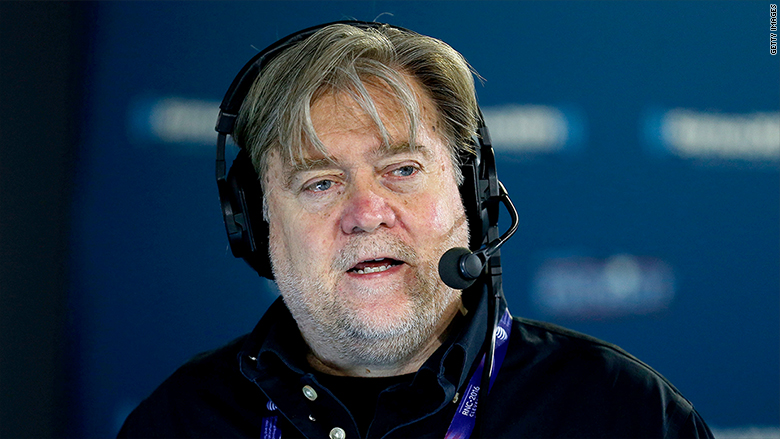 Donald Trump's selection of conservative media executive Steve Bannon as senior counsel and chief West Wing strategist is drawing the wrath of the Democratic Progressive Caucus of Florida.
"Do leaders and members of the Republican Party condone white nationalism, white supremacy, and anti-Semitism?," writes Susan Smith,  president of the caucus. "Unless they speak out strongly against the appointment of Steve Bannon as chief strategist and senior counselor to the president, that is exactly what they are doing. Their party will forever be shamed by its ties to the extreme right-wing agenda of the alt-right movement."
Bannon is the former executive chairman of Breitbart News, the controversial but popular conservative website that championed Trump early on in the primary season. He was named as Trump's campaign chair in August.
Smith is calling on Republicans to condemn the appointment.
"As chairman at Breitbart, Bannon has supported and encouraged deception, defamation, bigotry, and hatred. He is unfit to serve in a top position in the White House," Smith says. "We strongly urge Republicans to condemn this appointment and call for Donald Trump to withdraw it."
The FDP Progressive Caucus is not the only group criticizing the appointment. The Anti-Defamation League issued a statement on Sunday night following the announcement Bannon will be working in the White House.
"It is a sad day when a man who presided over the premier website of the 'alt-right' — a loose-knit group of white nationalists and unabashed anti-Semites and racists — is slated to be a senior staff member in the 'people's house,'" ADL head Jonathan Greenblatt said in a statement.
Trump also announced Sunday that Republican National Committee Chairman Reince Priebus will serve as his chief of staff. The ADL praised that selection. The Progressive Caucus did not address the Priebus appointment.