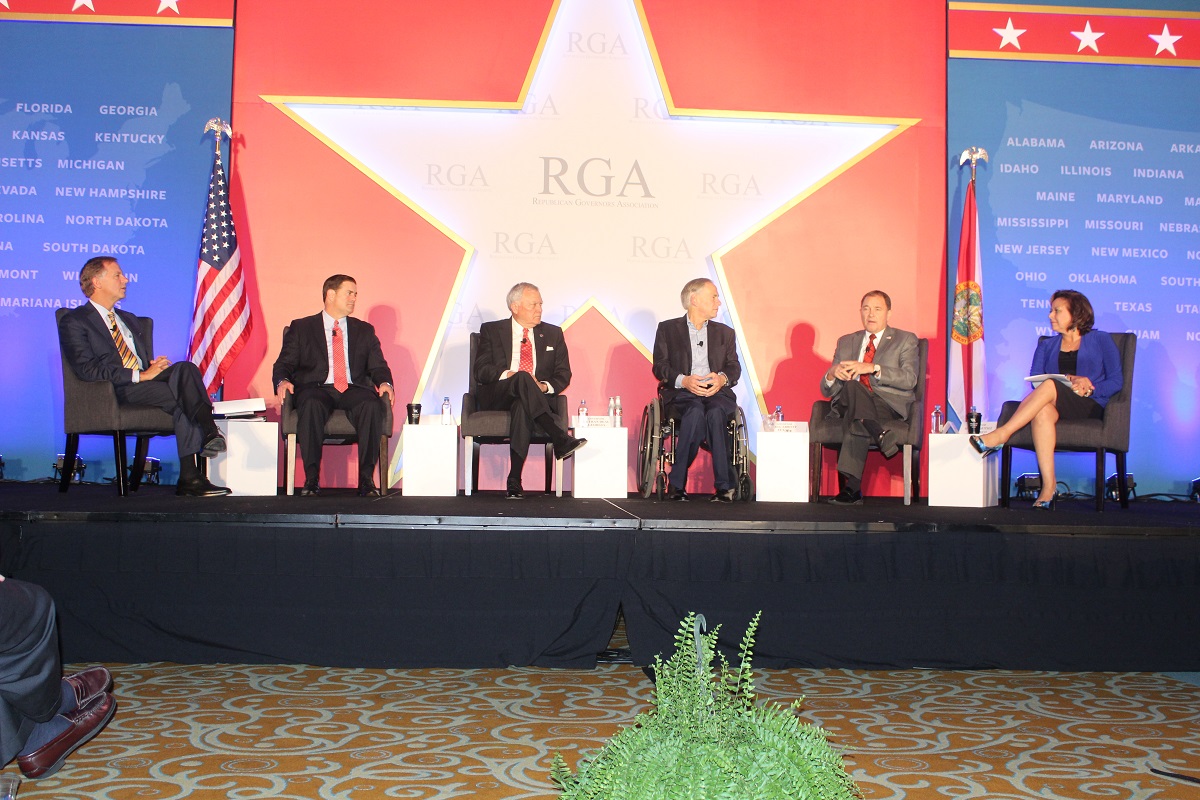 At the second day of the Republican Governors Association Annual Conference in Orlando, a slew of governors from across the nation talked in detail about the policies that led their states to prosperity — among them free market entrepreneurship, education in practical fields, innovation, and more.
The panel included Gov. Susana Martinez of New Mexico, Gov. Doug Ducey of Arizona, Gov. Nathan Deal of Georgia, Gov. Bill Haslam of Tennessee, Gov. Greg Abbott of Texas, and Gov. Gary Herbert of Utah.
According to them, their states all are doing very well because of less regulation and less burdensome rules from the federal government — both of which they hoped would happen even more under a Donald Trump administration.
Ducey, who served as CEO of Cold Stone Creamery before becoming governor, said they had expanded it to multiple other states and even other countries — and that couldn't have been done with government overreach that "criminalized risk-taking," as he put it.
Martinez said as a prosecutor, she based her decisions off reason, science, and evidence — and, then, if regulations were only hurting businesses, why have them?
"What do you get from it?" she asked. "If it makes things more expensive, and is harder to apply for — get rid of it. We've done that. We've been very successful in getting rid of a lot of them."
Deal talked about Georgia's booming infrastructure and prosperous airport, and Abbott said Texas was fast-becoming a hub for naked technological innovation. Innovation was touched on by many of the speakers, usually in the context of "releasing the power" of American entrepreneurs, unleashing them from the proverbial shackles of government regulation.
They also talked about the "clouds on the horizon" America still faces, even with a Trump administration they hope can fix all their woes of the past eight years. Those clouds included kids who had embraced Bernie Sanders' ideology of Democratic socialism and drugs.
"What we saw with Bernie Sanders, with some of our young people feeling the Bern," said Herbert. "They reject capitalism, and embraced a self-proclaimed socialist. We need to educate our young people, put a section in our schools that talks about free market capitalism, and how it's the best service to the most people at the lowest prices. I'm very concerned about our young people. They need to know economics."
"The amount of citizens addicted to drugs, abusing drugs, is very troubling," Ducey said. "They've made themselves unemployable. I got involved with politics because I wanted to give people a better opportunity, a better chance. But with drug legalization, and the number of people addicted, checked out, it's unprecedented. Governors need to understand what you need in terms of education and industriousness. I know people see it as a social issue; I see it as an economic issue."
He said leaders have a responsibility to push for better education so young people and their parents can make the right choices.