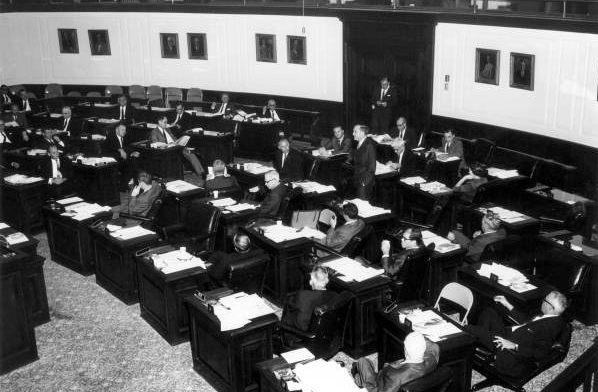 Almost 100 people now have applied to Gov. Rick Scott for a seat on the panel that reviews the state's constitution every 20 years.
According to a list the governor's office released Thursday morning, a few of the newest names interested in being on the Constitution Revision Commission are:
— Alan Becker, co-founder of South Florida's Becker & Poliakoff law firm, and vice chair of Enterprise Florida, the state's public-private economic development organization.
— Glenton Gilzean, president and CEO of the Central Florida Urban League. Scott appointed him to serve on the 9th Circuit Judicial Nominating Commission earlier this year.
— Bill McCollum, the former U.S. representative from Northeast Florida who served 20 years in Congress, before becoming the state's attorney general from 2007-11. He also ran for governor in 2010, losing the Republican nomination to Scott.
— Steven Specht, the Air Force veteran who just unsuccessfully ran as a Democrat in the Panhandle's 1st Congressional District. He lost to Republican Matt Gaetz.
— Julie Waldman, a deputy general counsel for the Agency for Persons with Disabilities, and a self-described advocate for "children, the elderly, and the developmentally disabled."
The Florida Constitution allows for a "revision commission" to meet every two decades to "examine the constitution, hold public hearings and … file its proposal, if any, of a revision of this constitution or any part of it."
As governor, Scott will choose 15 of the 37 commissioners, and he also selects its chairperson. That means the Naples Republican will indirectly influence the retooling of the state's chief governing document for an entire generation.
In addition to Scott, the House speaker and Senate president each get nine picks. GOP state Rep. Richard Corcoran of Land O' Lakes will be speaker in 2017 and state Sen. Joe Negron, a Stuart Republican, will be president.
Republican Pam Bondi is automatically a member as attorney general, and Florida Supreme Court Chief Justice Jorge Labarga gets three picks. He has already begun taking applications.
Under law, the next commission is scheduled to first meet in a 30-day period before the beginning of the Legislature's 2017 regular session.
Any changes it proposes would be in the form of constitutional amendments, which would have to be approved by 60 percent of voters on a statewide ballot.
Scott's application is here. The full alphabetical list of applicants released by the governor's office is below:
Andrade, Robert
Avalon, Victoria
Baade, David
Barbee, Donald
Becker, Alan
Belgard, Tildon
Beltran, Michael
Bishop, Thomas
Boggs, II, H.
Boroughs, Paul
Bronon, Charles
Brown, Donald
Browning, Kurt
Brummer, Frederick
Byrd, Cord
Carlock, Margaret
Casteel, Mark
Cayson, Elizabeth
Clayton, Robert
Crotty, Richard
Cullen, Lisa
Curtis III, Donald
Dantzler, Rick
Dawson, Warren
Dillinger, Robert
Duggan, Wyman
Eslinger, Donald
Feldman, Gregory
Folmar, Hayley
Foster, Brett
Fox, Don
Furst, Jr, William
Gaetz, Matt
Gillis, Laurence
Gilzean, Glenton
Goiran, Barbara
Goldstein, Stuart
Gosney, Steven
Handin, Jason
Harding, Nicholas
Haynie, Susan
Henderson II, Charles
Heyman, Sally
Jazil, Mohammad
Jones, Michael
Keiser, Belinda
Kinch, Abby
Kruppenbacher, Frank
Little, Joseph
Maier, Christopher
Marsh, James
Marstiller, Simone
Mason III, Scott
Matthews, Joseph
Maymon, David
McCabe, Bernie
McClure, Bob
McCollum, Bill
Mellen III, Robert
Miller, Mark
Miller, Park
Millert, Wayne
Monahan, Jr., Gerald
Moore, Edwin
Moriarty, Mark
Nanian, Marjorie
Nunn, Kenneth
Pate, Tena
Patterson Jr, Ralph "Pat"
Perry, Belvin
Pierce, Jerry
Primrose, Nicholas
Puig, Diego
Rainka, Michael
Ramswell, Prebble
Roberson, Kelly
Robinson, IV, Grover
Rosenblatt, Howard
Runcie, Robert
Schifino, William
Simovitch, Audra
Smiley, Judge Elijah
Smith, Daniel
Specht, Steven
Stelzl, Henry
Svechin, Larisa
Thomas, Mary
Tuck, Andy
Upthagrove, Brett
VanValkenburgh, Jessica
Waldman, Julie
Walsh, Anthony
Widerman, Scott
Wigder, Marc
Zilaitis, Frank
Zoes, Caroline