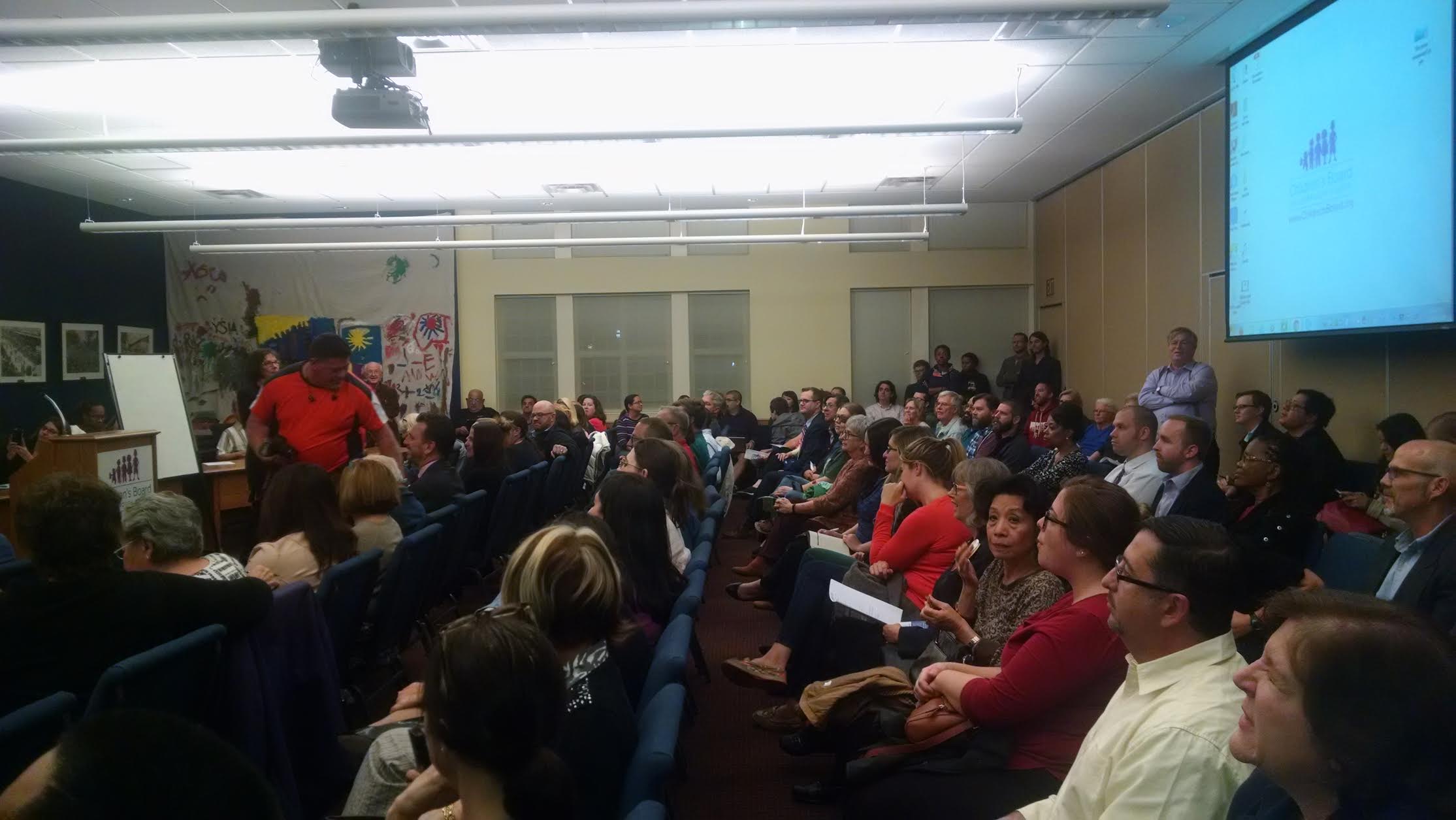 At their first event since being devastated by the results of the presidential election, there was literally not enough room to contain the number of Democrats who showed up at the Hillsborough County Democratic Executive Committee meeting in Ybor City Monday night. A second room adjoining the main boardroom at the Children's Board of Hillsborough County facility was opened to contain the overflow crowd.
"We've been inundated since the election," said Ione Townsend, the chair of the Hillsborough County DEC.
Although officially only 14 people were sworn in as new members of the Executive Committee Monday, there were several dozen more people who were first-time visitors to a DEC meeting. Townsend said those 14 people had already completed applications in advance of the meeting. In addition, she said party officials received a "number" of completed applications on Monday, with other applications distributed to people in the last two weeks who weren't in attendance at Monday's meeting. A number of other people left the meeting taking an application form with them.
"There's a great deal of disappointment in the national election with Hillary's loss and the election of Trump," she said about the interest over the past two weeks. "People are saying, 'maybe I should have been more involved, I need to be involved.' There were people who said 'I sat this out and I shouldn't have' and, whatever their reasons are, we're just glad that they want to be engaged."
Although it wasn't a perfect night by any stretch for Hillsborough Democrats, the county did vote strongly for Clinton. The voters also voted in support of all the constitutional officers on the ballot (such as Clerk of the Court Pat Frank, Supervisor of Elections Craig Latimer and Property Appraiser Bob Henriquez) re-elected, as well as Andrew Warren defeating Mark Ober for state attorney.
Townsend is running for re-election to the party chair position on Dec. 5, and no one is challenging her. She was elected in January, after serving as vice-chair in the previous year.
One factor that certainly has helped the party is the fundraising prowess unleashed by Mark Hanissee, the former Pinellas County DEC chair who lost his bid for re-election there to Susan McGrath two years ago.
Under Hanissee, the Hillsborough Democrats have created two fundraising vehicles — one being the Hillsborough Society, created in 2015 by Alex Sink and Tucker/Hall co-founder Tom Hall. That group was able to raise $40,000 in the past year to help with get-out-the-vote efforts, including slate cards, digital media, phone banking, website upkeep, and social media.
Then there is their Victory Fund. Hannisee said when he was originally hired by the party in the fall of 2014, his goal was to bring in $200,000 by this past election to that fund. In fact, he said, they raised more than $309,000.
During the meeting, Townsend said the party also did a great job in registering voters. On April 30 the Democrats had 305,887 registered in Hillsborough County. They then registered 32,113 between May and Oct. 18, increasing their numbers to over 338,000.
"We actually delivered the vote for Hillary Clinton," she said to cheers from the audience.
But obviously, Clinton's loss in Florida was pivotal in the Democratic nominee's failure to win the state's 29 electoral votes. After the 2012 presidential election, when Barack Obama won re-election days before the final vote in Florida was counted (he ultimately defeated Mitt Romney here by less than one percentage point), Democrats' attitude was that while Clinton could afford to lose Florida, Trump could not. Yet that was going by the old Electoral College map, which had states like Pennsylvania, Michigan, and Wisconsin going for Clinton. They didn't, however.
"We share your pain. We share your disappointment," Townsend told the dozens of new members in the audience. "I encourage you to stay engaged. We can turn out more Democratic voters with more hands for sure."