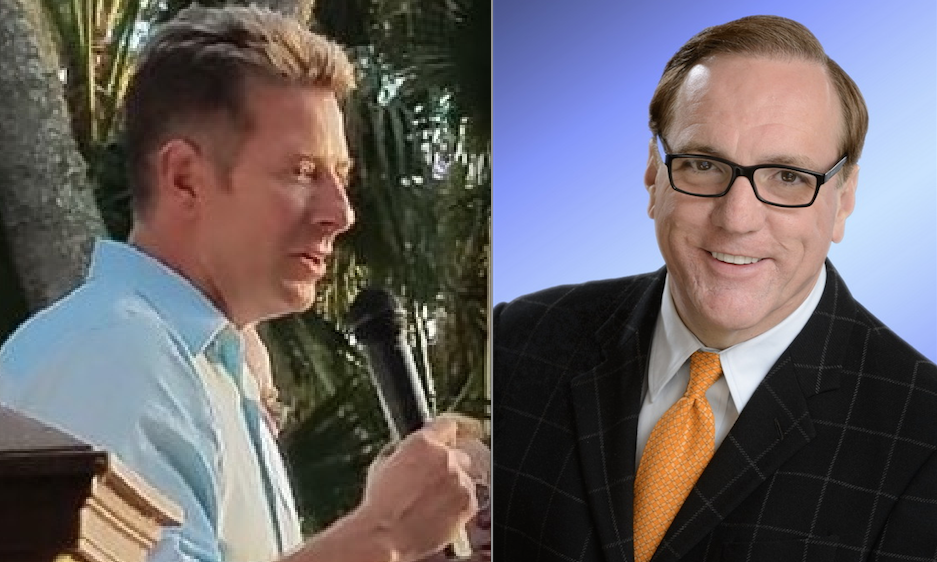 Lew Oliver has chaired the Orange County Republicans for decades with little serious opposition but now the leader of Donald Trump's campaign in the county, Randy Ross, is taking on the venerable chairman.
Ross, 51, of Orlando, declared his candidacy over the weekend for chairmanship of the Orange County Republican Executive Committee after a general election that saw mixed results for the GOP in a county that has been turning blue over the past decade. The election is Dec. 8.
"I have a good working relationship with Lew Oliver, so it's nothing personal," Ross said Monday.
A third potential candidate, political consultant Doug Guetzloe, a former tea party organizer, said he's also thinking about making a run.
Oliver, 56, who's been chairman since 1999, says he isn't terribly worried. Since announcing his intention to run for another two-year term he's been working the phones among the 140 voting members of the committee and declared, "I wouldn't be a very good party chairman if I wasn't fairly good at counting noses."
The Ross challenge is in part an uprising of the Trump Republicans versus the old guard. Ross chaired Trump's Orange County campaign. Oliver, while ultimately supportive, was reluctant, and caught some flak for not attending the Republican National Convention in July.
But Ross, who acknowledges he is an underdog, said his candidacy is more about trying to force a modernization of a county party that has watched steady growth in Democratic registration and election success. The county now has 334,000 registered Democrats and 214,000 registered Republicans. Ross pledges more aggressive outreach efforts, and much more attention to social media communication.
Republicans lost their last Congressional seats and their last state Senate seat in Orange County this year, and had a net loss of one state house seats. They also lost an Orange County Board of Commissioners seat, though those elections are officially non-partisan. Trump also lost Orange County by 135,000 votes, more than the voter registration spread.
Yet under Oliver the party has seen plenty of successes, including winning the only truly contested state house seat, when state Rep. Mike Miller easily held of Democratic challenger Beth Tuura. The party remains in control of the Orange County Board of Commissioners, including holding the mayor's office, Mayor Teresa Jacobs. Those offices technically are non-partisan but Oliver said to make no mistake, the Orange County GOP has worked hard to make sure Republicans won the seats they hold.
And Oliver has long-term relationships, even with many of Trump's leading backers in Orange County.
"I think that's certainly the base of his support," Oliver said of the local Trump organization. "But he's not going to get, and isn't getting, all of the Trump people. A fair number of them are voting for me because they saw, even though I wasn't with Trump in the beginning, I was good as my word that we line up behind the nominee."
Ross also is not certain he can bring the die-hard Trump supporters with him, especially considering that many of them are not members of the executive committee, and therefore cannot vote. But he said in broader terms, they're needed, added, "their allegiance is not with the OCREC and it's not with Lew."
"We've got to drain the swamp of Orange County, Florida, and start over," Ross said.
Ross's background is not purely Republican. He was Reagan Republican who switched to the Democratic Party when he was 36, and then back to the Republican Party two years ago. He is openly gay. He sought and received the Trump position a year ago when everyone else in the county was lining up for Jeb Bush or Marco Rubio. He considers those assets in trying to address the party's shrinking ranks in Orange County.
"What we need now is a champion and a cheerleader who can get people excited about to be a member of the Republican Party," Ross said.
Ross also is serving probation after pleading guilty last year to filing a false insurance claim, a case that initially was filed as a grand theft charge, after what Ross said was a paperwork mixup involving an insurance claim.
By contrast, Oliver, a lawyer, has been a GOP loyalist his entire life, and first got involved with the executive committee in 1987. In 1992 he ran for and won the vice chairmanship and in 1999 took over the party. He said he welcomes the challenge.
"I think it sets a bad precedent for someone who was visible in essentially one campaign, and hasn't even supported any other candidate, and was, until recently, not a Republican," to run, he added.