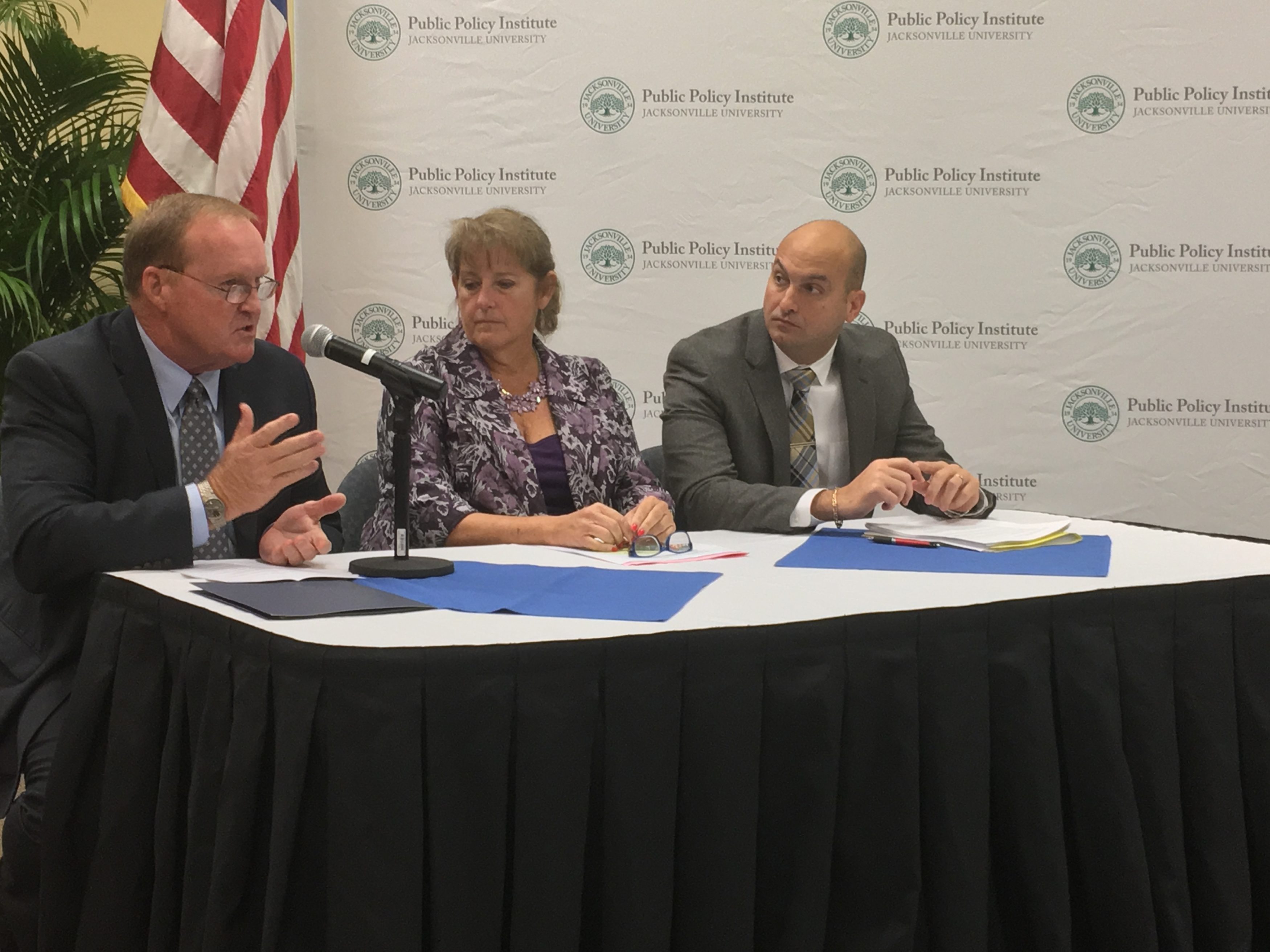 Thursday saw a host of Northeast Florida stakeholders from the education, transportation, and healthcare sectors address the First Coast Legislative Delegation at Jacksonville University's Public Policy Institute.
Legislators from well beyond the First Coast, such as Gainesville Sen. Keith Perry, Lake City Rep. Elizabeth Porter, and Palatka Rep. Bobby Payne, are included in the delegation, which is a concerted attempt to leverage regional strength to accomplish priorities.
As Daniel Davis, a former state rep who is now of the Jax Chamber put it, "we here on the First Coast have not always been together."
The delegation, Davis said, allows people regardless of party to fight for regional priorities, singing "from one sheet of music … on the same key."
Harmony and leveraging strength in numbers: the theme of the day. However, there was a tension between what certain speakers wanted and what resources would allow.
As well, the discussion was largely centered around Duval County, which did not offer immediate utility to those from outlying areas.
At times, the gap between Jacksonville and the exurbs was palpable.
****
An education panel including school superintendents from Duval and St. Johns counties, Nikolai Vitti and Joseph Joyner, and Terrie Brady, head of the Duval Teachers' Union, kicked the event off.
Joyner, who is set to leave public schools to become the president of Flagler College, noted that St. Johns County is growing roughly 6 percent per annum, and that growth — coupled with inflation — requires real funding.
.72 percent was the year over year increase last year in terms of state allocations, Joyner said, which required program cuts. State parsimony, coupled with low millage rates, will impact services going forward.
Brady noted that needs across regions are different in terms of education, so demands are different, and she'd like dollars to be "unencumbered" by "cookie cutter" solutions. Brady, a veteran of over four decades in the educational realm, said that local decision makers are best equipped to make programming decisions.
Another pressure for Duval: getting teachers in the classroom, said the union head.
"We are losing our teachers through attrition and retirement," Brady said, "because we are an aging system."
Brady also believes testing should be "prescriptive," to address learning gaps.
Furthermore, Brady doesn't want "tinkering" with the Florida Retirement System, "one of the most stable retirement systems in the world."
Dr. Vitti, in his remarks, noted that funding has created challenges for his and other school districts.
"You can't be a national leader in education if you're 40th or 48th in per-pupil funding," the Duval superintendent said.
Infrastructure is especially neglected, Vitti added, with over 60 percent of Duval schools being over 50 years old.
This requires disproportionate investments into things like air conditioning repair, creating an "onerous burden on local capital."
Vitti also worries about a reduction in Title I funding on the federal level, creating a "perfect storm" of funding problems, and urging the state legislature to dedicate itself to "at-scale reform."
"Our levers have to be wider and broader," Vitti urged.
Vitti also would like to see more attention on downplaying standardized testing, which he said doesn't account for or value many types of intelligence. The 10th grade reading test blocks many students from getting diplomas, restricting them to certificates of completion.
Vitti noted the importance of "greater flexibility" in the education process, with "mandates and requirements" precluding an ability to adjust to students who are "most in need."
"You have to fund the system at a higher level to maximize this as well," Vitti said.
Sen. Aaron Bean diverged.
"You have to have a measuring stick. You can't just throw money at it," Bean said, noting that every year is a "record amount of money given to education in Florida" and that the legislature will still hear that it's "not enough."
****
Discussion then moved on toward the transportation sphere, with a panel including Jeff Sheffield from the North Florida TPO and Brad Thoburn from the Jacksonville Transportation Authority.
Sheffield addressed the regional nature of the North Florida TPO, which includes Duval, Nassau, St. Johns, and Clay counties, and its long-range twenty-year planning.
Last year was a record year for NE Florida: $800 million of transportation dollars are driving an unprecedented level of construction and expansion.
I-10 east of 295, the First Coast Expressway, and I-95's Overland Bridge project are the major priorities locally.
A new rail corridor, connecting Blount Island and Dames Point to the main rail line, is another priority. This project has funding and is advancing, Sheffield said.
Another item on the TPO wishlist: the North Florida Freight Rail Enhancement Program, which would modernize switches and alleviate the chokepoints in San Marco regarding the ponderously slow railway crossing on the Southbank.
Brad Thoburn, representing JTA, outlined some of the independent authority's priorities.
With 13 million total riders per year, Thoburn noted advancements, such as a recent route optimization initiative that made bus service more efficient and reflective of usage patterns, and the rapid transit buses of the CNG-powered First Coast Flyer program, which extends 57 total miles and will end up being the largest such system in the Southeast.
Among JTA's needs from the state: money for mobility corridors.
As well, Thoburn noted that the JTA is still mulling its approach to the Skyway, an "urban circulator." He'd like to see it expanded, toward Brooklyn and the sports complex.
"It's not going to look like the old Skyway," Thoburn said, "and it's something we're going to look for partners with in the future."
Still another priority: creating a more regional transit system; JTA is coordinating with Nassau County, and assisting with its development of mass transit.
There are limitations to what can be done in Northeast Florida: Thoburn was pessimistic about the near-term future of commuter rail and high-speed rail in Jacksonville, as funding from federal and state sources likely will go elsewhere first.
****
Healthcare closed out the program; the panel included UF Health CEO Russ Armistead.
UF Health is the sixth largest employer in the area, a major training ground for medical professionals throughout the state, and a health care resource and safety net for indigent populations.
"We do this in a world with declining levels of Medicaid," Armistead said, with funding "dramatically reduced" as Florida has resisted Medicaid expansion.
Funding comes from the state ($60 million) and the city ($26 million); the budget exceeds half a billion dollars.
Armistead urged legislators to consider the continuation of the Low Income Pool funding for uninsured patients, noting that the bulk of that money comes from intergovernmental transfers.
As well, he urged them to "support any federal program that will bring federal funds to Florida for healthcare," saying that Florida has been "dramatically underfunded" for the last decade.
Additionally, Armistead urged continued support for the certificate of need program for trauma centers.
There will be three new trauma centers in Northeast Florida, Armistead said, forecasting a dilution in efficacy because of the increase in trauma centers.
The more patients served by an individual trauma center, the better their chance for surviving. As well, Armistead suggested that bills would be padded by new operators, such as Orange Park Medican Center, Memorial Hospital, and Wolfson Hospital.
"Stop the expansion," Armistead urged. "Trauma's not free market. You go to where the EMS takes you based on your conditions."
Armistead also noted that safety net hospitals need a mix of insured and uninsured patients; otherwise, there could be a risk of closure because of revenue deficits.
Sen. Bean, relationship development officer for UF Health, prodded Armistead to talk more about the trauma issue.
"Trauma was a losing business" years ago, Armistead said, but now "trauma is profitable."
"I have 50 days of cash. So what will happen to us … I'll be back in the newspaper saying we have to have additional funds," Armistead added, "or drop to a Level 2."
"If we don't bring this trauma center expansion under control, I'll be in financial trouble … and the quality won't be as good as it was," Armistead added.