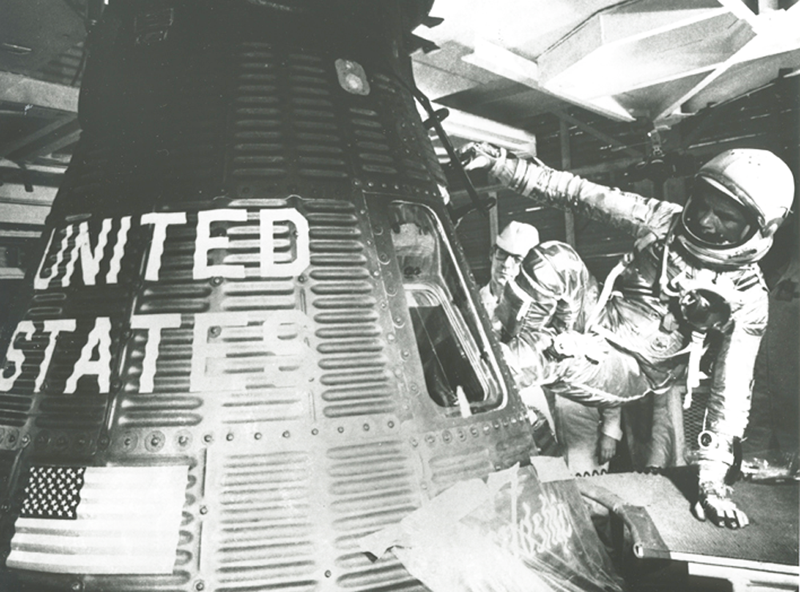 John Glenn, who became a national hero when he became the first American astronaut to orbit the Earth in 1962, and then became a longtime U.S. senator from Ohio and presidential candidate, has died in Columbus at the age of 95.
Glenn's Nov. 20, 1962, triumph in orbit aboard Friendship 7 had made him such a national icon that NASA essentially grounded him for life, lest anything happen to him. So he turned to successful careers in business and then politics, making a triumphant return to space aboard Space Shuttle Discovery as a sitting member of the U.S. Senate in 1998.
President Barack Obama declared Thursday that Glenn had "lifted the hopes of a nation" with his first orbit.
"With John's passing our nation has lost an icon and Michelle and I have lost a friend…. John always had the right stuff, inspiring generations of engineers, scientists and astronauts."
"On behalf of a grateful nation, Godspeed John Glenn," Obama concluded in his statement.
Tweeted president-elect Donald Trump: "Today we lost a great pioneer of air and space in John Glenn. He was a hero and inspired generations of future explorers. He will be missed."
Florida's U.S. Sen. Bill Nelson, in many ways a protege of Glenn's, took to the U.S. Senate Floor Thursday afternoon to remember his friend and mentor.
"Mr. President, it is my sad duty to announce the passing of John Glenn. John Glenn was one of the original seven astronauts of this country. All of them were characterized as having the 'right stuff.' And if you knew any of them, that was certainly true," said Nelson, who, like Glenn, flew in space and became a U.S. senator.
"John Glenn was not only a pioneering astronaut, a great senator, he was a first-class gentleman and also he was a devoted husband and father. He leaves behind Annie, his beloved, who always stood with him as he ventured into the unknown cosmos. And it was unknown because John was the first to go into orbit as an American," Nelson continued. "He paved the way for all the rest of us, and now at his passing, America is in the planning and the developing of the rockets that will take us, a human species, all the way to Mars. John Glenn was the pioneer. He was the one who paved the way."
Glenn's remarkable career started as a World War II and Korean War fighter pilot for the U.S. Marines, as a test pilot, and as one of the legendary first seven Mercury astronauts, followed by his business success in the 1970s, his tenure in the U.S. Senate from Ohio from 1974 to 1999, and his subsequent career as a statesman and educator at Ohio State University. He became a uniquely American titan, symbolic of American ideals in the 1950s, '60s and '70s.
He was the last of the Mercury Seven.
NASA Kennedy Space Center Bob Cabana released a statement saying, "John epitomized what it was to be a Marine, a pilot, and an astronaut, and he was one of my heroes. After I was fortunate enough to become an astronaut myself, our paths crossed many times. I so much enjoyed, and now treasure, the time I was able to spend with him discussing the early days of our space program, and the space program's importance to our country and our future.
"More than a senator, or an astronaut, John defined himself as a Marine and a pilot. He was very proud that he was able to pass his medical even when he turned 90, and he loved to talk about flying. He was definitely in his element when he returned to the astronaut office in 1998, at the age 77, to train and fly on STS-95 aboard Discovery. He had always wanted to fly in space again. He was the consummate professional, a leader of the highest caliber, and a genuinely nice man. I am so glad that I had the opportunity to get to know him and his lovely wife Annie," Cabana continued. "John was truly one of the finest gentlemen I have ever known and he will be greatly missed."
Eric Stallmer, president of the Commercial Spaceflight Federation, declared, "The Commercial Spaceflight Federation is deeply saddened by the passing of a great American pioneer and hero, astronaut John Glenn. The CSF and the Nation are indebted to Senator Glenn for his lifetime of public service, leadership, and the profound impact he had on our nation's space enterprise and image around the world."
The Coalition for Deep Space Exploration said that Glenn "personified the ethos of human space exploration."
"It is with great sadness and profound gratitude that the Coalition for Deep Space Exploration notes the passing of Colonel, U.S. Marine Corps (ret), former NASA Astronaut, and former Senator (D-OH) John Herschel Glenn, Jr.," the organization said in a statement.
Kevin Cook of the Space Foundation said, "U.S. success in space was built on the courage and determination of men like John Glenn, who dedicated his life to serving his country and proving what humans could accomplish in space."
"Aren't many Heroes left: WWII & Korean War Fighter Pilot. Marine Colonel. NASA Astronaut. Senator. Married 73 yrs. John Glenn RIP 1921-2016," tweeted Neil deGrasse Tyson.
His only significant failure was a 1984 run for the Democratic nomination for president, an effort that failed badly in the polls and financially. Glenn spent nearly 20 years paying off campaign debts from that run.
Born in a small industrial city of Cambridge in eastern Ohio and raised in nearby tiny college town of New Concord, Glenn married Annie Castor in 1943, and the couple were famously inseparable ever since, except when he at war or in space.
Last year his adoptive home, Columbus, renamed its airport the John Glenn Columbus International Airport. In 1998, Ohio State University opened the John Glenn School of Public Affairs, at which Glenn maintained an office, taught, and wrote.
He died Thursday at the James Cancer Hospital at Ohio State University.