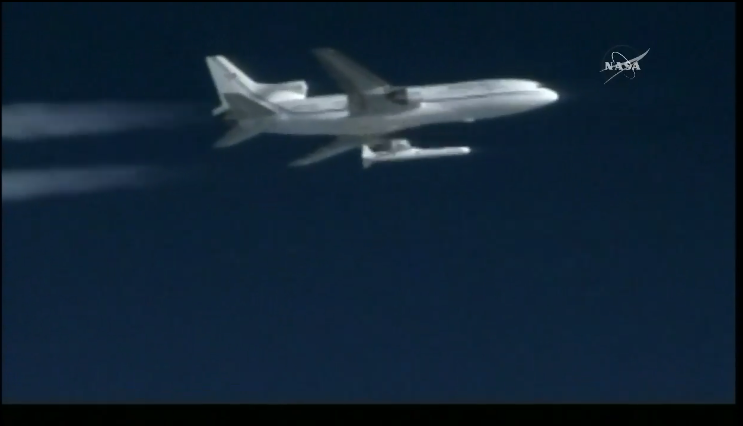 A Pegasus XL rocket dropped from beneath an airplane off the coast of Daytona Beach Thursday morning, then launched from there into orbit and deployed eight NASA hurricane-tracking satellites into orbit.
The drop-launch from an altitude of 39,000 feet, about 110 miles east of Daytona Beach, went as planned after the mission was postponed twice this week for minor technical problems. At 7:38 a.m., an Orbital ATK L-1011 Stargazer airplane took off from Cape Canaveral Air Force Station, and exactly an hour later it dropped the Orbital ATK rocket.
Pegasus reached orbit level altitude of 300 miles, and then launched the small, 65-pound satellites, 13-15 minutes after the rocket dropped from the plane. The Cyclone Global Navigation Satellite System (CYGNSS) spacecraft will line up in orbit over world tropics to be able to send fresh data from cyclones as each satellite passes overhead, at 12-minute intervals.
The system significantly improves on current hurricane data technologies.
The mission marks a new era for NASA and Cape Canaveral, successfully adding launch-drops to the more traditional blast-offs from launch pads at Cape Canaveral AFS or Kennedy Space Center.
The Pegasus rocket launch went smoothly if just a couple of seconds later than anticipated. The airplane was traveling about 600 mph within a 40-mile-long "drop box." The rocket released and five seconds later the engine fired, and it blasted upward, through and out of the atmosphere.