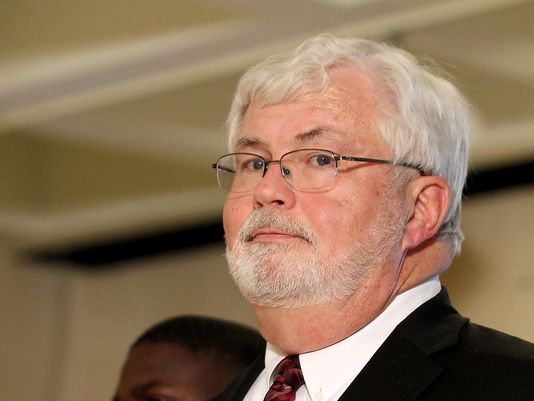 Senate budget chairman Jack Latvala isn't interested in balancing state government's books on the backs of counties hit hard by the BP oil spill. And he believes the state might have to let local property taxes increase along with home values.
All in the name of meeting pressing needs in a state in decent financial shape now, but facing scary long-term deficits.
"We made the commitment, and I believe in keeping my commitments," Latvala said of the BP money.
Of local taxes, he said: "It's clear to me that if we can't capture the new property values, there will be slim of any increases for K-12."
Latvala spoke to reporters following a briefing for Appropriations Committee members by the state's top economist. They learned that Florida government is in decent financial shape — if you don't count projected delicits projected at $1.3 billion one year from now and $1.9 billion the year after that.
And unless the state wants to meet its commitment to give 75 percent of its earnings from the BP  spill disaster to the counties worst affected. That would take $300 million away from state-level projects.
And unless you consider the state's liability in class actions arising from its citrus canker eradication program, now worth nearly $95 million in penalties, interest and legal fees, with additional claims over 540,000 trees in Miami-Dade County still pending.
Also unless the Legislature wants stiff post-hurricane beach restoration.
Those are among the pressures on the state's finances projected during the next three years, according to Amy Baker, coordinator for state Office of Economic and Demographic Research.
"We're building a structural imbalance," Baker said. "Our budget is growing faster than the underlying revenue pieces."
Latvala said the Legislature will have to cut some programs if lawmakers want to approve Gov. Rick Scott's requested increases for economic development, House Speaker Richard Corcoran's desire for tax relief, and Senate President Joe Negron's hopes to boost education spending.
"To do any increases, we're going to have to find areas to cut. That's a certainty," Latvala said.
"Just my luck to be chairman in a year like that."
Baker and other state economists have estimated that lawmakers will have nearly $142 million more than expected to spend in the fiscal year that begins next July 1. But the Florida Constitution requires the Legislature to plan three years into the future, and that's where the problems crop up, Baker said.
The good news is that the tourism economy is doing well. And although construction is lagging, there's a large "shadow inventory" of distressed homes left over from the foreclosure epidemic that followed the Great Recession. They'd likely have to be torn down and rebuilt, and that would mean jobs, according to a report Baker's office prepared for the committee.
Additionally, it's been more than seven years since the post-recession bankruptcy wave, meaning those borrowers might again qualify for housing loans.