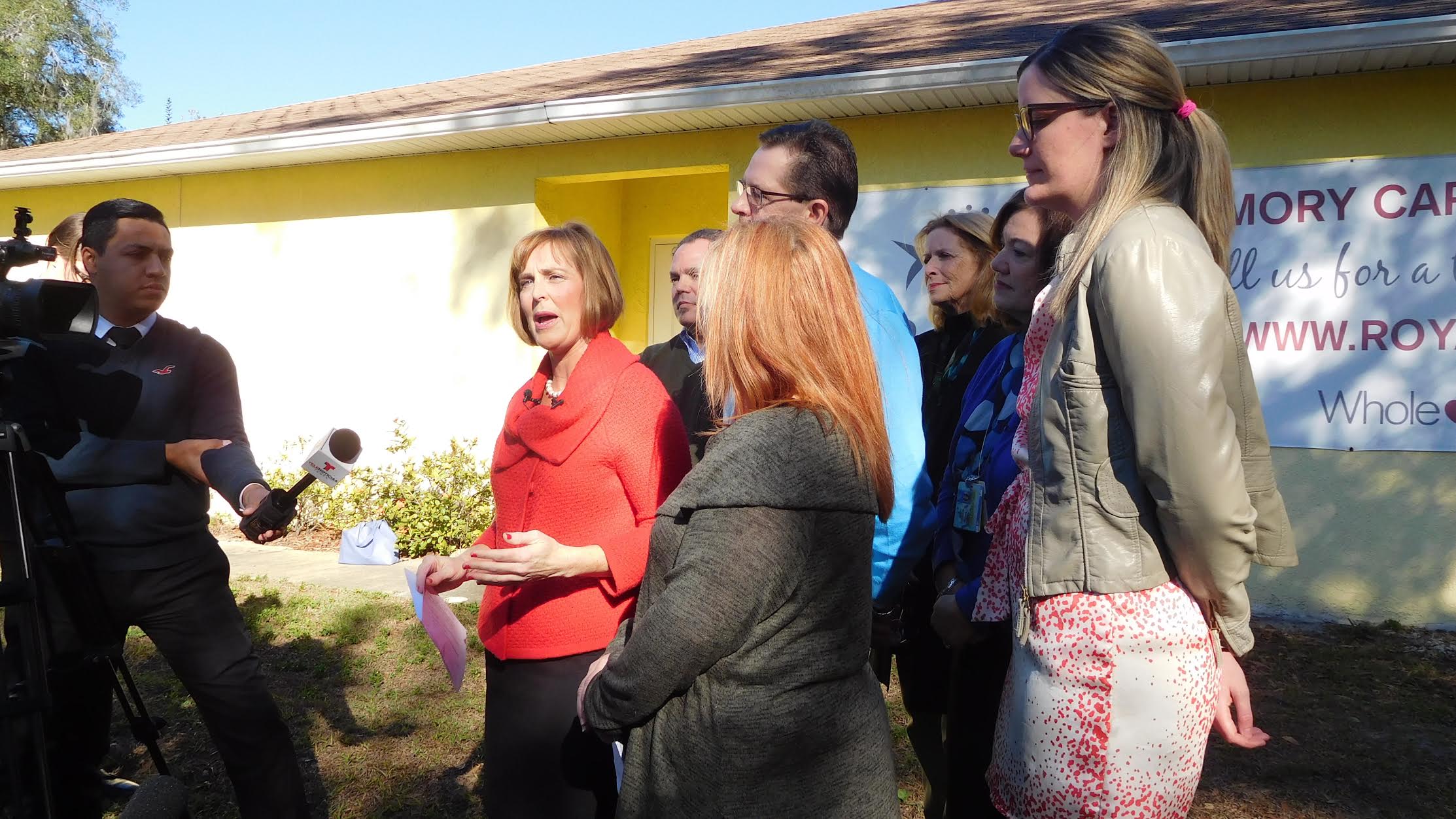 When Christine Roeper was about to turn 26 last year and thus no longer be eligible to stay on her parents health care insurance plan under the Affordable Care Act, she says she contacted the navigators based at USF to help her find a plan.
"I definitely do need health insurance," Roeper said on Monday at a news conference called by Tampa Democratic Representative Kathy Castor. "I have a heart condition called mitro valve regurgitation, so that requires even more doctor visits and different medications and different procedures. Without the ACA, I wouldn't be able to afford insurance. It costs me a dollar to get medicine, a couple of dollars to see a doctor. It's been phenomenal."
Greg Robinson was diagnosed with a very aggressive form of blood cancer in October of 2015, and underwent extensive chemotherapy and a stem cell transplant to "essentially save my life" at Moffitt Cancer Center.He's always been able to receive insurance through his employer,  but he says that the thought of his insurer no longer having to carry a patient with pre-existing conditions – a key tenet of the ACA- is something he calls "terrifying."
The two Hillsborough County residents spoke at a news conference organized by Castor at Royal Sun Park, an assisted living facility located in North Tampa.
The Tampa Democrat has been a huge supporter of the ACA since Barack Obama signed it into law in 2010. With congressional Republicans poised to repeal parts of the ACA as early as this month, she says she'll continue to hold press events bringing forth those who would be deleteriously affected if the plan goes away without a viable replacement. 'We're saying, Republican congress, don't throw our families into chaos," Castor said. "Don't proceed on this ideological repeal plan without a replacement."
While House and Senate Republicans remain relatively firm on repealing the ACA as soon as possible, no one has said how long it might take before a working alternative will replace it. There has been speculation that it could be as long as two to three more years before a completely new plan could be viable.
Although talk of repealing the ACA has been in the headlines for the past week, "enrollment again is off the charts" says Jodi Ray, principal investigator for the USF Navigator grant, which works towards signing the noninsured on to a health care plan.
"We've been busy," Ray said, adding that the numbers of people signing up to get the ACA in 2017 has exceeded last year's numbers. Ray said that there are at least 280,000 individuals from the Tampa Bay area on the ACA, with at least a third of them being Hispanic.
"We're reaching women, students, folks who are in rural areas who are hard to get to," Ray said. "We're working nights and weekends and we are seeing consumers that are having their life changed … because they have access to health care now, and they didn't have access to health care prior. Overall, 1.7 million Floridians are now on the ACA.
There is an immediate deadline of next Sunday, January 15, for people to begin getting coverage by February 1. The next deadline comes at the end of this month to begin qualifying for any type of health insurance this year.
Although there has been very little specific information about what a replacement health insurance program would look like, there has been renewed discussion of changing the way that the Medicaid funding formula works, with the money ultimately going to the states as a block grant.
"When you hear block grant, or per capita cap, or greater flexiblty, what that really means is you're not going to have the same amount of money, your families are going to be left out in the cold, they're not going to have a place to go for skilled nursing or assisted living care," said Castor. "It's something of a shell game that will leave our families out in the cold."
Castor says she does believe she can work with Republicans on some improvements to the program without throwing it all out. She says working on controlling the costs of pharmaceuticals and working on bringing greater competition in those areas of the country that have seen exponentially large premium increases (because in some cases there is only one insurance company available) as two viable examples.
While Castor was making her case to save the ACA, Rick Scott was weighing in as well, applauding congressional Republicans for working immediately to dismantle the program.
"For far too long, it has been fashionable in Washington to say Obamacare can only be tweaked," Scott wrote to House Majority Leader Kevin McCarthy. "The impact of Obamacare has been devastating in Florida and our nation. Obamacare was sold on a lie from the very start. Costs are skyrocketing, people have not been able to keep their doctors and many people have fewer doctors to choose from. The increases in health care costs are at a 32-year high and are expected to continue increasing in the coming months. Recent news of Obamacare rates rising 25 percent is absurd and families simply cannot afford it. We can do better and the families and businesses footing the bill deserve better."