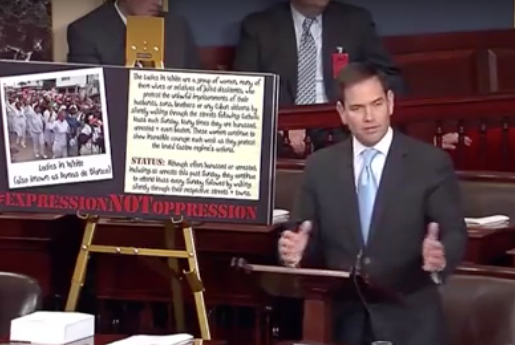 U.S. Sen. Marco Rubio restarted his social media campaign to highlight political prisoners worldwide Monday, this time spotlighting a Russian imprisoned under President Vladimir Putin for "unauthorized assembly, and calling out Putin by name.
"#Russia must immediately and unconditionally release prisoner of conscience Ildar Dadin #expressionNOToppression," Florida's Republican senator tweeted Monday morning.
It's a restart of an occasional serial of tweets and other social media posts that Rubio has been providing in late 2014 and the first few months of 2016 before his U.S. Senate campaign. Yet while it's not the first time Rubio has highlighted a Russian, it comes with explicit denunciation of Putin – at a time when the Russian president's relationship with president-elect Donald Trump and allegations of election campaign interference, together with reports of Putin's own totalitarian approach to governing, are at the top of the news.
The tweet included a meme that declared, "Russian human rights activist Ildar Dadin was sentenced to two years in prison for participating in an 'unauthorized assembly' – in other words, expressing his right to freedom of expression. He is the first person convicted in Russia under Vladimir Putin's new law that bars any form of public dissent. Status: Reportedly held in a prison camp in Siberia."
Rubio brought his campaign to the Senate floor last May with a speech that included, "Every day, people are unjustly detained, they're tortured, publicly shamed, and murdered, often at the hands of their own government. And here's what their crimes are: Simply disagreeing with the government… disagreeing whether through journalism, through blogging, through peaceful organizing, or for simply [believing] in a different religion."
In the first few months of his campaign, which ran until last July, Rubio highlighted at least two dozen cases of politically-oppressed individuals in North Korea, Cuba, Syria, Pakistan, Iran, China, Venezuela, Egypt, Kenya, Turkey, Bahrain, Vietnam, Azerbaijan, Laos, Ethiopia, and elsewhere. He's posted at least four on Russians, and called out Putin by name before, something he has rarely done with leaders of the other countries.
"With this effort, we will continue to shine a light on the courageous men and women who risk their lives every day fighting for basic human rights and democratic principles," Rubio declared in a news release Monday. "While their oppressors may seek to silence them, #expressionNOToppression will serve as a voice for the voiceless."