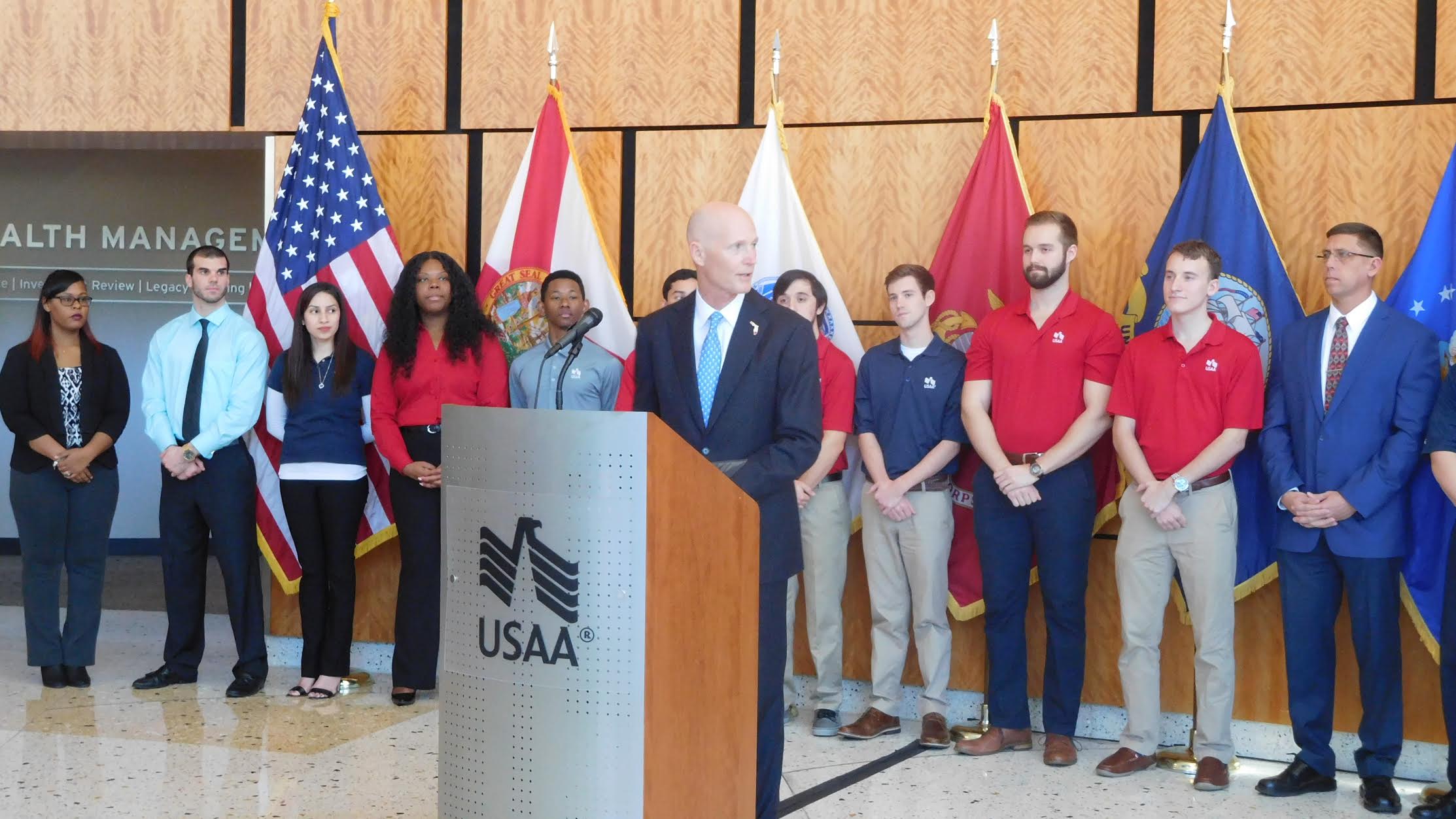 Rick Scott says he doesn't have an opinion on whether or not he'd support a law that would allow licensed gun owners to carry guns in airport terminals.
The question came to him on Tuesday, four days after 26-year-old Army Veteran Esteban Santiago, who is accused of killing five people at Fort Lauderdale-Hollywood International Airport on Friday after he recovered his gun that he had picked in his suitcase and then retrieved at the baggage claim area.
A proposal by Sarasota Republican Greg Steube that would allow a licensed gun owner to carry a gun in airports throughout the state is on the agenda for the Florida Legislature when they begin their session in March. The Steube bill (SB 140) does more than just allow for guns in airports – it would also allow the 1.7 million concealed weapons permit holders to carry guns on college campuses and in government meetings as well as carry openly in public.
"We're in the middle of an investigation, and I'm looking forward to what happens at the end of that investigation," Scott told reporters in New Tampa on Tuesday morning. "Right now my goal is to mourn with those who lost their lives, for those who are still in the hospital, and there will be time for politics once we finish this."
Scott was asked twice more about the bill by reporters who wanted to get his general sense of the bill. He initially responded by again repeating the fact that there is an ongoing investigation into Santiago, as well as an ongoing manhunt for Markeith Lloyd, who Orlando Police say killed Master Sgt. Debra Clayton as she tried to confront him outside a Walmart.
"So my goal is to just finish these," Scott said, referring to both cases.
But a television reporter asked again straight up – would he support the Steube bill if it landed on his desk?
"We have a legislative session that begins in the first part of March, so I know there will be a lot of legislation about a lot of different things. If it makes it to my desk I'll review it," he said.
Fort Lauderdale Democratic state Senator Gary Farmer was planning on announcing a gun control bill on Tuesday in response to the Fort Lauderdale killings.
Scott has had to contend with the killings in both Fort Lauderdale and Orlando in the past week.
"My heart goes out to the families impacted," he said on Tuesday. "I went and visited many of them at the hospital at Broward Health and there was one family who just found out that they lost their mother and I talked to one who was active Air Force….Your heart goes out to them."
Steube isn't backing down from his bill in the wake of the airport shootings. If anything, he's doubling down, telling the Orlando Sentinel that another armed person could have mowed down Santiago."Had a licensed permit holder been one of those people standing right behind him, he'd have gotten one shot off and somebody would've pulled a gun out and shot him," Steube said.