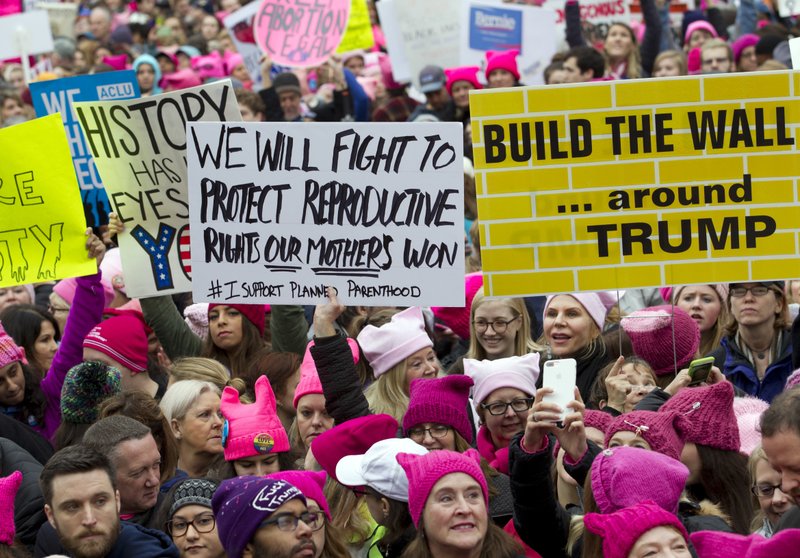 Throngs of women determined to push back against the new American president descended on the nation's capital and other cities around the globe Saturday for marches aimed at showing Donald Trump they won't be silent over the next four years. They came wearing bright pink "pussyhats" and wielding signs with messages such as "Women won't back down" and "Less fear more love."
City officials tweeted that organizers of the Women's March on Washington had increased the expected turnout there to 500,000, up from 200,000, as crowds began swelling well ahead of the event's start and subways into the city became clogged with participants.
It wasn't just a Washington phenomenon and it wasn't just women: More than 600 "sister marches" were planned across the country and around the world, and plenty of men were part of the tableau.
In Washington, Rena Wilson, of Charlotte, North Carolina, said she hopes the women can send Trump a message that they're "not going anywhere."
Joy Rodriguez, of Miami, arrived with her husband, William, and their two daughters, ages 12 and 10. "I want to make sure their rights are not infringed on in these years coming up," Joy Rodriguez said.
March organizers said women are "hurting and scared" as the new president takes office and want a greater voice for women in political life.
"In the spirit of democracy and honoring the champions of human rights, dignity and justice who have come before us, we join in diversity to show our presence in numbers too great to ignore," their mission statement says.
Retired teacher Linda Lastella, 69, who came from Metuchen, New Jersey, said she had never marched before but felt the need to speak out when "many nations are experiencing this same kind of pullback and hateful, hateful attitudes."
"It just seemed like we needed to make a very firm stand of where we were," she said.
Rose Wurm, 64, a retired medical secretary from Bedford, Pennsylvania, boarded a Washington-bound bus in Hagerstown, Maryland, at 7 a.m. carrying two signs: one asking Trump to stop tweeting, and one asking him to fix, not trash, the Obamacare health law.
Many arrived wearing hand-knit pointy-eared "pussyhats" — a message of female empowerment aimed squarely at Trump's demeaning comments about women.
The march attracted significant support from celebrities. America Ferrara led the artists' contingent, and those scheduled to speak in Washington included Scarlett Johansson, Ashley Judd, Melissa Harris-Perry and Michael Moore. The promised performance lineup included Janelle Monae, Maxwell, Samantha Ronson, the Indigo Girls and Mary Chapin Carpenter. Cher, Katy Perry and Julianne Moore all were expected to attend.
Women and other groups were demonstrating across the nation and as far abroad as Myanmar and Australia. In Prague, hundreds gathered in Wenceslas Square in freezing weather, waving portraits of Trump and Russia's Vladimir Putin and holding banners that read "This is just the beginning," "Kindness" and "Love."
"We are worried about the way some politicians talk, especially during the American elections," said organizer Johanna Nejedlova.
In Copenhagen, march organizer Lesley-Ann Brown said: "Nationalist, racist and misogynistic trends are growing worldwide and threaten the most marginalized groups in our societies including women, people of color, immigrants, Muslims, the LGBT community and people with disabilities."
In Sydney, thousands of Australians marched in solidarity in Hyde Park. One organizer said hatred, bigotry and racism are not only America's problems.
Friday's unrest during the inauguration led police to use pepper spray and stun grenades to prevent the chaos from spilling into Trump's formal procession and the evening balls.
About a mile from the National Mall, police gave chase to a group of about 100 protesters who smashed the windows of downtown businesses, including a Starbucks, a Bank of America and a McDonald's, as they denounced capitalism and Trump.
"They began to destroy property, throw objects at people, through windows. A large percentage of this small group was armed with crowbars and hammers," said the city's interim police chief, Peter Newsham.
Six officers suffered minor injuries, he said.
The confrontation began an hour before Trump took the oath of office and escalated several hours later as the crowd of protesters swelled to more than 1,000, some wearing gas masks and with arms chained together inside PVC pipe.
As night fell, protesters set a bonfire blocks from the White House and frightened well-dressed Trump supporters as they headed for the inaugural balls. Police briefly ordered ball guests to remain inside their hotel as they worked to contain advancing protesters.
Republished with permission of The Associated Press.