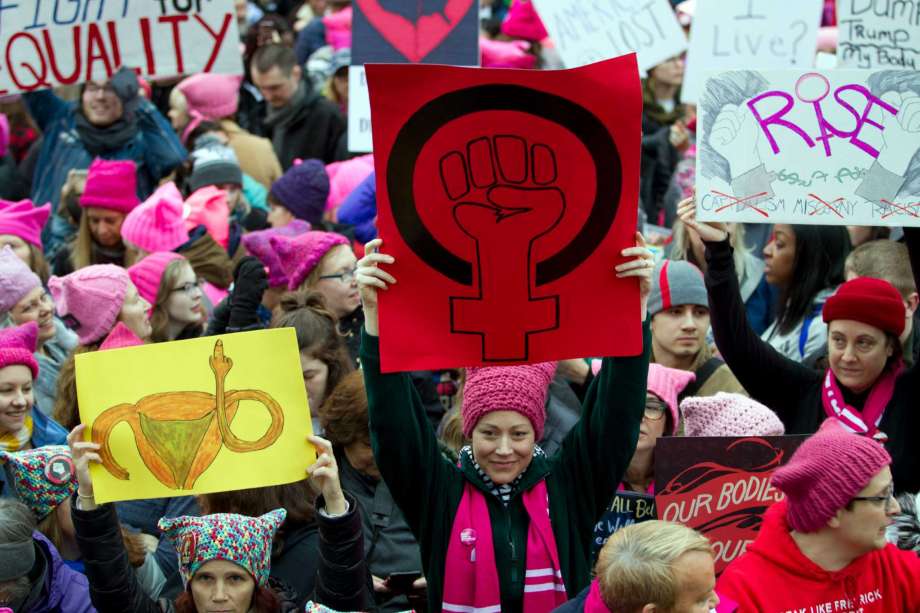 The Latest on the Women's March on Washington and associated protests around the world (all times EST):
10:10 a.m.
Hillary Clinton is praising those attending the Women's March on Washington.
The former Democratic nominee for president is thanking attendees on Twitter for "standing, speaking and marching for our values." She says it's as "important as ever."
Clinton is also reviving her campaign slogan and says in the tweet she believes "we're always Stronger Together."
Clinton's show of support for the march comes a day after she attended President Donald Trump's inauguration at the U.S. Capitol.
___
9:40 a.m.
A city official in Washington says the turnout estimate for the Women's March on the National Mall now stands at 500,000 people. That's more than double the initial predictions.
Kevin Donahue is Washington's deputy mayor for public safety and justice. He says on Twitter that organizers of the march are increasing the turnout estimate to half a million.
There were early signs across Washington that Saturday's crowds could top those that gathered on Friday to watch President Donald Trump's inauguration.
Metro subway stations and train cars are full in many locations, while ridership on Friday was well off the numbers from Barack Obama's first inaugural.
The march's National Park Service permit estimated a turnout of 200,000, but the District of Columbia's homeland security chief had previously predicted turnout would be higher.
___
8:55 a.m.
Thousands are massing on the National Mall for the Women's March, and they're gathering, too, in spots around the world.
A couple hundred people rallied in the Czech capital of Prague on Saturday in support of the march.
In Wenceslas Square in freezing conditions, they waved the portraits of President Donald Trump and Russian leader Vladimir Putin, as well banners that read: "This is just the beginning."
Organizer Johanna Nejedlova says: "We are worried about the way some politicians talk, especially during the American elections." Similar rallies unfolded in London, Berlin, Rome and other cities.
In Copenhagen, Denmark, protesters in the march's trademark pink woolen hats met outside the U.S. Embassy. Says participant Sherin Khankan, "An alternative to the growing hatred must be created."
At a rally in Stockholm, Sweden, organizer Lotta Kuylenstjerna says "we do not have to accept his message," in a reference to Trump.
___
8:30 a.m.
Rose Wurm got on her bus at 7 a.m. in Hagerstown, Maryland, ready for the ride to Washington and the Women's March.
The 64-year-old retired medical secretary from Bedford, Pennsylvania, carried two signs. One asks President Donald Trump to stop tweeting. Another asks him to fix ex-President Barack Obama's health care law, rather than get rid of it.
Wurm is riding one of the roughly 1,800 buses that have registered to park in Washington on Saturday. That translates into nearly 100,000 people coming for the march just by bus.
One company has buses coming from more than 200 cities in 26 states. It's using school buses to bring people to the march from Maryland.
___
8 a.m.
Look to the National Mall in Washington for lots of bright pink hats and signs that say "less fear more love" and "the future is female."
Thousands of women are set to make their voices heard on the first full day of Donald Trump's presidency.
Organizers of the Women's March on Washington expect more than 200,000 people to attend the gathering.
Other protests are expected in other U.S. cities and around the world.
Rena Wilson came to Washington for the march on Friday from Charlotte, North Carolina. She says she hopes to send the message to Trump that they're "not going anywhere."
___
3:05 a.m.
The mission statement of the Women's March on Washington says event participants are "hurting and scared" as Donald Trump takes office — and they want a greater voice for women in political life.
Organizers of Saturday's rally and march expect more than 200,000 people to come out — and that number could rival Trump's swearing-in ceremony Friday.
The event follows a chaotic day in the nation's capital when protesters set fires and hurled bricks in a series of clashes with police.
More than 200 people were arrested.
Republished with permission of the nAssociated Press.