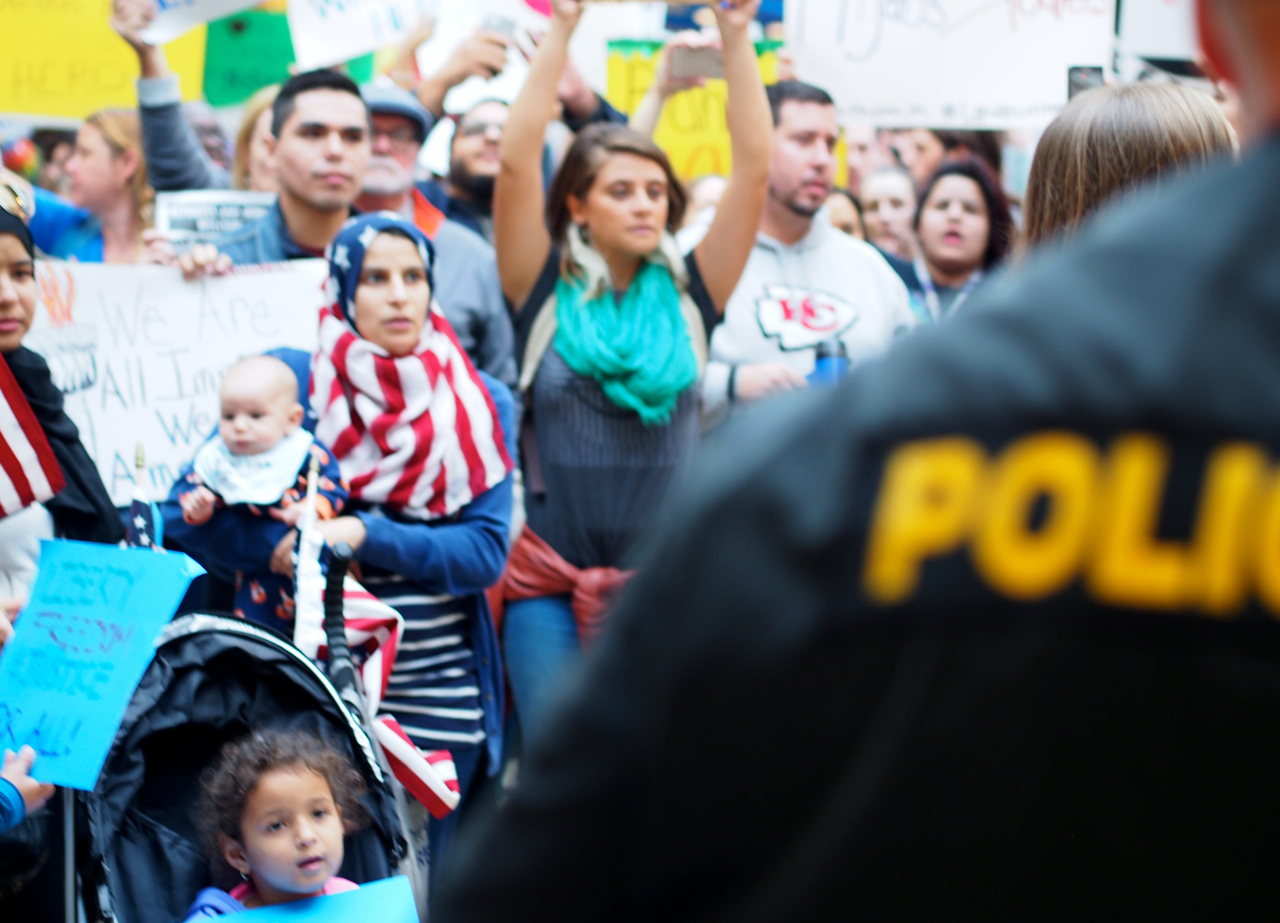 A peaceful march through Orlando International Airport Sunday afternoon involving as many as 1,000 people protested President Donald Trump's ban on refugees and people from seven Islamic countries Sunday afternoon.
Chanting things such as "Islamaphobia has got to go!" "Refugees are welcome here!" and"This is what America looks like!" the protesters poured in from a gathering site in one of the main terminal's parking garages and then swelled into a mass protest inside the terminal, near the main food court.
After about 20 minutes there, waiving signs and growing in size to become too large for the area, the crowd moved to one end of the terminal complex near the gates, continued for another 20 minutes there, and then departed peacefully.
The demonstration was one of many that took place at airports across the country Sunday, but may have been one of the biggest. It was organized mostly through social media, in less than 24 hours.
One of the organizers, Ida Vishkaee Eskamani, a veteran progressive grassroots organizer in Central Florida who also is a legislative aide to state Rep. Carlos Guillermo Smith, said Orlando made her proud, again.
"The demonstration today shows the world that Orlando is a community that stands with its Muslim and immigrants and refugee communities," said Eskamani, whose family immigrated from Iran, one of the affected families, and who still has family there, including a grandmother whose annual visits are now in jeopardy. "And we take a lot of pride in that."
There were no incidents, no arrests, and no disruptions of any airport activities from the rally, according to Carolyn Fennell, senior director of public affairs and community relations for the Greater Orlando Aviation Authority.
There was a significant police presence. The protest organizers contacted the airport in advance though they did not seek a permit. Scores of Orlando police officers held points on the perimeter, mainly seeking to keep corridors open for airline passengers and others to get by. The most contentious exchanges seemed to be along the lines of when officers politely asked protesters to step forward a bit to allow a particular cluster of passengers to get by, and the protesters respectfully did so.
"There were no flight delays or delays at the security checkpoints. Parking was not impacted," Fennell stated.
And this was a first. In 35 years, Orlando International Airport had never before hosted a protest, not including the occasional union picket, said Executive Director Phil Brown. So the airport has no formal policies, except that the protesters were welcome in public access areas so long as they did not disrupt anyone else's access to to the areas.
Smith, an Orlando Democrat who joined the protest, said the peaceful nature "is what this is all about. This type of peaceful resistance is patriotic. This is what people should be doing, resisting the illegal and unconstitutional orders from Donald Trump."
Late Friday afternoon, Trump signed an executive order banning all refugees from entering the United States and forbidding entry to any people from seven Islamic countries, Iran, Iraq, Libya, Somalia, Sudan, Syria and Yemen. Until a federal judge stayed the order late Saturday, it had forced airports to detain numerous people who already were flying in when Trump signed the order.
None  of the seven countries has any direct flights into Orlando International.