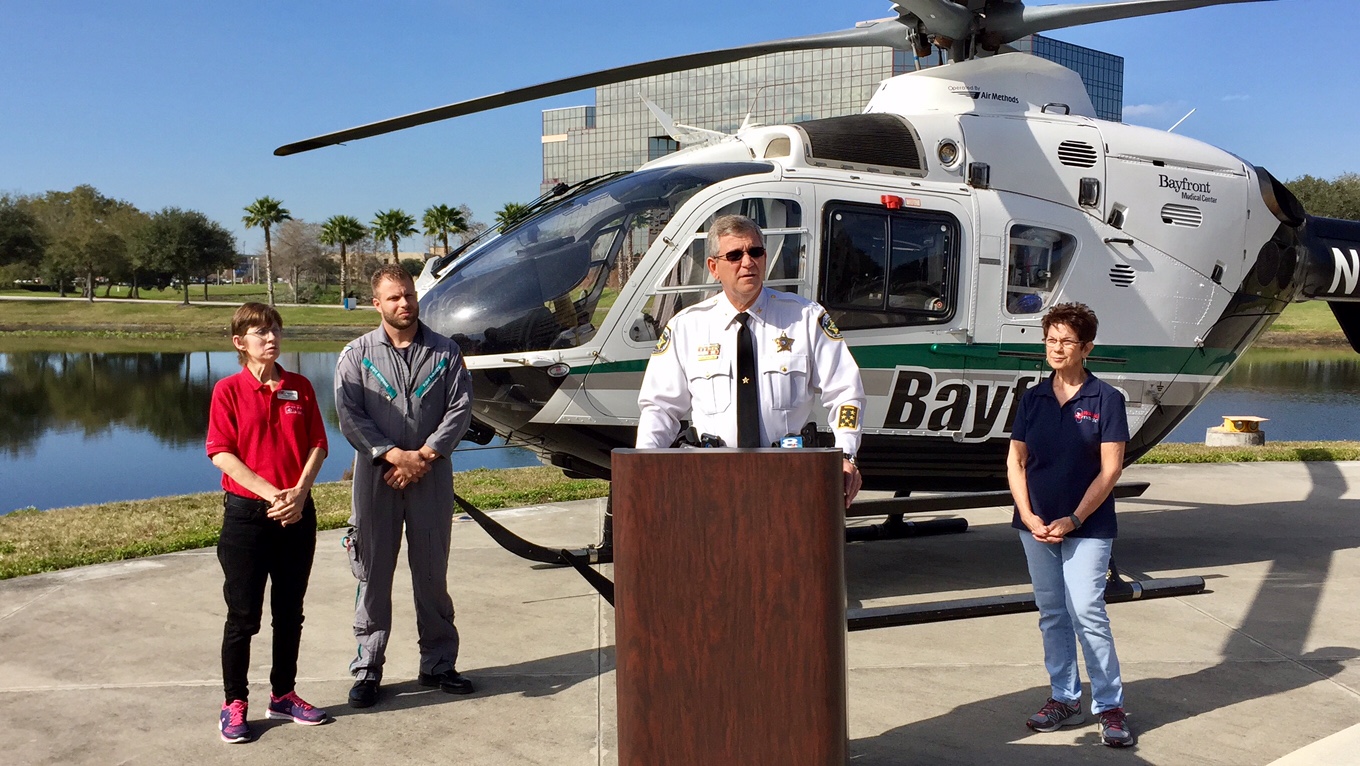 When a drunken driver nearly killed Robin Powell during Tampa's Super Bowl XXXV weekend in 2001, an air ambulance saved her life.
On Thursday, Powell, along with Mothers Against Drunk Driving, the Hillsborough County Sheriff's Office, and the Save Our Air Medical Resources (SOAR) Campaign, urge Tampa Bay citizens to avoid drinking and driving this Super Bowl weekend.
 "If there weren't an air ambulance available to me on that awful day in 2001, I wouldn't be here today as proof of what can happen when people mix drinking with driving," said Powell, who is now a longtime MADD supporter. "It's difficult to articulate the pain drunk driving caused me and my family, but also our gratitude that the medical helicopter was there to save me."
Statistics from the National Highway Traffic Safety Administration show that Super Bowl Sunday has become one of the most dangerous days of the year for traffic fatalities, increasing by as much as 50 percent. Forty percent of those deaths are connected to drunk driving.
"Our deputies will be out in full force this weekend to make sure Hillsborough County roads remain safe while people watch the big game," said Colonel J.R. Burton, HCSO Commander of Patrol Services. "It pains us to dispatch to the scene of a crash where a drunken driver has forever changed lives. Everyone needs to make the smart decision this weekend and leave the keys behind if they plan on drinking."
Emergency air medical services are often the only way to get crash victims in critical condition quickly to an available trauma center. More than 3,000 such air transports take place in Florida every year. SOAR is a national campaign to ensure Americans nationwide have access to this lifesaving emergency service.
"While we're grateful air medical services are able to help people like Robin, our goal is that we never need to deploy air ambulances to car crashes thanks to safe roads," said Scott Fetterman, flight paramedic at Bayflite at St. Josephs' Hospital and a member of the SOAR Campaign. "However, we've seen time and time again how important it is for these life-saving services to be available when people need them the most."
To reduce the potential of drunk drivers, the HCSO recommends Super Bowl partygoers choose a designated driver or plan some other type of transportation before the party begins.
"Emergency air medical services play such an important role in quickly transporting patients from the scene of a crash to a trauma center, so they can get the quality of care they desperately need when every second counts," said Amanda Thayer, national representative for the SOAR Campaign. "Our mission is to ensure that these services remain available for people like Robin, whose life depended on it."